Help Samvedna empower rural women of Rishikesh
The word "Samvedna" is a Hindi word that refers to the urge to help another in need. For the last seven years, Samvedna Connecting Souls has selflessly worked to empower rural women and their communities. Now during these challenging times induced by the pandemic, they need your help.
Samvedna Connecting Souls was founded in 2014 by Ms. Aarti Saxena in Rishikesh, India, with a mission to support disadvantaged women to step out of poverty by advocating and promoting sustainability through educational upskilling and providing job opportunities.
They believe Self-identity, self-respect and self-achievement are life goals for any person, and helping someone to achieve these goals is an accomplishment in itself.
They upskill women in three main areas:
1) Employment:
Samvedna teaches women embroidery, sewing, stitching, and dressmaking skills through 3-6 month certificate courses provided free of cost.
They further give job opportunities within their textile retail store.

"The happiest moment in my life was when I took my daughter for wedding shopping with money I earned through my work at Samvedna.
I am very grateful to Samvedna and Ms. Aarti."
Anita (Member and employee).
Anita making a dress in the Samvedna retail store.
2) Education:
Samvedna teaches rural women - English, computer technology skills, and paperwork skills to manage financial budgeting.
3) Personal growth:
Self-refinery workshops that target various areas of physical and mental health, confidence, and empowerment.
Our workshops share tools and resources to develop technological literacy, English language proficiency, knowledge on health and hygiene and ways to nourish the mind and soul.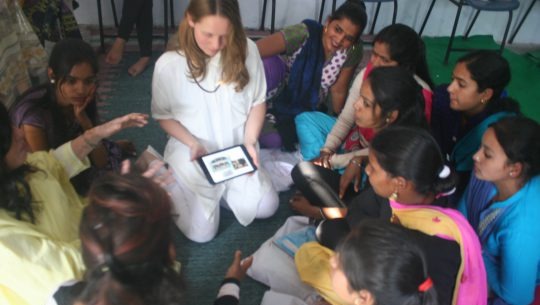 Samvedna has taught 142 women and empowered 190 women in total, ranging from 15-year-old teenagers to 55-year-old mothers.
Before the pandemic, 14 women were working full-time and 18 women on daily wages. Ms. Aarti and Mr. Deepak have been supporting them and this endeavor solely by dedicating 10% of their earnings from Rishikesh Sadan, a hotel they run together (on lease), and through the sales from the Samvedna retail store.
Rishikesh is a holy city in the Himalayan foothills beside the Ganges River, with most of its economics based on international tourism. During the 2020 lockdown, tourism came to a standstill making Samvedna run on personal reserves. Now, India is seeing an unprecedented rise in cases and forcing states to impose more lockdowns, bringing domestic tourism to a complete halt. As tourism dried, there were no sales and no hotel bookings. Despite various efforts, the reserves gradually dried. Now, only five women work full-time. This fundraiser is an effort to support, revive and sustain Samvedna.
Your donation will directly help Samvedna remunerate pending wages of employed women, their only source of income, which in turn would help the women provide their family with necessities and support their children's education. Contributions would also help Samvedna continue with their courses to educate more women, to inspire opportunities and choices within their community that those in privileged backgrounds can take for granted.
Kindly donate and share this campaign to help Samvedna empower women so that they can continue to earn life-changing incomes and build toward better lives.
When we empower women, they can empower the whole community and generation.
Thank you!
You can read and see more about Samvedna here:
https://samvednaconnectingsouls.com/