Towards Collaboration: Wild Horse & Burro Research
Wild Horses and Burros: A Quest Towards Understanding and Resolving the Conflict
​Jane Goodall: "Only if we understand, can we care. Only if we care, we will help. Only if we help, we shall be saved."
First, we
must
understand. 
The Wild Horse and Burro Debate
Many societal conflicts about our natural environment are highly polarized, controversial, and heated. And for decades, a debate in western US has been becoming more and more controversial: that of the wild horses and burros. These animals roam 10 western states, are mostly on public lands, and are predominantly managed by the Bureau of Land Management (BLM).​
Participants of the debate have remarkably opposing views on the topic. Where some state that the horse population is a pest and overpopulated, others state they are native to the US and becoming endangered. Where some are proponents of bringing horses to slaughter, others are​ calling it cruel and inhumane. The wild horse is seen by many different sub-cultures in the US as remnants of the past, but the past they are referring to, is different. 
Naturally, this influences management decisions and the course of the debate. But how exactly it influences this, remains obscure.
Humans and Nature
One aspect of many if not all of environmental conflicts is the competing perspectives on and definitions of concepts like nature, wilderness, and wildlife. In the wild horse and burro debate, most animal advocates consider the horses "reintroduced" species, whereas some ranchers and most ecologists consider them "invasive" or "feral". Some Native Americans claim to have evidence that horses are in fact "native" to North America. For management is seems that large removal of wild horses and burros is more appropriate if they are considered invasive, but less appropriate if they are considered native or reintroduced.
Though these distinctions may seem arbitrary, they influence how people approach society-nature conflicts and can lead to structural misunderstandings. More importantly, they influence the way we engage with the environment and how we deal with environmental challenges. This topic, in essence the interactions between human-society and nature, has been a long-standing interest of mine. 
The Plan
I am now committed to deepen my understanding of the relations between human-society and the environment and apply this to the wild horse and burro debate. To move towards cooperation, collaboration, inclusiveness and deescalation, we must first understand the ethical, social and cultural background of our arguments. What are the different perspectives at play? How are they competing? Where are they overlapping? And how does all that influence management decisions? 
I have applied for the Ecology PhD program, with the Human-Environment interactions specialization at Colorado State University, Fort Collins. Right in the heart of the debate, with wild horse management areas all around. For this I need funding.
Even though the PhD is in Ecology, the research will be interdisciplinary with a strong focus on Social Science, History and Environmental Ethics. The different perspectives will be identified through interviews with stakeholders and historical research.
This PhD will differ from other research to wild horses and burros because it focuses on the main drivers behind the conflict, which aren't facts, but misunderstandings, different perspectives, concepts, ethics, and opinions. It will clarify what makes this conflict so heated and difficult to resolve. It will clarify our common grounds and contribute to community-inclusive management, where everyone is seen and heard. It will contribute to creating a space where we can engage in conversation instead of conflict. It will contribute to ethical, mindful and conscious management of the wild horses and burros that we all enjoy to see roaming in the wild.
Not only will it help the wild horse and burro conflict, but
it is my purpose
to creating suggestions and strategies to manage all sorts of environmental conflicts ethically, mindfully and consciously. As environmental issues are one of the most urgent and pressing issues of our time, time spend on excessively discussing and debating, is time not spend on finding solutions, working together and moving forward.
It will contribute to truly understanding each other, moving away from judgment and prejudice, so that we can collectively care for and help resolve pressing environmental challenges.
This is why I need your help.

Costs



To be able to pay for the first year of
tuition
, I will need $28,307 USD/24.000 EU. (Primary goal)
To be able to pay for the second year as well, I will need double: $56,614 USD/47.000 EU (Stretched goal - only if the primary goal is met)
Who am I?
My name is Elke. I am 23 years old and originally from the Netherlands. I grew up  near a town called Utrecht. I lived in a house in the forest with chickens, horses, cats, dogs, and my parents and brothers. 
​After high school I went off to study History at the University of Amsterdam. During this period, I developed a strong curiosity to combine disciplines, specifically ecology, history, social sciences and philosophy. My curiosity manifested during an exchange program at the University of Washington, Seattle. I took ecology, conservation, wildlife, communication and ecopsychology classes. For the ecopsychology course I wrote an article about an experience I had with a traumatized wild horse, which was
published
 in The Ecopsychology Journal in 2020.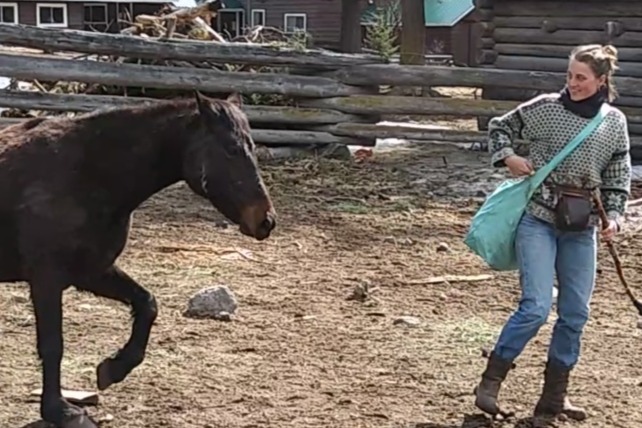 My interest rooted more deeply during a six month-internship at the non-profit The Cloud Foundation, in Colorado. Here I learned about the wild horse and burro issue, engaged in the conflict myself, observed the wild horses and burros, and grew a network of stakeholders. During my internship I took the opportunity to talk to people from many different backgrounds, with totally different views on the issue. This is where I first personally experienced the deep interconnectedness between society and nature management and witnessed its variously shaped manifestations. But mostly, I was intrigued by observing the wild horses and burros, and their place in the American society.​
Finally, my bachelor thesis was the first real attempt to bring all of my previous experience and knowledge together in academic research. I studied the highly controversial debate about the well-being of the large grazers in the Dutch nature reserve the Oostvaardersplassen from the 1980's to 2018. I concluded my thesis with advocating for the integration of Social Sciences, History and Philosophy in studying conflicts about nature management. It was during this period that I understood the importance of education in resolving environmental conflicts. My thesis will soon be published as an article in the Dutch history magazine Skript.
In addition, I have volunteered at The Chilcotin Ark Institute in BC, Canada, working on wildlife conservation projects in the Chilcotin Ark. During my time here I contributed to creating the online
Wilderness Stewardship Training Program
  for the Wilderness Training Academy, which consists of 11 courses on topics like Ecology, Conservation, Environmental Ethics, and more.
To conclude: If we do not understand each other, our backgrounds, our cultural belief systems, our value-systems, than we cannot truly join forces in our effort to protect the planet.
Before we can care and help, we ​
must
​ understand first. 
​
Organizer
Elke Tukker
Organizer
Culemborg