Fund for Jacek's Brain Injury
On Saturday, May 6, 2017, 42-year-old Jacek ("yaht-zek") Chmielowiec, my dear friend and co-worker, was on his way for a run through his local park in Queens, NY. You see, several years earlier, his wife, Natalia, had given birth to a precious little girl, Emma, and the arrival of this magical child opened Jacek's eyes to some of the ways in which he had unwittingly taken to living—working long hours, eating for convenience over health, and not getting regular exercise save running up and down subway stairs. It was shortly thereafter that Jacek took up running as part of a new commitment to get and stay healthy, as he'd declared to me proudly one day at work, "
I know I'm only 37
,
but I want to be there when Emma graduates. I want to walk her down the aisle someday
."
 And with that declaration, Jacek's priorities shifted seemingly overnight. His daughter and wife (and now his small son, Oliver), became his priorities and the very reasons for which he would begin taking better care of himself.
Little did he know that his comment
—
made half in jest
—
would hold the significance that it did
.
Jacek and his little angel, Emma
So, on that particular Saturday back in May, as Jacek headed for a run, he had no idea that he was about to go into cardiac arrest before making it to the park and that no one would perform resuscitative measures on him for at least 10 minutes (possibly more). He had no idea that his brain would be deprived of oxygen (
anoxia
) for at least 10 minutes (possibly more) and that he would be literally 
dropping open the jaw of every EMT on the scene
who'd presumed that the tragedy unfolding before them—just like every other one with the same circumstances—would likely end tragically as well.
The EMTs were wrong.
Even though
doctors initially had told Jacek's family that he would never talk or move again
, a month-long medically induced coma helped stablize his body and commence brain healing, and he became "healthy" enough to be moved to a brain injury rehabilitation facility in early June.
Not surprisingly to any of us who know him (though very surprisingly to most of the rehab staff), Jacek surpassed all expectations in the rehab. He can read headlines and kiss his family and talk in a whisper.
And this from someone they'd said would never move again! 
He is not walking yet, but
he moves his arms and legs
and has finally (thankfully) had the eating tube removed from his stomach, letting him ingest soft foods and liquids orally.
Jacek with his wife, Natalia, by his side
Jacek with Natalia and his children Oliver and Emma
Last month, Jacek was moved from Helen Hayes Hospital in W. Haverford, NY, to a rehab facility closer to home. This was done because Helen Hayes is an acute facility, which permits only short-term stays. The new rehab facility was not the family's first choice but was the only one that had open beds while satisfying insurance as well as facility restrictions (e.g., no tracheotomies allowed, etc.).
Unfortunately,
the actual transport traumatized Jacek
(common among brain injury victims) and set him back a bit. He suffered seizures (which were misdiagnosed); however, there was also a benefit—Jacek was closer to friends and family.
He responds very positively to visitors
, such as his co-workers, whom he recognized and was thrilled to see (during the times he was "present") while at Helen Hayes.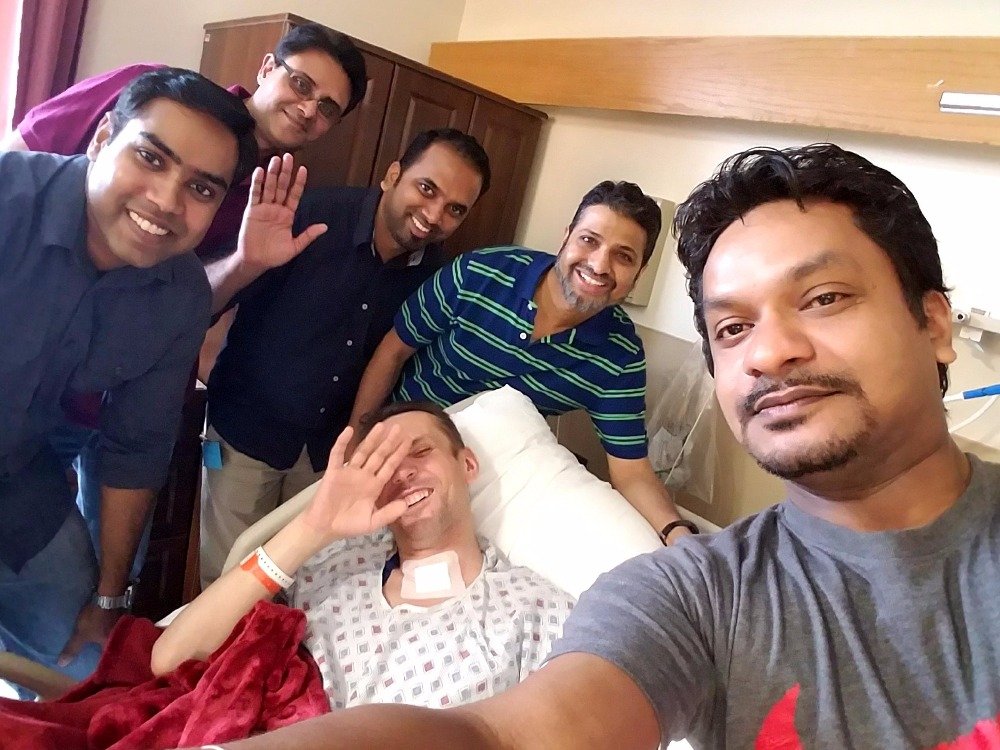 Jacek surrounded by his family of co-workers—I'm loving that smile!


The goal has been to get Jacek into the New York State Certified Traumatic Brain Injury Rehabilitation Program at the Park Terrace Care Center in Rego Park, the best facility for his particular brain injury. That prayer was answered last week! The downside is that
Park Terrace is out of Jacek's insurance network
, and
the cost of a single night is $700
—
just for the bed
. His family has had to pay an entire month's expenses out of pocket just to secure the "last bed," which wasn't available until that gesture. That makes my blood boil, but that's okay; we're where we want to be.
Everyone is grateful
and will take it from there.
And that is what I'm doing here, now—trying to "take it from there."
I know that this is only the tip of the
"
financial burden
"
 iceberg for Jacek and his family.
The long and short of it is that medical funds are dwindling quickly. Personal savings are being tapped into regularly as out-of-pocket expenses are increasing, while delays in insurance claims prevent expenses from being reimbursed in a timely fashion. Then there are construction costs for making his home handicapped accessible in anticipation of his return, however long it may take. I know I've likely overlooked some important information to help justify this request in many of your minds, but
please don't let that stop you from helping
Jacek fully recover, which we know he will do if he receives the proper care, which
we can make happen right here and now
.
"
I know I'm only 37, but I want to be there when Emma graduates. I want to walk her down the aisle someday.
" That sentiment from several years back is the driving force behind my intention here.
I am determined to see Jacek walk his daughter down the aisle
. He is already beating the odds like nobody's business, and I know he can do it!
Thank you
for your selfless love and support, and God bless you regardless of your decision.
HOW YOU CAN HELP TODAY1.
 Please
GIVE 
what you can.
No donation is too small
. All donations are tax-deductible, and all money goes to the family. Any excess money once all bills are paid
will be donated to other GoFundMe campaigns
 by his wife, Natalia, as her way of paying it forward and saying
an emphatic thank you
as well.
2.
SHARE 
this story on social media, such as Facebook, using the buttons at the top of this page.
3.
E
-
MAIL 
or
TEXT 
the link to this story to your friends, family, and colleagues:        
https://www.gofundme.com/we-love-you-jacek

Organizer and beneficiary
Terri L. Manco 
Organizer
Monmouth Beach, NJ