Vesta Lunch | A BFA Thesis Film

Through the Glass at Vesta Lunch 
explores the process of overcoming social expectations and better understanding one's self. The film follows a young homeless girl named Billy as she navigates the streets of Toronto and meets Nadia, a woman looking for a new direction to take her life in. Throughout the film, Billy and Nadia learn from each other and focus their energies on gaining more agency within their lives. 
Through the Glass at Vesta Lunch
 was developed by Goldmond Fong, Benjamin Bradley-Gilbert, and Ron Sylvester and pitched to the Bachelor of Fine Arts committee at Emerson College who accepted the film into the program for the Spring and Fall of 2018. This thesis project provides its creators an exciting opportunity to film abroad on location in Toronto, CA and focus their resources and education on one final project before the culmination of their undergraduate studies. 
Through the Glass at Vesta Lunch is about recognizing value in aspects of life that we often forget others do not have. 
Billy's homelessness has left her stranded and alone, lacking the personal hygiene care that most people take for granted on a day-to-day basis. 
The film also explores what it means to break out of a social cycle and reinvent oneself. 
Nadia is locked into a relationship she is unhappy with but tries her best to maintain it out of convenience.
Before they are able to fully confront what possibilities lie ahead for their futures, Billy and Nadia must learn from one another. 
We wish to achieve a sense of immersion within each frame so that our audiences will remain focused on the story and stay engaged with the messages that are presented throughout the narrative. 
Our team is excited to begin principal photography in Toronto on May 12th, 2018! We can't wait to explore some of the wonderful locations we have picked out for the shoot.
This Toronto-based restaurant  'Vesta Lunch' is an important setting in our film where Billy is inspired to focus her life in a new direction.
We are also excited to have an opportunity to film in a newly constructed house that has yet to go up for sale. This means our production design team will have a blank canvas to work with when dressing the spaces our film takes place in. We have the added bonus of getting to work with a professional staging company who will assist us in this process.
Mood boards for Andre and Nadia's overtly masculine house in Toronto. Designed by
Vesta Lunch 
Production Designer Sonya H. Mirza.
We chose to hire a small but skilled crew for this production. Meet our team leaders!
Goldmond Fong
Goldmond is a Chinese Canadian/American director.
Through the Glass at Vesta Lunch
will be his first local film- shooting on location in Toronto. He is currently a directing student at Emerson with a strong background in post-production and advertising. He has been a video editor for many high-end commercial spots.


Benjamin Bradley-Gilbert
Benjamin is a Boston-based cinematographer raised in Northampton, Massachusetts. The last five years have been non-stop filmmaking for him and there's no end in sight yet. He is looking forward beginning production in
Toronto on this BFA thesis film. 
Sonya H. Mirza

Sonya is a junior at Emerson College concentrating her craft in the art department and excited to be the Production Designer and a Producer on this project. She is also very excited to work and play with the locations.
Lien Huang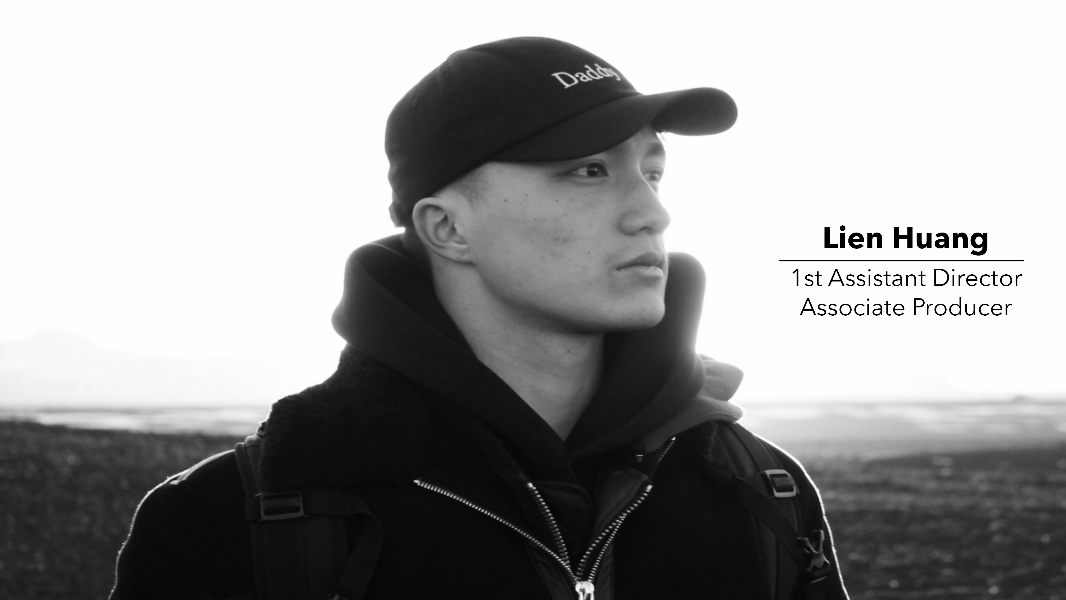 Lien graduated from Emerson College's Visual Media Production major and is now an independent media content provider who excels in visual storytelling. Lien's filmmaking journey has taken him to the cities of Boston, Osaka, Kyoto, Shanghai, Beijing, and Washington.
We are hoping to raise a total of
$7,500 USD
from this campaign. We selected 
GoFundMe
 as our crowdfunding platform because it does not require an 'all-or-nothing' campaign timeline. This means that if we do not raise this amount of money in the time we are hoping, the campaign will still remain open, and funding will still be accepted while we enter post-production.
GoFundMe
only takes
2.9%
of our fundraising profits as well as an additional
$0.30
per donation.
A breakdown of what we hope to fundraise. This totals to 
$7,500 USD. 
Our film has already been awarded
$1,000
from the
Bachelor of Fine Arts
program at
Emerson College
. The additional money we hope to raise will cover the following:
LOCATIONS. 
Toronto is quickly becoming a hot spot for film and commercial productions. This has resulted in many businesses starting to charge high prices even to student film crews who wish to use their establishments as locations. This money will allow us to film in the restaurant our film gets its name from,
VESTA LUNCH.
Billy takes inspiration from this location and decides to pursue culinary arts while there. Our total budget for 
Locations
 is
$1,500.00 USD.
SPECIAL EQUIPMENT. 
As part of the BFA program at Emerson College, we are lucky to have access to all the gear Emerson has to offer. Since we have to travel a long distance between Boston and Toronto, some of our larger equipment will have to be rented once we arrive in Canada. Our total budget for
Special Equipment
is 
$900.00 USD.PRODUCTION DESIGN.
This money will go toward building the world that our characters exist in. Our total budget for 
Production Design
 is
$1,000.00 USD.
TRANSPORTATION. 
One of our heaviest expenditures, transportation accounts for the bus tickets we will have to buy in order to get our crew from Boston to Toronto in May. Some of our crew will be driving with the equipment which has helped to offset the cost of travel. Our total budget for 
Transportation
 is
$1,500.00 USD.CRAFT SERVICES. 
Every film crew needs the energy to stay motivated and keep their focus sharp! This money will go toward feeding our crew and making sure that everyone stays nourished on set. Our total budget for
Craft Services
 is
$800.00 USD.
POST-PRODUCTION. 
The most important part of making a film is to ensure that your footage and audio files remain protected. In order to do this, multiple hard drives must be purchased so we can make backups of our work. This money will also be put to film festival submission fees. Our total budget for
Post Production 
is
$900.00 USD.
If you're interested in helping to fund our project, please take a look at our campaign rewards and select the one that is right for you!

THE TREK. 
Our crew will be traveling all the way from Boston to Toronto in the course of a day. We've budgeted time in the schedule to give them a day off once they arrive so that they can acclimate to their new surroundings. This is important to us because we want them to be well rested by the time production starts.
BORDERS. 
Our crew is working hard with their visa applications as we speak because a large part of them are international students who will have a harder time getting into Canada than US citizens. 
TOOLS. 
The amount of gear we are taking with us across the Canadian border is more than we have ever transported for this long of a distance before. 
UNITY.
Ben and Gold have been working together for a long time and at this point function as a well-oiled machine. This puts our production at an advantage and gives us the leadership we need in order to stay on schedule.
TALENT. 
When we hired the crew for our film we placed utmost priority on finding talented and collaborative team members. We are proud to say that our crew has shaped up to be a strong match for our production. 
We are so excited to make this film and very grateful for your interest in our 
Bachelor of Fine Arts Thesis
. Please feel free to reach out to us via email if you have any questions regarding the film or the campaign.

Organizer
#1 fundraising platform

More people start fundraisers on GoFundMe than on any other platform. Learn more

GoFundMe Guarantee

In the rare case something isn't right, we will work with you to determine if misuse occurred. Learn more

Expert advice, 24/7

Contact us with your questions and we'll answer, day or night. Learn more