Varela's Sister - Cancer Fight Fund
Mariana and Virginia Carolina (Varela Colina) Sisters

ENGLISH: (Spanish version below)
Hi, this is
Mariana Daleska Varela Colina
, I'm Venezuelan and I currently 23-years-old, am Civil Engineering student at UCLA, Barquisimeto, Lara State – Venezuela. In October 2015 I was diagnosed with Lymphoma of Hodgkin, a variety mixed cellularity grade 3A; this is a ganglion cancer that is hosted in the neck, chest and pelvis, a type of blood cancer. My friends and family have looked for and found the treatment and medications for my type of cancer, but I still need a bone Spine transplant; this will be an auto-transplant of mother cells (autologous), these stem cells are used and are obtained weeks prior to the treatment; cells are frozen and stored while I receive treatment (chemotherapy in high doses and/or radiation) and then are returned to the blood by intravenous infusions. I am currently hospitalized in Valencia City transplant unit, few weeks ago I had been subjected to the process of stem cells collection from in my Spine, this procedure was performed 3 times without having proved positive results; after this my values fell and I had to wait for a while to try again, in each attempt of collection is a high expense (highly cost) because medical equipment and laboratory examinations are paid and are very expensive here.
Hi, I'm
Virginia Carolina Varela Colina
, Mariana's older sister, am Accounting specialist, I am 32 years old, have 2 beautiful children (4 and 6 years old) I am Venezuelan; I was Rugby player for 10 years, and Venezuela's Team selection for 6 years in all modalities, Rugby 7 & 15 and Rugby Beach; currently I have 3 years being Referee or arbitrator of Rugby in Venezuela. Like Mariana, suffer from Cancer, in July 2017 I was diagnosed with an infiltrating Ductal Carcinoma, clinically classified as a stadium grade II A in my left breast, classified at high risk; I required an emergency surgery on August 16, 2017 and then be subjected to chemotherapy sessions, total 8 sessions, distributed in 2 cycles of 4 chemotherapy every 21 days; this chemotherapy phase was already completed satisfactorily, now I need an additional process with radiotherapy sessions to complete the total treatment.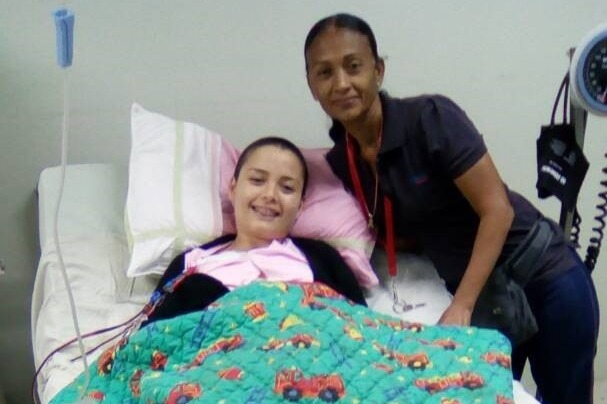 For Mariana this surgery is complicated, delicate and expensive, in the case of Virginia Carolina, who is in her last phase of treatment, treatment is also very expensive. Despite the efforts of all their family and friends in Venezuela still needed help to get surgery and described treatment; the doctors reported that Mariana need a transplant as soon as possible, but still need money to pay for medical treatment, medical clinic, all expensive exams and expenses (for food and housing) since she is hospitalized outside her town city, it is urgent to do so, of the otherwise the risk of losing her live is very high; also Carolina needs to finish her treatment cycle, to evaluate the State of his Cancer.
We have already begun the road to make Mariana transplantation and treatment of Virginia Carolina, but we have not yet managed to collect all the money required to complete the process of both, despite the fact that our families and friends have helped us very much economically, all these months of treatments and exams, it has not been enough to cover the final stages, this is why we are running this campaign and ask for your solidarity and help at this time; any contribution is very important and significant for us during these though times in our lives; We hope that God give you all the prosperity that deserve and may help us.  
In case that you cannot help us financially, please share this request for help, to other people who may help us or can also share our story. 
Thank you very much, from the bottom of our hearts, Virginia Carolina and Mariana!!!
As requested by Gofundme, to make this fundraiser with transparency :
1. Who you are:
We are Miguel Italo Sarris and Nestor Alexander Palacios.
2. Where you're from: 
We are originally born in Venezuela, but we lived now out of Venezuela, since Jan/2004, and have our families and life out Venezuela (M. Italo in USA, and N. Alexander in Saudi Arabia)
3. Your relationship to the parties you're raising funds for:
We are very close friends of Carolina and her Husband, and played Rugby with them for more that 8 years.
4. How the funds will be spent (be specific as possible): 
Will be used specifically to pay Surgery and treatment directly to the Hospital, Doctors and/or to pay Mariana y Carolina medical and other expenses described in here.
SPANISH:Hermanas Mariana y Virginia Carolina (Varela Colina)
Hola, les escribe Mariana Daleska Varela Colina, soy Venezolana y tengo 23 años,  actualmente estudiante de Ingeniería Civil en la UCLA, Barquisimeto, estado lara, en Octubre del año 2015 fui diagnostica de Linfoma de Hodgkin, variedad celularidad mixta grado 3A, es un cáncer de ganglio que esta alojado en el cuello, tórax y pelvis, un tipo de cáncer en la sangre. Mis amigos y familiares han buscado y encontrado el tratamiento y los medicamentos para mi tipo de cáncer, pero aún necesito un trasplante de médula ósea, es un autotrasplante (autologo) de células madre, se usan las propias células madres, estas células se obtienen semanas previas al tratamiento, las células se congelan y se almacenan mientras recibo tratamiento (quimioterapia en altas dosis y/o radiación) y luego se devuelven a la sangre mediante infusión intravenosa. Actualmente me encuentro hospitalizada en la unidad de trasplante de la ciudad de Valencia, semanas anteriores me habían sometido al proceso de recolecta de éstas células Madres de mi médula ósea, procedimiento que se realizó 3 veces sin tener resultado positivo, luego de eso, mis valores bajaron y tuve que esperar para poder volver a intentarlo, en cada intento de recolecta es un gasto alto ya que se pagan los equipos médicos y los exámenes de laboratorios y son muy costosos. 
Yo soy Virginia Carolina Varela  Colina, hermana mayor de Mariana, soy administradotra, tengo 32 años, 2 hermosos hijos de 4 y 6 años y soy Venezolana, fui jugadora de Rugby por 10 años, y Atleta Selección de Venezuela por 6 años en todas las modalidades, Rugby 7, Rugby 15 y Rugby Playa, actualmente tengo 3 años siendo Referee o Arbitro de Rugby en Venezuela. Al igual que Mariana, padezco de Cáncer, en julio del 2017 fui diagnosticada con un Carcinoma Ductal Infiltrante, estadiada clínicamente como un estadio grado II A en mi mama izquierda, catalogada de alto riesgo, requerí ser operada de emergencia el 16 de agosto del 2017 y luego ser sometida a sesiones de Quimioterapia, en total 8 sesiones, distribuidas en 2 ciclos de 4 quimios cada 21 días, esta etapa ya fue culminada satisfactoriamente, ahora me toca tratamiento con sesiones de radioterapia para culminar el tratamiento.
Para Mariana esta cirugía es complicada, delicada y costosa, en el caso de Virginia Carolina esta en su  ultima fase de  tratamiento, tratamiento que es muy costoso también. A pesar del esfuerzo de todos sus familiares y amigos en Venezuela aun se necesita de ayuda para obtener la cirugía y el tratamiento descrito; los doctores informaron que Mariana necesita un trasplante lo antes posible, pero aún necesita dinero para pagar el tratamiento médico, clínica médica, todas las pruebas costosas y su manutención ya que esta hospitalizada fuera de su ciudad, es urgente hacerlo, de lo contrario, corre el riesgo de perder la vida, igualmente Carolina, necesita cerrar su ciclo de tratamiento, para poder evaluar el estado de su Cáncer.
Ya hemos comenzado el camino para realizar el trasplante de Mariana y el tratamiento de Virginia Carolina, pero aun no hemos logrado recolectar el dinero necesario para completar el proceso de ambas, a pesar que nuestras familias y amigos nos han ayudado mucho económicamente todos estos meses de tratamientos y exámenes no es suficiente para cubrir las etapas finales, es por ello que requerimos su ayuda solidaria en este momento, cualquier aporte es muy significativo para nosotros en este momento difícil de nuestras vidas, esperamos que Dios les dé la prosperidad que merecen y puedan ayudarnos. 
En caso que no puedas colaborarnos económicamente seria de mucha ayuda que compartas nuestra solicitud a otras personas que puedan ayudarnos y/o compartir también nuestra historia.
Mil gracias de corazón, Virginia Carolina y Mariana!!!

Organizer and beneficiary
Miguel Italo Sarris Campa 
#1 fundraising platform

More people start fundraisers on GoFundMe than on any other platform. Learn more

GoFundMe Guarantee

In the rare case something isn't right, we will work with you to determine if misuse occurred. Learn more

Expert advice, 24/7

Contact us with your questions and we'll answer, day or night. Learn more