This is my niece, Brianna, daughter of Patrick and Denise Caswell.  She is chronically ill and is in need of a service dog to assist her in her normal day to day functions.  Brianna suffers from Chiari Type 1 Malformation, Postural Orthostatic Tachycardia Syndrome (also known as POTS) and Autonomic Dysfunction. 
Chiari Malformation is a malformation in which the cerebellum and brain stem extend into the foramen magnum (the hole at the skull base for passing of the spinal cord).  Brianna had brain surgery when she was 9 years for this, but still suffers from ramifications.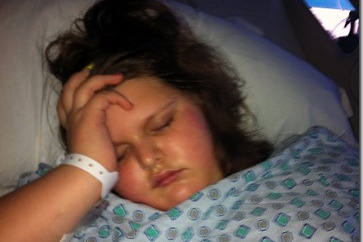 POTS is a condition in which a change from lying to sitting or sitting to standing, causes an abnormally large increase in heart rate.  Brianna is often light-headed, has blurry vision and has weakness in her extremities.  Other associated conditions for her are chronic headaches, insomnia and chronic fatigue syndrome.
Autonomic Dysfunction occurs when the nerves that control involuntary bodily functions are damaged.  It affects blood pressure, temperature control and digestion.  The nerve damage interferes with the messages sent between the brain and other organs and and areas of the autonomic nervous system, such as the heart, blood vessels and sweat glands.  Brianna was diagnosed with both of these conditions last year at the Mayo Clinic in Minnesota.
I know that these are big medical words, but what it means for Brianna, is that just getting up to stand up or walk, she can get very light-headed, dizzy, blurred vision, vertigo and even pass out.  She is often extremely fatigued and misses a lot of days at school because she is so weak and tired.  She always has a headache and nausea. 
Not only are Brianna's conditions incurable, they are also invisible.  She never knows when she is going to have an episode and pass out, so she has a lot of social anxiety, as you can imagine.  She tires easily and although you may see her out at a school function or a local mall,  she may only be able to stay for a short time because her symptoms become unbearable.  Upon the recommendations of her therapist and doctor, her parents are in the process of getting a service dog for Brianna.  The dog would be trained to be able to alert Brianna before she has an episode, so that she can get in a safe position or place, support her when her legs begin to buckle,  get help or even raise her legs to help blood flow.  Naturally, the service dog would ease Brianna's anxiety to be out in public also. 
Because of Brianna's allergies, she needs a dog that does not shed and the dog needs to be big enough to support her in case she starts to fall.  We have found a breeder of Bernedoodles (cross between a Bernese Mountain dog and Poodle) that would be an appropriate size and temperament to become a service dog for Brianna. 
As you may imagine, the medical bills haven't stopped piling up, since Brianna's first brain surgery 4 years ago.  While the service dog will cost about $4,000 to $5,000, the intensive training of the dog will come at an additional estimated cost of $11,000.  I am hoping that we can raise  enough money to cover these costs.  If we exceed our goal, or if the entire amount is not needed, all additional moneys will be donated to the Riley Children's Hospital in Indianapolis, IN. 
Brianna has had many hospital stays, procedures and outpatient testing at Riley's through the years.  They discovered that Brianna had Pseudotumor Cerebri, when no one else knew what why she was having such debilitating headaches that never went away.  They have a very special place in our heart.  Floyd Central High School heard about Brianna and asked her to speak at their Riley Dance Marathon fundraiser this year to explain how the doctors at Riley Hospital have made such a huge difference in her life.  Despite her anxiety and discomfort, she was honored to tell her story.
If you could support my GoFundMe by making a donation and then sharing it with your network, I would greatly appreciate it. I know that money can be tight, so please know that even $5 helps me get closer to my goal! Let me know if you have any questions and I'll be happy to answer them.

Organizer