US Veteran's wife in Head-on Car Accident
Updated to reflect details from the police report that came over a month after the accident. 
After dropping me off at work, my wife continued on to her place of work .  Within a few miles from work, she was hit head on by a Silverado that was speeding through an intersection then shortly after passing that intersection turned into oncoming traffic hitting my wife.  The first people on the scene where the people at the bus stop.  The very same people that this very same truck would have run through had it not hit my wife.  After emergency teams of police, ambulances and fire fighters arrived onsite, one of them called me.  After waiting for my daughter to pick me up and take me to the hospital, I found my wife in the ER with both legs broken.  One was broken just above the knee and the other was shatter just above the ankle plus was an open fracture. 
After the first surgery, she was in traction and had an external stabilizer, called a fixator.  On one leg the femur was broken at the knee so bad that it split up the middle and needed reconstructive surgery and now has a plate all the way up that femur.  The other leg had an open compound fracture on the tibia that had needed to be cleaned out 4 times along with a fractured fibula, which was the last thing fixed with a plate.   Due to the number of surgeries to clean out the open fracture area, that foot was swollen and needed to recover before the next surgery to work on the compound fracture.  During that period she was moved to a transitional care center.  
The next round of surgeries were to rotate a chuck of bone into the correct position then to repair the area of the open fracture as some of that area was damaged enough that it wasn't healing.  This was a skin graft over a muscle with its artery that was taken from her inner thigh.  (The big chuck in the picture below is a spacer)
It took just over a month to get an accident report from the police.  This left us not knowing who the other driver was, if he had insurance and if so what kind of coverage he had during that time.  This left all of the medical costs to be covered by our insurance, first car then medical and we have had to cover whatever our insurance doesn't cover.  Plus we need to continue to pay our normal bills as life goes on while I've been by my wife's side at the hospital, care center and now finally at home.  With 3 older kids at home, they can care for themselves, but we need to fed them and pay for any addition expenses.  There was no program for my work outside of FMLA which only protects my job for 12 weeks, so after using up my PTO, I had to go back to work.  I can work remotely from wherever she has been, but that can be a challenge, especially now that she is at home and I provide all cares.  This will be a long recovery and rehab of both physical and occupational therapy especially once able to put weight back on her legs again.  She can put some weight on the leg that broke above the knee, but with all the time off these legs the muscles have really atrophy. 
One of the challenges is we live in a split level home, so we had to make it more wheelchair accessible for her.  I found out that stair lifts are not covered by insurance which we needed to get her up the stairs, so that was another expense to worry about.  I research for any possible ways to cover this need including my veteran benefits, but many of these only cover me not my wife.  I had already checked with my Veterans Service Officer and found a company that takes donated lifts, refurbishes them and install them for the price on the install.  With donations from both here and directly we were able to get one installed getting my wife home just before Christmas.  The other thing we needed was a ramp to get her into the house, so my VFW Commander helped the local American Legion Commander build one.  
Our current need for help here is covering what insurance does not which includes the transportation into the hospital which cost $222 for each round trip for checkups.  The next thing is for medical supplies as we get a hospital bed rental insurance covers, but everything else we have to buy needed to keep the leg and the sites where the rods go into the leg clean.  The big concern we be the replacement for the car that is able to be accessed from a wheelchair that she can transfer to with a slide board and later with a walker.  Due to her RA, bone spurs in her knees and Lupus (through MCTD) that she had before the accident we don't know how well she will be able to walk.  Likely she'll always need assistance even if it is using a cane in each hand, so a vehicle with accessibility is a must even long term.  We looked into basic wheel chair modified vans and what was out there, but found an alternative that will work better and we don't lose space.  It's called an Auto Access Seat and the van maker builds them so we will need some help there also.
Some background for those that like to know us better:  I'm a US Army Veteran with deployments to both Iraq and Afghanistan, so my wife took care of everything along with 3 kids while I was away.  I'm finding an appreciation for what she went through as I now have to take care of everything.  One of our kids just got back from serving in Afghanistan.  That kid got married at the care center so mom could still attend and they are now living next to that duty station.  We have one kid in college and the other in high school.  I know being with my wife and supporting her has already had a huge positive affect on her recovery so far.  She is a strong women who has already had to deal with a lot of pain in her life with having Lupus and RA, so even with all this on top of the damage from this accident to her legs and that caused by her seat belt, she is a fighter and has come a long way with even longer to go, but this long recover hasn't broken her yet and she has proven to be very resilient.  It is my belief that this is not only due to her strong will and want to get back to a normal again, but also the support I have shown and given her along with all our family and friends, and I hope to continue doing so.  I hate to ask for help, but this is for my family and I'd do anything to help them, especially during these hard, stressful times.  Thank you from the bottom of my heart and from my family.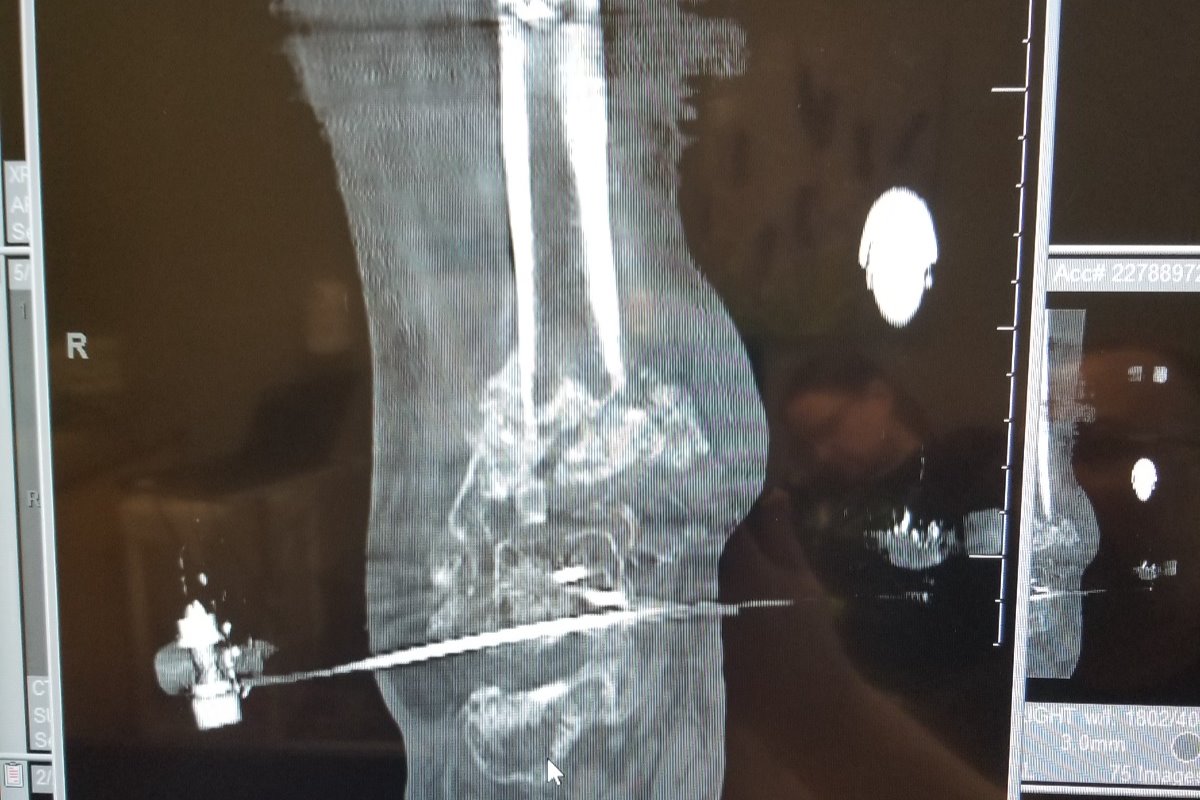 Organizer
#1 fundraising platform

More people start fundraisers on GoFundMe than on any other platform. Learn more

GoFundMe Guarantee

In the rare case something isn't right, we will work with you to determine if misuse occurred. Learn more

Expert advice, 24/7

Contact us with your questions and we'll answer, day or night. Learn more