Welcome to our boys' home in Soweto, Uganda!  My name is Kurt - some say I'm a simple man with big dreams, some say I'm just plain crazy...what do I say?? Maybe a bit of both!  But what I know for a fact is that I am in the right place at the right time - exactly where God wants me :)
(Mom & Dad visiting our home in 2015)
During my first (short) visit to Uganda in 2009, I was bitten by the Uganda bug.  There was no cure for it at the time, so what did I do...?  I gave up a comfy Canadian lifestyle, job, friends, and family and set up camp in Uganda.  It wasn't an easy thing to say so long to loving family and friends, but I knew we wouldn't be incommunicado.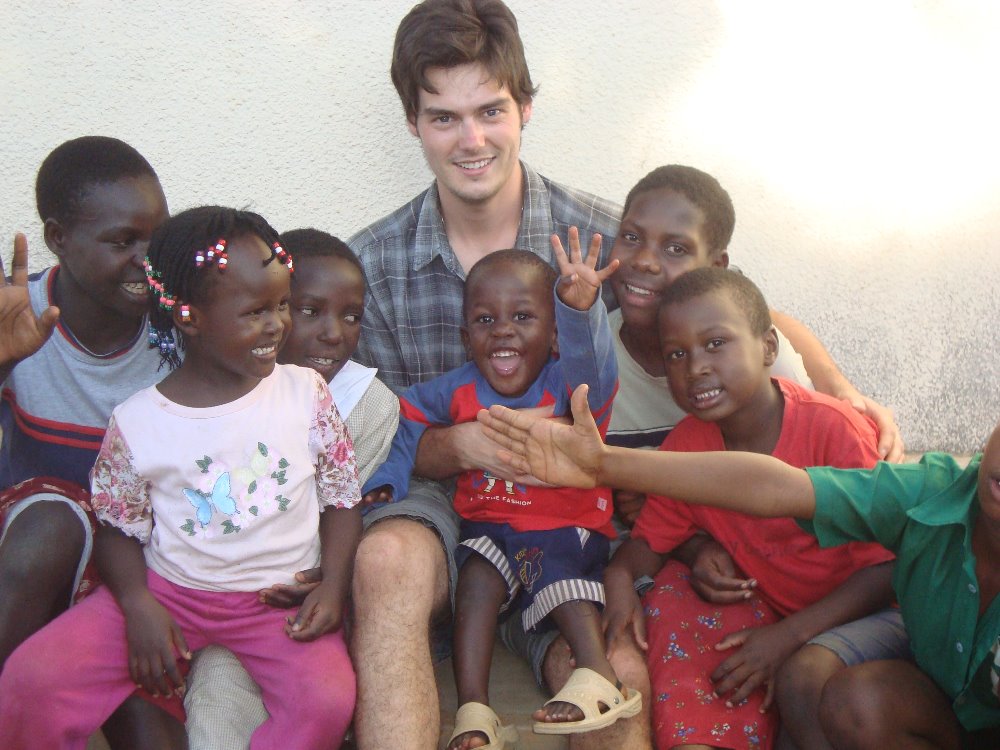 (2009 - First visit to Uganda)
Regardless of all that, I am a young man with a passion to help the hurting (in various areas of life), especially youth.  During my Canadian days, as a youth, I was never too interested in youth groups, fellowships, and the like, but in Uganda the tables turned.  I give all the credit to God who planted Ugandan youth in my path which sparked a passion in me to focus on the neglected youth in Uganda.
 Since 2013 I have resided in Uganda with Ugandans immersing myself culturally and spiritually.  Even through the ups and downs, I truly love the Ugandan people, however, I continue to see, hear, and experience the need to reach out into their lives and somehow ease the pain their hearts continue to cry out with because of the tragedies they have faced within their generation, families and communities.
As it is written by Isaiah in the Bible, '...he will give them a crown of beauty for ashes, a joyous blessing instead of mourning, festive praise instead of despair'.  I was blessed to be raised in a stable home with both parents and a large loving family.  In contrast, many families in Uganda are not so 'united' (in my opinion based upon my personal experience).  In the region where I live and work, so many youth are and have been without mothers, fathers, siblings, and just a wholesome family up-bringing.  As I live and work with these youth, the cultural and family differences can become challenging due to the contrast, however, love conquers all!
I truly believe God can (and has, and will) reach into the hearts of all people and warmly welcome them into His family.  As I am here on this earth, I have an obligation that I believe God has put on my heart; to sacrifice for the sake of others.  One way of doing this is by welcoming these young people into my family (and home).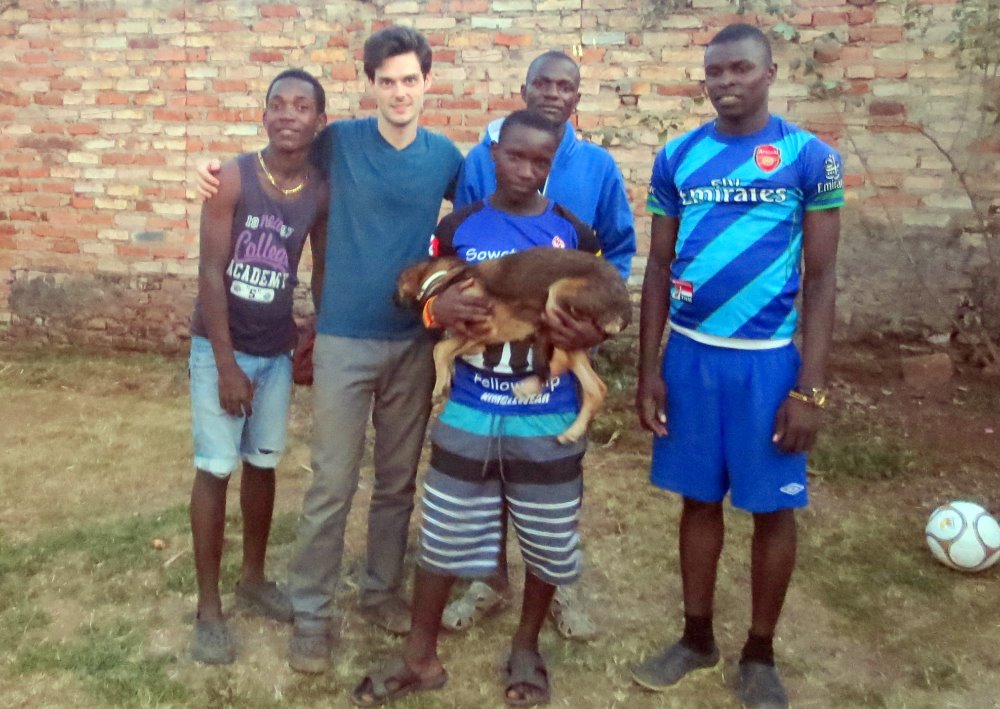 (2016 - Joshua, Kurt, Peter (with Pox), John,  Andrew)
Currently there are five (5) of us living together as close brothers in one small two bedroom home.  All in all, it is a great home because we have a roof over our heads, food in our stomachs, and a brotherly love that keeps us strong.  As the only 'foreigner' in the home, things can become a bit tricky at times, but as I said love conquers all.  Now, these four (4) boys are the ones I am blessed to have staying with me in our home.  However, this does not include the many others whom visit, help out, fellowship with us, eat food, and take part in the various programs and activities we have on the go every day.  I wish I could include them all, but perhaps another time.
The Residents
John - a gifted and talented carpenter who is filled with wisdom and jokes.  He is a true brother to me and loves God above all.  John has been and is currently attending evening high (secondary) school classes so that he can complete his schooling and acquire his certificate.  As a child, John was neglected by his family after both his parents passed away when he was just a baby.  Since then he has fought to make a life for himself, which is where he discovered his talent in carpentry.  John has been a blessing to me and our family.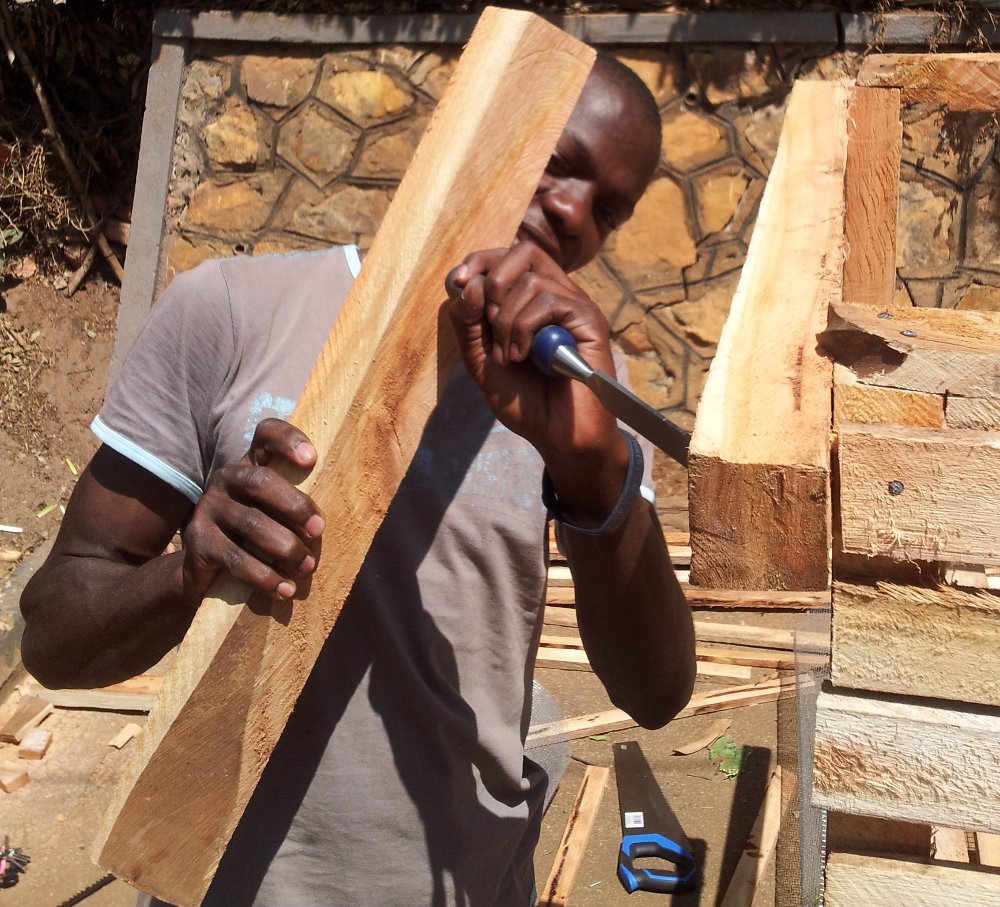 (John)
Andrew - a talented soccer player (footballer) who loves to socialize.  Expecting him to sit still for a whole day is not realistic, but expecting him to come home in time for supper is!  He loves to sings praise and worship songs and praying to God.  Andrew does have a mother, however, she is unable to care for him due to several other factors, including alcoholism.  His dad passed away when he was a child, whom he only got to spend a few weeks with.  Andrew is now going back to school after three (3) years of being unable to.  He will be completing grade seven (7) at the end of this year.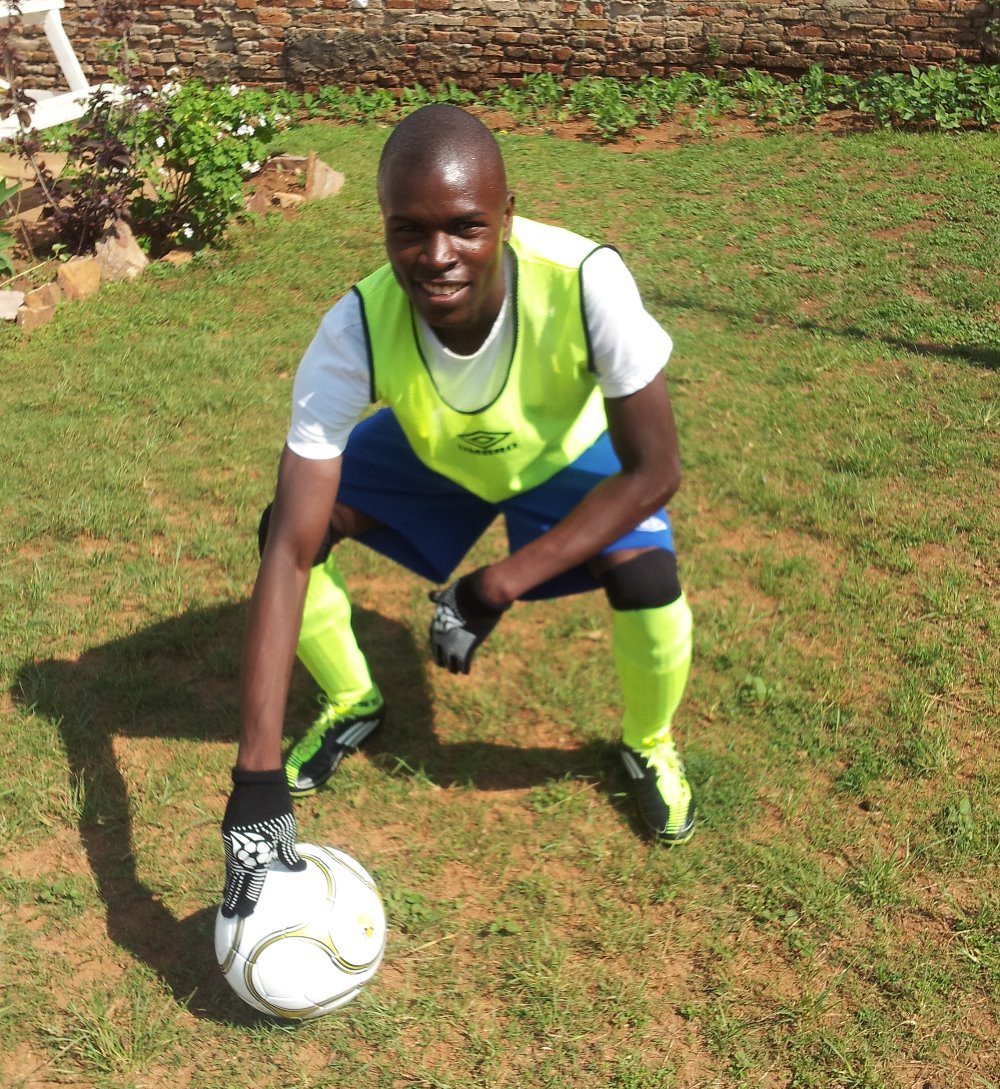 (Andrew)
Peter - the one who runs!  Peter is a fun-loving, loveable and laughable boy.  I think he is one of the few boys I know here who does not get easily shaken.  Peter has parents, however, due to neglect, abuse, and other factors, he ran to the streets as a child seeking a better life.  Life did not improve for him on the streets, however, he still preferred it than resettling with his family.  After trying to resettle him with his family several times, Peter joined our home and began to prosper.  He is now a marathon runner and has also returned to school after ten (10) years away from it.  He loves to read the Bible and learn new things.  Peter will also be completing his grade (7) level which will open the door to high (secondary) school next year.
(Peter, with Pox and Max)
Joshua - an interesting fit to the growing (residential) family.  Joshua is a unique boy who thrives on wheels...and when I say wheels I mean rollerskates!  He has a talent on the skates that can leave others in the dust.  Apart from that he is a young man who is also serious in his books and puts education above his other needs and wants.  Joshua's parents have both passed away which left him with an uncertain future, and a dying hope.  Thankfully since then God introduced him to us at Soweto Youth Fellowship in 2014 and is now an important part of our growing family.  Joshua is also focussed on finishing his high (secondary) school by the end of this year.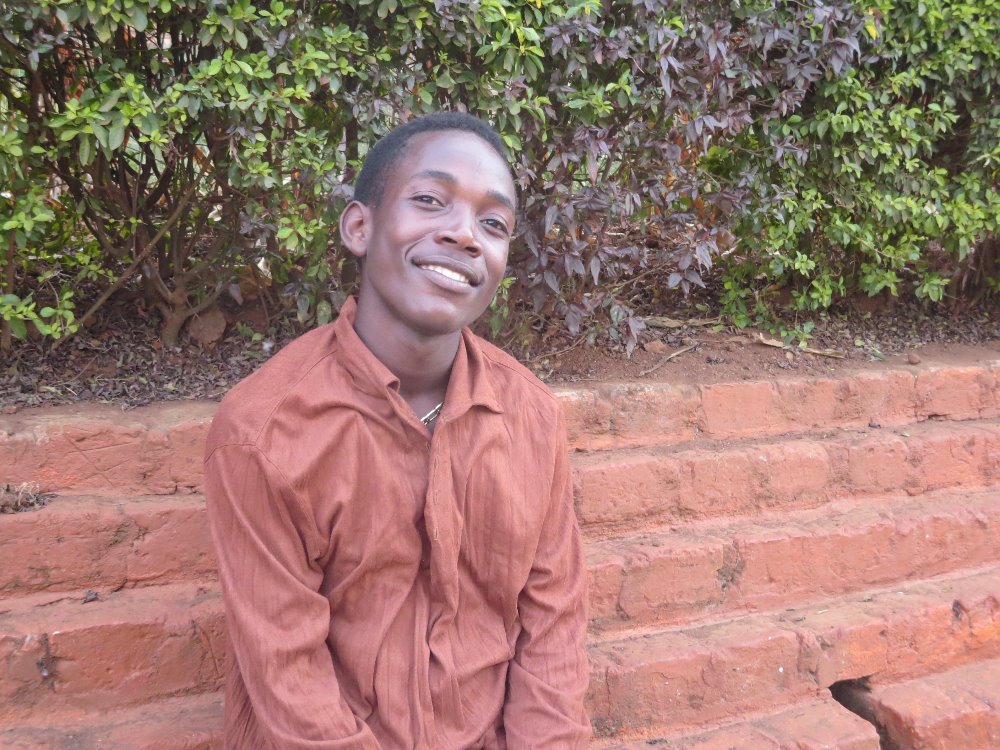 (Joshua)
Why are we raising some moo-la (money)??Food
- If you're a parent, guardian, caregiver or an elder to someone (especially boys under the age of 30), you know how much they can eat!  So with four boys (becoming young men) are all at home around the dining table food is never wasted or left over.  The food bill can get pretty steep which can empty the wallet on a regular basis.
Rent
- We may not be living in a traditional 'mud hut' as some may think people do in Africa, but we definitely don't live in a five (5) star resort.  As mentioned we live in a small two (2) bedroom house complete with sitting room and kitchen in a fenced yard.  The house is (and has been) slowly falling apart since the 1940's (from what I'm told...), however, it serves us well.  It is low maintenance, however, still has a cost.  Each month of rent costs $100 (CAD) and is collected for a six (6) month period.  Our next installment is due on April 1st - we need your help ASAP!
School Fees
- Here in Uganda school fees simply cannot be avoided.  If you try to avoid, your kid will basically be booted out of school until the fees are paid off in full!
With all four (4) boys in school, the fees and other bills of scholastic materials can provide a long long bill.  However, higher education is a key to overcoming the clutches of poverty.  Hosea 4:6 says "...my people are destroyed for a lack of knowledge..." (Holy Bible).
Utilities 
- Yes, even though we are in Africa, we are not living out in the bush.  In fact, we are living on the edge of a town, called Masaka.  Therefore, we are blessed enough to be connected to electricity lines and water lines which give us access to power and water.  This is a huge blessing, however, its not as cheap as some may think.  To power our small home (lights, one laptop, one TV, and an electric kettle) costs us $40 (CAD) per month!  Water on the other hand is reasonable since there are five (5) of us washing, bathing, and drinking (although after boiling or filtering), it costs around $10 (CAD) per month.  If we lived in the village there would be no cost, however, we would be fetching swamp water in jerry cans every morning and evening...needless to say we are blessed.
(Matooke (banana) in the garden)
 These are the basic and most important needs that I am striving, however, struggling to meet on a monthly basis.  Without a strong and consistent base of financial supporters, I now turn to you for support to help us meet these very basic needs.
As I am here on the ground, living with the local people, I encourage you to back us up from wherever you are contributing to the lives of hurting youth who need your help.  Why?  Because they are the future - not only the future of Uganda, but they hold the future of the world we live in.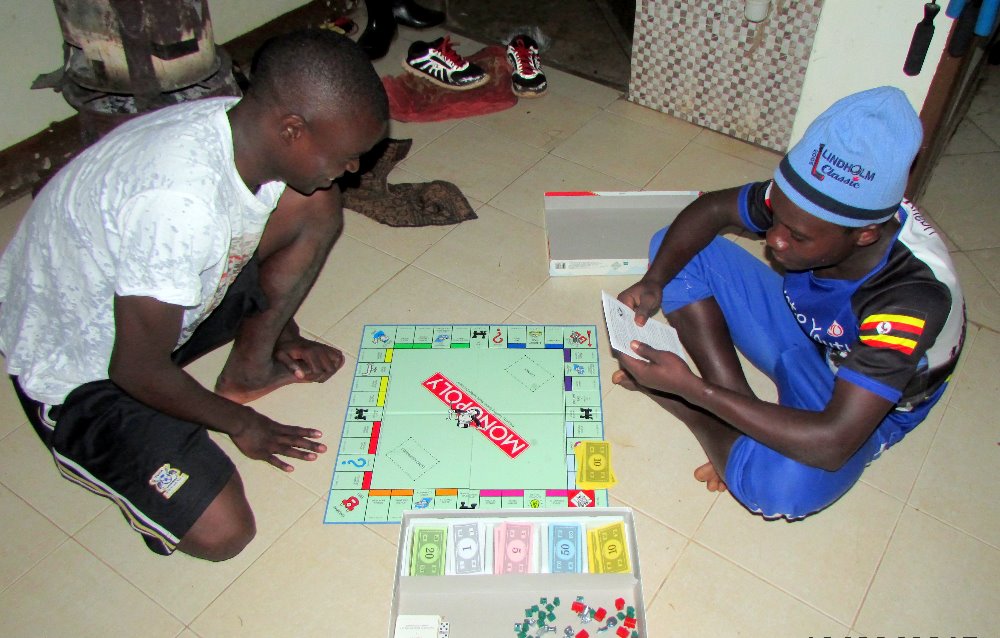 Why does this mean so much to me?
If you do have, or have ever had, a younger brother, sister, niece, nephew, or children of your own you will understand.  Watching the ones younger than yourself come from hardships and empower them to rise above those hardships and enter into the fullness of life that God planned for them is the most beautiful and invaluable gift I believe anyone could ever ask for – its priceless!
Each and every young person who has entered my life I believe has amazing potential, therefore, I believe it is my obligation and duty to do my very best to help them in the best way possible.  Please help me help equip, empower, embrace, educate, and love the future of this nation and of this world.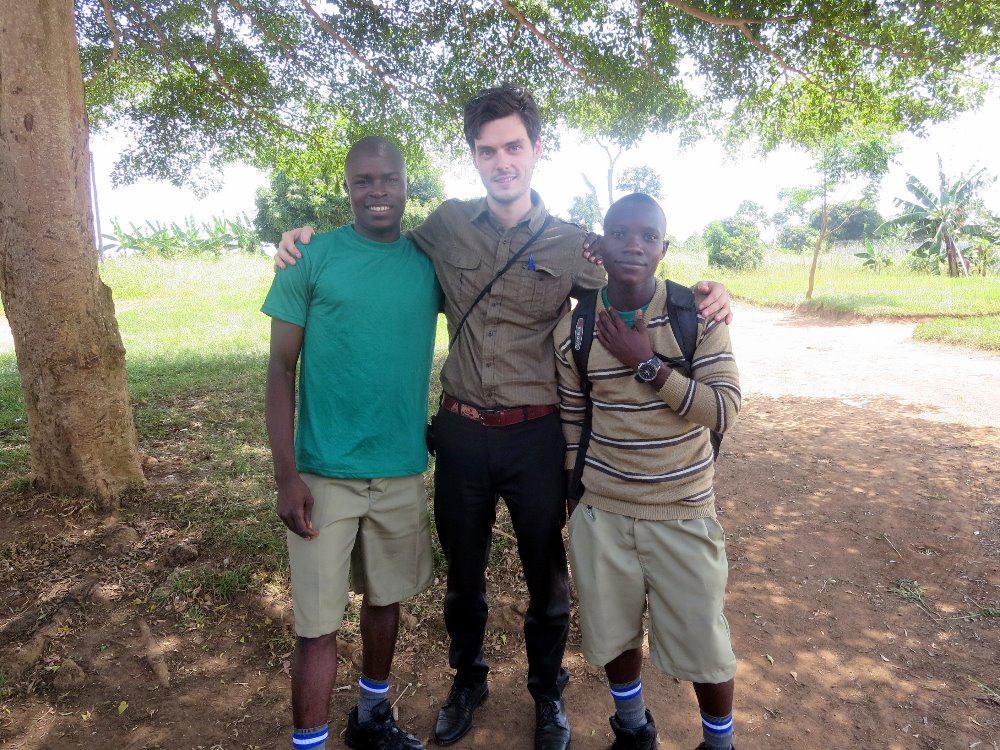 With love and gratitude,
Kurt
PS.  To learn more about our youth project here in Uganda, please visit
Soweto Youth Fellowship
 or in Canada visit
Change 2 Change
Become the first supporter
Your donation matters
See all
Organizer
Kurt Petersen
Organizer
St Andrews, MB