Todos X Edmundo/Everyone 4 Edmundo
For english, please scroll down


ESPAÑOL
MOVILIZEMONOS POR EDMUNDO
Edmundo es padre, hermano, amigo, hijo, sobrino, nieto, cuate… y queremos que siga con nosotros por mucho tiempo más. ¡Ayúdanos!
El 28 de septiembre de 2014 inició para la familia una gran batalla que nos tomó por sorpresa. Esa noche, a Edmundo lo sorprende una crisis convulsiva que supimos que era hasta que se pudo acceder a servicios médicos de emergencia esa madrugada.
Pasado este terrible episodio y recuperado de los dolores musculares y la incertidumbre, acudimos a un especialista para conocer qué era lo que sucedía. Se realizaron estudios de tomografía, resonancia magnética, química sanguínea y electroencefalograma entre otros.
Días después como resultado de los estudios nos enteramos que Edmundo alojaba en su cráneo un tumor cerebral del tamaño un poco menor de una pelota de tenis (razón que hasta entonces supimos era la causa de los dolores de cabeza que desde mucho tiempo atrás padecía pero que erróneamente los achacó al estrés laboral) y había que operar lo más pronto posible. Se buscaron alternativas y médicos especializados en la materia y dado el tamaño del tumor la única opción en ese momento era una cirugía de cerebro con bisturí.
La primer craneotomía se realiza el 18 de febrero de 2015, la cuál tuvo que detenerse de manera abrupta por complicaciones cerebrales, ya que se presentó una gran inflamación en el cerebro y la recomendación del neurocirujano era detenerse para evitar secuelas irreversibles y así buscar continuar 24 a 48 horas después, manteniéndolo en coma inducido y en terapia intensiva durante ese lapso de espera.  
El 21 de febrero del mismo año, se realiza, con consentimiento de la familia, la segunda craneotomía para terminar de extirpar el remanente del tumor.  Esta cirugía tiene una duración de 4 horas (adicionales a las 7 horas de la primera) y el pronóstico inicial indicaba una parálisis motriz total del lado izquierdo de su cuerpo. Después de casi 80 horas de coma inducido, recupera el conocimiento y la familia pudo entrar a visitarlo. 
El 23 de febrero, ya en su habitación del hospital, se confirma que necesitará terapia física para recobrar la movilidad y fuerza de su lado izquierdo, aunque afortunadamente no existía perdida total de motricidad. El 25 de febrero, se realiza la curación de la herida para el día  siguiente recibir el alta del hospital y poder regresar a casa.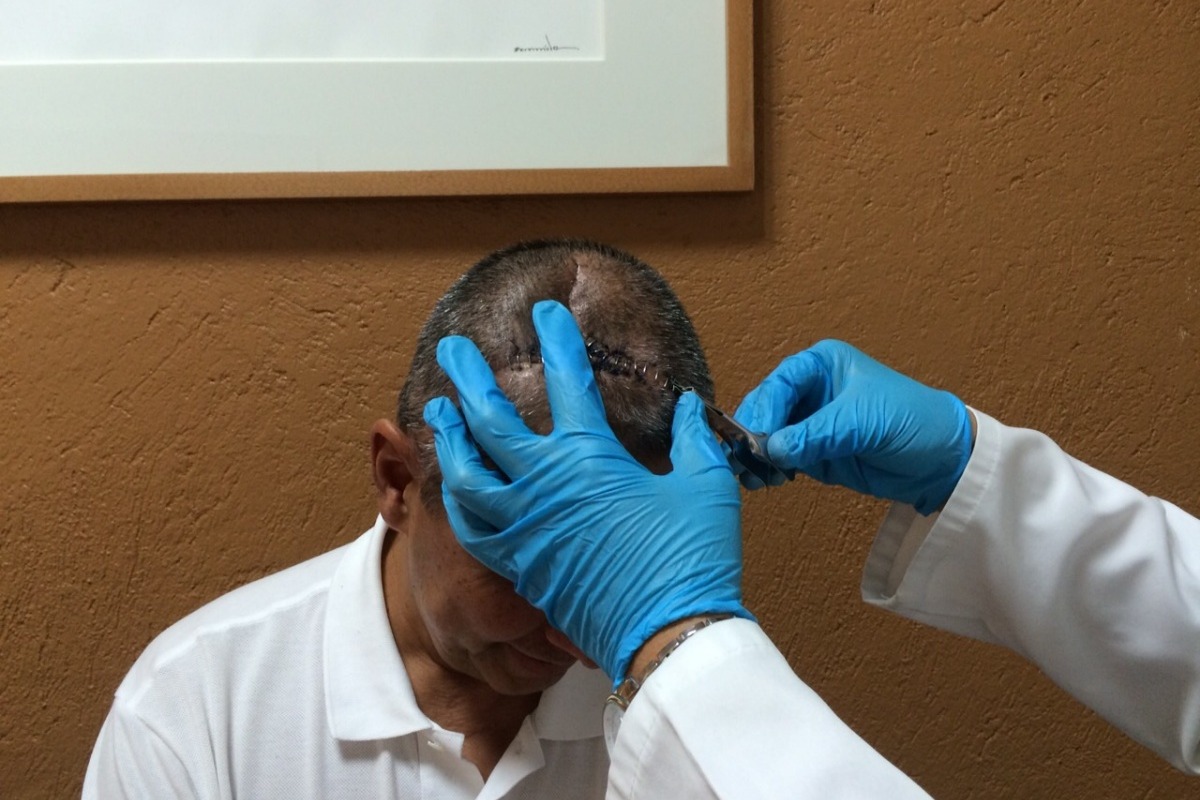 12 meses después, en chequeo de rutina, se identifica la reaparición del tumor como consecuencia de remanentes no retirados del tumor original, pero este de manera más agresiva y creciendo rápidamente.
Esta vez, afortunadamente se pudo realiza un procedimiento a base de rayos gama llamado Gamma Knife para poder destruir el tumor con el uso de estas radiaciones,  cirugía que se lleva a cabo el 29 de marzo del 2016.
El resultado y pronostico después de esta cirugía fue alentador, pues finalmente se esperaba la destrucción por completo al tumor.
Meses después, las convulsiones vuelven a aparecer alertándonos de que algo no andaba bien. Se realizan nuevamente los estudios y chequeos, dando como resultado la aparición de 2 nuevos tumores en diferentes ubicaciones del cerebro.
Es por esto que hoy solicitamos tu aportación para poder enfrentar nuevos procedimientos médicos y tratamientos posteriores, ya que la situación económica se ha vuelto insostenible para él y la familia por tantas intervenciones, medicamentos, médicos y esto aunado a la desafortunada falta de empleo.
Para nosotros es muy importante que las fuerzas no decaigan para Edmundo y poder afrontar en parte todo este proceso nuevamente.
Te agradecemos y apreciamos mucho tu donación y tu apoyo.
Si quieres ayudarnos a difundir esta campaña comparte en tus redes sociales y ayúdanos a superar este nuevo reto.
¡Muchas gracias!
______________________________________________________________________________ 
ENGLISH
LET'S MAKE IT HAPPEN FOR EDMUNDO
Edmundo is a father, brother, friend, son, nephew, grandson and "cuate," and we want him to keep fighting.  Let's help him.
On September 28, 2014, Edmundo and his family started a long and difficult battle.
That night, Edmundo started having seizures, and we knew it was a medical emergency, so we got him the medical attention that he needed.   He was recovering from muscle pain and uncertainty, and he was taken to a specialist.  A few days later, after multiple tests and electroencephalograms, Edmundo was diagnosed with a brain tumor approximately the size of a tennis ball.  After getting second opinions, and researching all his options, it was clear that he needed surgery. 
The first craniotomy was performed on February 18, 2015.  It was stopped abruptly because of complications and severe swelling.  The neurosurgeon's recommendation was to stop the surgery to avoid irreversible damage. He was in an induced coma for about 48 hours, and in intensive care for that period.
On February 21 of the same year, the second craniotomy was performed with the consent of the family to finish removing the remnant of the tumor. This surgery lasts 4 hours (in addition to 7 hours after the initial surgery) and the initial prognosis indicated a total motor paralysis of the left side of his body. After almost 80 hours in an induced coma, he regained consciousness and the family was able to visit him.
On February 23, in his hospital room, it was confirmed that he needed physical therapy to regain the mobility and strength of his left side, although fortunately there was no total loss of motor skills.
On February 25, the wound healed enough that Edmundo was discharged from the hospital and was able to return home.
Twelve months later, during a routine checkup, a tumor was detected.  The tumor was a result of remnants from the original tumor.  However, this tumor was growing aggressively and faster. Fortunately, this time around a gamma-ray procedure called Gamma Knife could be performed to destroy the tumor with the use of radiation.  The surgery took place on March 29, 2016.
The outcome and prognosis after surgery was encouraging, and the tumor was finally eradicated.
A few months later the seizures started again, alerting us that something was wrong. Further checkups and tests identified two new tumors in various parts of the brain.
That is why today, we are asking for your help.  Your contribution can help Edmundo and his family cover medically necessary procedures and subsequent treatments.  Unfortunately, the family is having difficulty covering so many new expenses such as doctor's visits, procedures and medications.  All this coupled with Edmundo's current unemployment.  We don't want Edmundo and his family to lose hope.  Every contribution counts.  We thank you and appreciate your donation and your support.
If you want to help us spread this campaign, please share it on your social media platforms and help us overcome this new challenge.
Thank you very much!

Fundraising team: Los Rodríguez (3)
Iliana McNicholas 
Organizer
Raised $2,381 from 13 donations
Pearland, TX
Israel Rodriguez 
Team member
Raised $1,445 from 23 donations
#1 fundraising platform

More people start fundraisers on GoFundMe than on any other platform. Learn more

GoFundMe Guarantee

In the rare case something isn't right, we will work with you to determine if misuse occurred. Learn more

Expert advice

Contact us with your questions and we'll answer, day or night. Learn more