Titik Winarti, founder and sole proprietor of Tiara Handicraft in Surabaya Indonesia.
My name is Trish Hodge, and Titik Winarti has been an inspiration to me for many years.  She combines a deeply powerful moral force with strong business sense and a warm, open humor.  We met through a U.S. State Department program that paired international women entrepreneurs with U.S. counterparts.  As sister-entrepreneurs enjoying a shared enthusiasm for Indonesian textiles, we immediately bonded. Titik and her husband Yudha helped me to promote my business by taking me to small towns and villages in Northern Java where some of the finest traditional Indonesian textiles are crafted.  Now, I am determined to help Titik in her time of urgent need by launching this Go Fund Me.
For 24 years, Titik Winarti has been producing quality textile goods, and at the same time using her business, Tiara Handicraft, to advocate powerfully for people with disabilities.  With the motto Give Us Opportunity, Not Pity, Titik recruits young adults with physical differences from Surabaya and the surrounding villages.  She has become skilled at persuading parents that these young people can escape the total dependence that is so customary in the local culture, and become socially and economically self-sufficient.  Through Tiara Handicraft, Titik has employed and mentored more than 600 people with disabilities who have then gone on to gainful employment in the larger economy, or started businesses of their own.  At any given time, she employs approximately 30 workers with disabilities.
Titik is now facing the imminent prospect of losing the property in Surabaya that is home to both her family and the people she employs, and which houses her business operation. 
During my most recent visit to Surabaya, Titik told me that the home, out of which Tiara Handicraft operates, is owned jointly by her husband and his two sisters.  The two sisters, now getting older, need to cash out their share of the property in a few short months.  Titik does not have the resources to buy out their share, nor does she have the resources to relocate Tiara Handicraft.  She was profoundly distressed at the idea that she might have to close up operations, leaving her current employees in a difficult situation and putting a stop to the work she has devoted herself to for the last 24 years.  It was then that I decided to set up a Go Fund Me for her to purchase the home and continue the remarkable, important work she is doing. 
As I was finalizing the details to launch this effort, we received the deeply sad news that Titik's husband of nearly 30 years, Yudha, had died suddenly of a heart attack.


This is devastating for Titik.  Yudha was not only a loving husband, but an enthusiastic supporter of Titik's work, helping the business in myriad ways and willingly sacrificing living space for the cause.  Titik, with her natural strength and warmth, remains determined to continue the work they dedicated themselves to, but it is now even more urgent and essential that she obtain the funds to purchase the property that is home to her business, home to her and her children, and home to her employees.
The goal for our fund is $115,000.
This includes the $107,000 purchase price of the home, which has been determined through a local legal process; $3000 for banking fees; and $5000 for legal and real estate fees, as well as to provide a small buffer to account for fluctuations in the currency exchange rate.
I have set up a dedicated bank account to collect donations, which I will then transfer to the Yayasan Bina Karya Tiara Foundation, which is a nonprofit that was set up solely to support the work of Tiara Handicraft.
Many of us are inspired by examples of those who invest their life in raising up others, now is the time to invest our money in support of that work.  I urge you to read more of Titik's story below and give as much as you are able, as soon as you are able, to allow Titik to continue to provide a platform of opportunity, and for Tiara Handicraft to be the positive force in the world that it has become. 

After donating, please share Titik's story, and the link to her GoFundMe, widely and loudly.



Titik's Story: Kreasi Untuk Beraksi (Creation for Action) 
Titik Winarti did not set out to be a social entrepreneur, but as she built her business, it organically grew into a stellar model for realizing profound social change through entrepreneurship.  Titik began the business with a single sewing machine, designing and crafting textile goods to sell locally.  With an innate business sense, and unyielding determination, Titik's business grew quickly, and an unexpected door was opened to what become her life's work.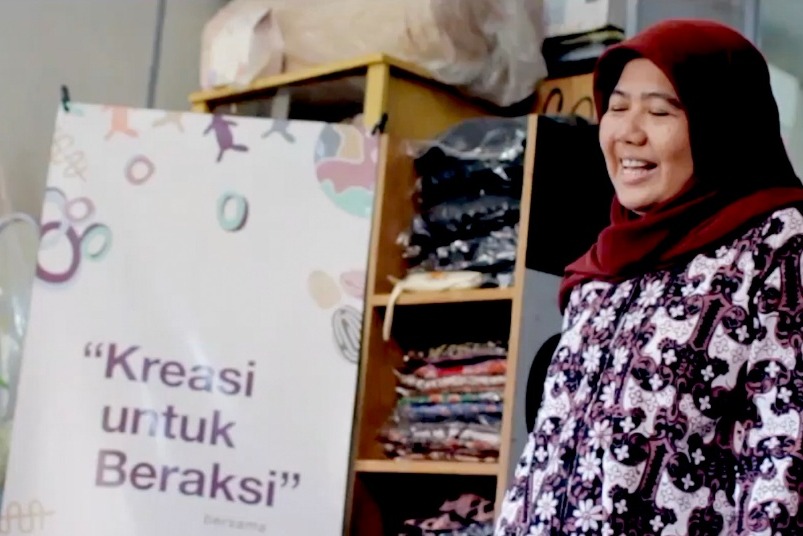 In Indonesia—as in many places, unfortunately—people with disabilities are very often considered to have little to no productive value in society.  In the early days of Tiara Handicraft, Titik Winarti heard about a program that was combatting the notion that disability equates to burden, by teaching various skills to those with physical differences.  Titik was impressed and made a decision to hire workers with disabilities in her own operation.
Titik found that, with very minor modifications, workers with disabilities were equally productive to other workers; she also became more aware of the entrenched obstacles faced by those with disabilities. Over time, Tiara Handicrafts grew, and Titik was able to significantly expand the market for her goods.  At the same time, Titik's business mission shifted.  Tiara Handicraft became a means to combat destructive prejudices in a concrete way.  Both in being the proof that her workers' abilities far outweigh their disabilities, and in providing a conduit for workers to gain experience and skills that then translate into jobs in the larger economy. 
Titik Winarti is adamant that her business is not a charity, and she rejects any such condescension towards the people who not only work for her but live in her home as a family.  The mantra of Tiara Handicraft is, "Give us opportunity not pity."  Titik has become an outspoken advocate for changing social attitudes towards those with physical differences, so much so that she was invited to speak at the U.N. in New York, was featured on CNN Indonesia's Inspiring Stories series, and has won numerous local and national awards.  She advocates not from a pedestal, or a distant place of benevolence, but as an ally in the trenches.   (If trenches were filled with sewing machines, surgers, and laughter.)
Titik Winarti at the UN, presenting Nane Annan with a gift from Tiara Handicraft.


Titik participating in the wedding of two Tiara Handicraft craftspeople.
As Titiks business grew, her family's living space shrunk, since the business continued to operate out of their home.  She and her husband shared a bedroom with babies and toddlers as they came along; a second bedroom was shared by the older children.  The entire rest of the house, and garage, were converted to workspace, with a small display area in the sitting room.  Workers at Tiara Handicraft also live in the home, sharing meals and daily life, with the women sleeping in a shared bedroom and the men sleeping in a dormitory that was added on behind the home.  Thus, workers at Tiara Handicraft gain not only job skills and gainful employment, but an inclusive family, an invaluable support system, and an environment that instills positive self-image.
For many years Titik has actively recruited workers from villages, where those with disabilities are at the most risk of being denied economic opportunity, and social involvement.  She is remarkably adept at finding each person's natural abilities and translating that into specific employable skills. Workers learn trade skills at Tiara Handicraft and are then able to pursue employment in the larger economy.  Several Tiara alumni have started businesses of their own, including a thriving fish farm and a successful restaurant. 
More than 600 people with disabilities have come through Tiara Handicrafts and gone on to gainful employment and lives of independence and dignity that many in their families and communities believed them to be incapable or unworthy of.  This has been made possible by Titik Winarti's skillful marketing of her products, firm belief in and respect for her workers, her relentlessly positive attitude…and her family's willingness to dedicate themselves whole-heartedly to this endeavor.
I am deeply grateful for the opportunity to help Titik, and I sincerely thank each and every person who contributes to support her great work.
Titik Winarti with Trish and Owen Hodge outside Tiara Handicraft.