Help Victoria Alondra beat HLH
Victoria Alondra Wietzel is a two year old who was diagnosed with HLH(Hemophagogytic Lymphohistiocytosis), a life-threatening immunodeficiency. When she first went into the emergency room at the Phoenix Children's Hospital it seemed like she only had a high fever, but after various tests they realized it was more than that. She has been in the hospital for almost 2 months now, and while she has been recovering, there's no set time when she will be discharged. During this time she has battled several viruses, mouth sores, infections, liver failure, appendicitis, and other illnesses. She has weekly chemotherapy and steroids. She hasn't been able to eat in weeks and spends most of her time in the hospital bed. Recently she had Mucositis from the chemo which caused her a severe wound in her rectal area and due to the severe infection, she had to get a colostomy. As of now she is a candidate for a bone marrow transplant which could keep them in the hospital for up to 2 more months.
Meanwhile, my sister Nadia Erika and brother-in-law Grant have been with her every single day, along with plenty of other friends and family who have the chance to visit. At their home in Phoenix, my mom has been helping take care of their newborn Lucia Caroline. I have seen firsthand how painful it is for them to leave Victoria Alondra, even when it's just to go home and take a shower. Similarly, leaving their newborn baby at home is not easy. My sister and Grant have taken turns sleeping on the hospital chairs next to my niece's hospital bed...Grant is more than 6 ft tall and I've never heard him complain. They have remained resilient and try to help Victoria Alondra feel as comfortable as she can in this time.
They have had an outpouring of love and prayers. It has been incredible to see just how loved they are by so many people. I started this GoFundMe page to help offset medical expenses as Victoria Alondra continues to be treated at Phoenix Children's Hospital. My sister has recently had to leave her job of 12 years to dedicate her time to her daughter's and especially Victoria Alondra's wellbeing.
While we are very optimistic, our family could use any and all of the support to help The Wietzels continue to care for her and her baby sister as best as they can. We would love to see Victoria Alondra be a kid again.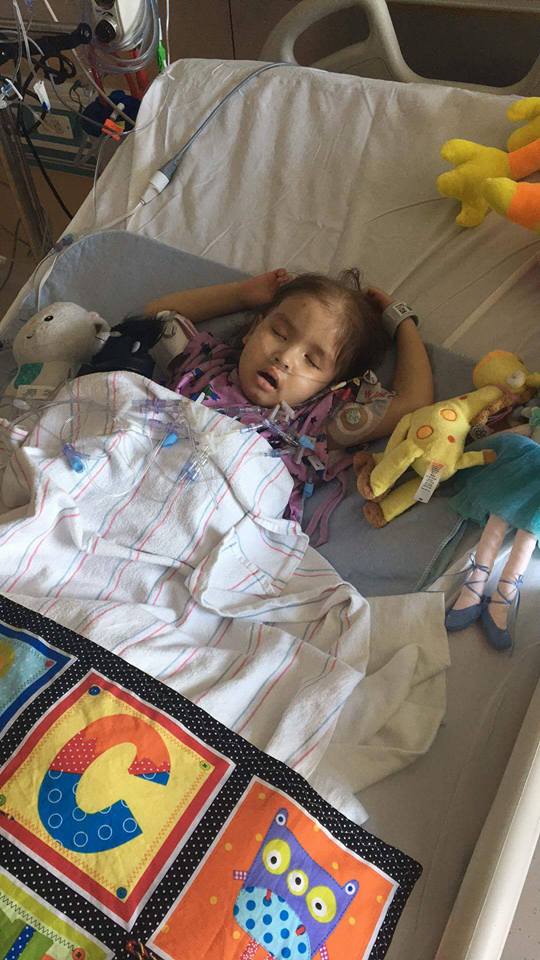 Organizer and beneficiary