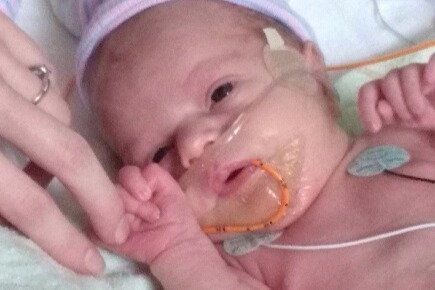 Our precious little Kayslin Pairlee Boullester was "Still-born" at 37 weeks on August 22, 2018.  She is the daughter of Kaylie & Bobby Boullester & granddaughter of Kelley Richardson, Beth Keene, David and Crystal Boullester, Dwight and Sandy Bartholomew. 
We can't begin to tell you all the details of this past seven weeks.  But what we can tell you is this baby girl is a FIGHTER!  She wants to live and we are blessed to have her here with us!   
Here is her story: At Kayslin's regularly scheduled OBGYN appointment her parents were anxiously awaiting the sound of their little one's heartbeat. But what happened instead was horrifying. They actually heard her heart stop beating. Kaylie was rushed next door for an emergency C-Section. THIS was their firstmiracle! Had they been there a minute earlier or a minute later or had the hospital not been next door, Kaylie and her child would not be here today.
The medical team worked feverishly to regain their baby's tiny pulse for 25 minutes. Her Apgar scores were 0/1/3/5/7.  Yes, it took 25 minutes to get a steady heart rhythm.
Kayslin was born with severe "Infant Hypoxic Ischemic Encephalopathy" (HIE)- a type of brain damage that occurs when an infant's brain doesn't receive enough oxygen and blood.  It was a dangerous condition that required immediate medical intervention. The true severity of HIE generally cannot be determined until the baby reaches three to four years of age.  Effects of HIE may include developmental delays, epilepsy, cognitive issues, motor skill development delay and neurodevelopment delays. Sadly, testing showed that three areas of her brain are severely damaged. 
The cause? Perhaps there was an umbilical cord suppression at some point. They have no answers and are waiting on additional test results. 
Kayslin was placed on a ventilator for seven days.  Additionally, the medical team decided she was a candidate for cooling her brain. This cooling process is used to halt additional damage. Brain hypothermia, induced by cooling a baby to around 33 °C for three days after birth, is a treatment for HIE. It has recently been proven to be the only medical intervention which reduces brain damage, and improves an infant's chance of survival and reduced disability.There have been very few babies to qualify for this treatment (at this hospital) and most did not have good results. The doctors said there was no way she should have passed the parameters necessary to qualify for this, but every box they came to was checked at that moment!  Another miracle!  She was given anti-seizure medication and pain meds.  Her tiny body shook for three days as it was cooled. Her family was told it was a miracle she made it thru the cooling. Next, they had to rewarm her body. This was done over three days, very slowly.  Again, her family was told it was a miracle she made it through this procedure. The doctors would hang their heads when speaking to the family about all of this. They stated what they were doing to her was simply horrific, but they were trying to save her life. This was her life in the Neonatal Intensive Care Unit (NICU) in NW Arkansas. 
Eventually, Kayslin was transported via ambulance by the Arkansas Children's Hospital (ACH) "Flight One" rescue team to Little Rock. She is currently in their NICU surrounded by a team of brilliant nurses, doctors, therapist, surgeons, grandmothers, family and friends! 
She has not learned to suckle therefore a "G-tube" was surgically placed in her tiny belly for feeding purposes.  She is being fed with an electric pump and this will continue after she comes home, possibly for years to come. 
Her hearing is not where it should be but she CAN hear. This is yet another miracle! She was fitted for hearing aids and we are so excited for this blessing! 
Her muscle tone is good so far. Another miracle!  We are uncertain how this will play out because there are issues with her Myelination, the protective covering of her nerves. She will require physical therapy. 
She is continuing to gain weight slowly. Again, another miracle! She will require speech and food therapy.
We are praying her eyesight will not be affected but will not know until she is at least 6 months of age. Of course, her family is expecting another miracle! 
We proudly proclaim baby Kayslin is a living miracle!  
Our entire family is thankful for the miracle of God's grace and how, one by one, Kayslin is defying many obstacles, graphs and charts of what the Dr.'s believed to be her expectations! Kayslin's loving parents are dedicated to being by her side during her lengthy hospital stay. While they are grateful that Kayslin is receiving amazing care at Arkansas Children's Hospital (ACH), the road ahead is long and full of unknowns. Baby Kayslin will require health support that isn't covered by insurance. This includes travel and other unforeseen costs. Kaylie has terminated her job and will be at home caring for their baby for many years to come.   
As their community of friends and family, let's help ease some of the stress and financial uncertainty that Bobby and Kaylie are undoubtedly facing. While there are certainly opportunities for moral and other support, anything we can do to alleviate the significant financial pressure while they are off work and attending to Kayslin in the hospital and at home for years to come will be greatly appreciated by Kaylie and Bobby. Thank you for any assistance you are able to offer!  
Please keep Kayslin and her family in your thoughts and prayers and thank you from the bottom of our hearts…. 
#teamkayslin

Organizer
#1 fundraising platform

More people start fundraisers on GoFundMe than on any other platform. Learn more

GoFundMe Guarantee

In the rare case something isn't right, we will work with you to determine if misuse occurred. Learn more

Expert advice, 24/7

Contact us with your questions and we'll answer, day or night. Learn more