SANTI'S STUDIES IN MILANO
⇩ ENGLISH VERSION DOWN THERE ⇩
La crisis no es una barrera para la creatividad, más bien todo lo contrario. Mi nombre es Santiago Méndez, tengo 18 años, me dedico a la fotografía y soy uno de los ganadores del Special Undergraduate Scholarship Competition del Istituto Europeo di Design (IED).

Venezuela es un país hermosísimo que se encuentra en un estado deplorable. Es doloroso saber que el lugar en donde tus padres y abuelos se criaron, desapareció. Escasez de alimentos, corrupción, falta de medicinas y artículos de primera necesidad, inflación e inseguridad son gran parte de los peligros que rodean a cada uno de los venezolanos que viven en el país. Es difícil. Es complicado. Pero seguir trabajando, estudiando y luchando por una Venezuela libre de todos esos males es lo primordial.



Estudiar en este país es otra de las cosas más difíciles de lograr. Casi imposible para el que no tiene la facilidad monetaria de estudiar en un Instituto Privado como es mi caso y el de la mayoría de las personas que conozco.
La fotografía llegó a mi a los 13 años. Empecé a capturar flores, paisajes, animales y a todo lo que se me atravesaba. No fue sino hasta los 16 años cuando descubrí la belleza del retrato. Fotografiar a la gente se convirtió en mi afición, mi trabajo, y mi pasión. A los 17 tuve mi primera cámara, ya que hice un amigo por Facebook que no solo me felicitaba por las fotos que había estado publicando, sino que me ofreció su Nikon D200, él estaba enterado de que nunca había tenido una propia. Recuerdo claramente cómo ese gesto, inolvidable diría yo, de parte de un completo desconocido, me impulsó a seguir haciendo lo que más amo: fotografiar.


Llegué a la moda gracias a la fotografía, he ido aprendiendo y rodeándome de personas increíbles que me inspiran y me ayudan a volverme una mejor versión de mi mismo cada día. Hace un mes participé en el concurso anual del Instituto Europeo di Design (IED), hace quince días me dijeron que era finalista y hace un par me dieron la noticia que era uno de los ganadores.



Fui aceptado en el IED en Milán, Italia. Y aunque he sido becado con el 50%, (lo cual es totalmente un sueño hecho realidad) no tengo los recursos para costear el resto. Por eso necesito de tu ayuda. Lograr esta meta es una tarea difícil, pero no imposible.




Tuve 10 días para realizar el primer pago: la inscripción, que fueron 2.640 € ($ 3.161), y lo logré gracias a GoFundMe y a toda la gente que me ayudó. Ahora necesito recolectar el restante, la otra mitad del año académico, boleto de avión + estadía y comida de los primeros dos meses.
La división de este dinero está distribuída de la siguiente manera:
Inscripción ............................ 2.640 € - $ 3.030
50% de Año Escolar ........... 6.750 € - $ 7.750
Boleto de Avión ...................... 700 € - $ 803
Hospedaje y Comida .......... 3.500 € - $ 4.018                      
% GoFundMe .......................................... $ 2.263
                                                                                ----------
                                                                               $ 18.000

Es duro, complicado, pero siento que todo esto es producto de un arduo trabajo, la pasión, esfuerzo y ganas de poner en grande el nombre de mi país. De dejar una huella en el grupo creativo venezolano, en el IED y algún día en el mundo. Dejarlo atrás no es una opción.

Espero contar contigo, 
desde compartir esto en las redes,
hasta de enviarme $1.
Aquí en estos dos links podrás encontrar mis trabajos publicados hasta la fecha: Behance Portfolio, Facebook Page o en mi Instagram.
Cualquier tipo de ayuda será infinitamente agreadecida,

- Santiago.

All my other D O N A T I O N address:

PayPal Account:
paypal.me/santiagomph

Bolívares (BsF.)
Banesco
0134-0946-35-0001244012
Corriente
Luis Felipe Franco
V-20.978.081
[email redacted]

Also, you guys can donate to this
Bitcoin Address: 
1EQY1M5DTJD6VBTjLKBDZVAZY93ddY3p2n 
____________________________________________________________

Crisis is not a barrier to creativity, rather the opposite. My name is Santiago Méndez, I'm 18 years old and I dedicate to photography, or at least that's what I've been doing since I was 13.

Venezuela is a beautiful country that is in a deplorable state. It is painful to know that the place where your parents and grandparents grew up, disappeared. Food shortages, hunger, corruption, lack of medicines and supplies, all that and much more surrounds every Venezuelans living in the country today. It's hard. It's complicated. But to continue working, studying and fighting for a Venezuela free of all those things is the primordial thing.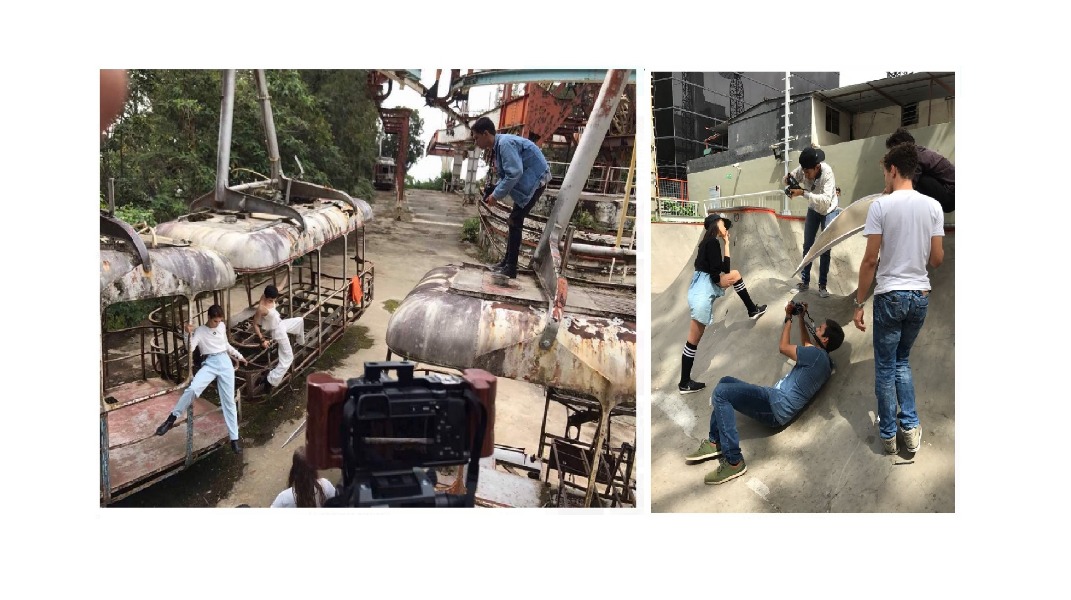 Studying in this country is another of the hardest things to achieve. The high prices of the semesters, the lack of budget of the universities, the stops of studies that happen by the protests. Almost impossible for the one who does not have the monetary facility to study in a private institute as it is my case and the one of the majority of the people that I know.



The photograph came to me at age 13. I began to capture flowers, landscapes, animals, and everything that crossed me. It was not until I was 16 when I discovered the beauty of the portrait. Photographing people became my hobby, my job and my passion. At 17 I had my first camera. Last year I made a friend on Facebook who not only congratulated me for the photos I had been posting, but to offer me his Nikon D200 -he already knew that I've never been able to have my own camera. I remember clearly how that gesture, "unforgettable" I would say, from of a complete unknown, made me continue doing what I love most: to photograph.

I came to fashion thanks to photography, I have been learning and working around incredible people that inspires me and helps me become a better version of myself every day. A month ago I participated in the annual contest of the Instituto Europeo di Design (IED), fifteen days ago I was told that I was a finalist and a couple ago that I am one
of the winners.



This year I was accepted at the Istituto Europeo di Design (IED) in Milan, Italy. So, I was awarded with a 50% scholarship (which is a dream come true), but sadly, I do not have the resources to pay the rest. That's why I need your help. Making this dream a reality is a difficult task, but not impossible.

I had 10 days to make the first payment: The enrollment fee: 2.640 € ($ 3.161), and I made it with the help of all of you guys! Now, I need to recollect the rest: the other half of the academic year + plane ticket + housing and food of the first months.

The division of the money is settled like this:

Enrollment Fee  ........................... 2.640 € - $ 3.030
Academic Year ............................. 6.750 € - $ 7.750
Plane Ticket ..................................... 700 € - $ 803
Housing and Food ....................... 3.500 € - $ 4.018              
Emergency Money ..................... 1.500 € - $ 1.722
% GoFundMe ................................................. $ 2.263
                                                                                         ----------
                                                                                        $ 18.000

It is hard, complicated, but I feel that all this is a product of hard work, my passion, effort and my desire to put the name of my country big. To leave a mark in the Venezuelan creative group, in the IED and someday in the world. Leaving it behind is not an option.

I hope to count on you,
even sharing this on Facebook,
or sending me $ 1.

Here in these two links you can find my works published to date: Behance Portfolio, Facebook Page or in my Instagram.

Any kind of help will be infinitely greasy,


- Santiago.

All my other  D ONATION address:
Bolivars (BsF.)
Banesco
0134-0946-35-0001244012
current
Luis Felipe Franco
V-20978081
[email redacted]
Maria Romero Navas Fernana + € 1,07 Ana Khan + $ 9.16 Jean Clauteaux + $ 3.96 Sara Isabela Camacho Perez + $ 3.48 Diego Romero Sanchez + $ 18.62 Vanesa Nuñez + € 20.00 Alfieris Nuñez + $ 1.59

















Organizer and beneficiary