Michael's Road to Recovery
Michael is on the road to recovery, but he needs help…
On April 20, Michael suffered a stroke of the right basal ganglia. First responders rushed him to the ER where he received TPA, the clot busting drug, within the necessary time frame. He was immediately moved to ICU where for the next 48 hours he continued to suffer what the doctors to this day have still not officially decided were additional mini strokes or seizures. Once stabilized, he was moved to the stroke ward for approximately one week. Evaluation after evaluation. Then therapy, LOTS OF THERAPY, to determine the best course of action. 37 days in all.
It was grim. Michael had no indicators for stroke, no high blood pressure, hypertension, diabetes, or high cholesterol. It's what the doctors call idiopathic; there is no foreseeable reason why he should have had the stroke. This made it exceptionally difficult to treat, not to mention the fact that a stroke of the right basal ganglia is basically in the middle of your brain and not conducive to surgery.
The basal ganglia serve as the message center for a range of bodily functions. This message center controls movement, personality, muscle control, sensation, and some aspects of thinking. As with all types of stroke, a basal ganglia stroke might cause lasting muscle weakness, particularly on the left side of the body. Having difficulty with starting, stopping, or sustaining movement: Damage to this area of the brain makes regulating movement difficult. A stroke on the right side of your basal ganglia may lead to severe apathy and confusion.*
Michael is no stranger to hospitals. At the tender age of 13, he was hit with the first of three battles with cancer. After more than 40 years of doctors, hospitals, radiation, chemo, and such, he likes to think of himself as 'ten feet tall & bullet proof." To some degree he has proven it over and over again. Today he is cancer free…and now on a clear path for recovery from the stroke. Still it is sloooooooooooooow going.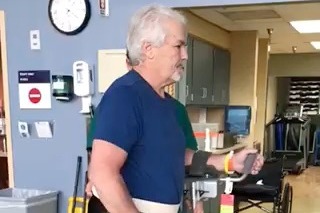 This is a different kind of recovery. His days are filled with leg and arm braces, compression gloves and sleeves, a cane, wheelchair, shower chair, and therapy, LOTS of therapy: e-stem therapy, physical therapy, occupational therapy, and more. All this just so he can do the things we take for granted: getting out of bed unassisted, putting on his shoes, walking from one end of a room to the other, opening the refrigerator and carrying his selection to the table, cutting up his food on his plate. He suffers muscle spasms in his left arm and leg throughout the night preventing restful sleep resulting in constant fatigue.
Still, Michael is a fighter; he has to be. Despite his progress, his employer has terminated his position. With no employment, the mounting medical bills, not to mention regular living expenses, are near impossible to meet. Needless to say, this is having a negative impact on his continued recovery.
Please help Michael make a full recovery. Your thoughts and prayers and support are truly appreciated.
* Via medicalnewstoday.com, medlineplus.com and heathline.com