Susan's Handicap Van Fund
We are running out of time! For more info, the latest updates and additional ways to contribute, please go to  Our Main Fundraising Center . . .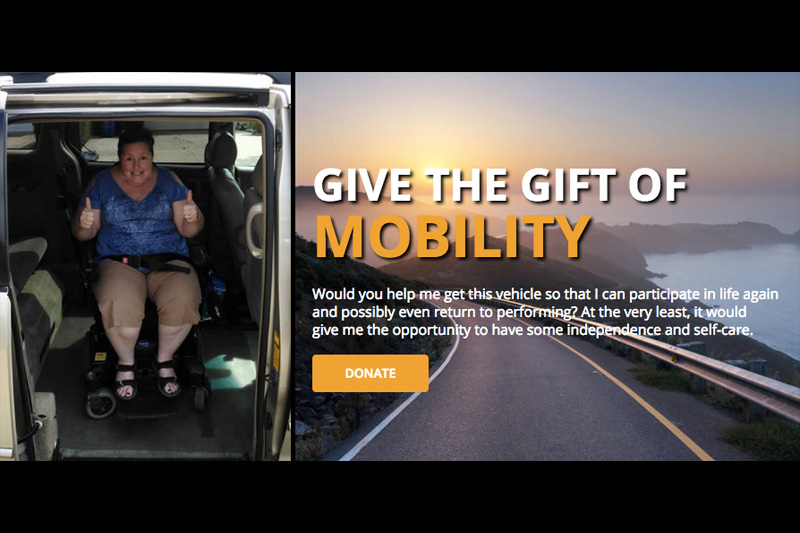 ____________________________________________________________
I am a passionate singer/songwriter performer.February 20, 2015 I was hospitalized with what we thought was a stroke. The final diagnosis came back as Multiple Sclerosis. I can no longer lift my legs and the least bit of activity exhausts my body to the point of catatonia.
We were able to get a standard minivan to help transport me. However, it does not have cruise control and the chair ramp is now falling apart. The shocks are worn out, it needs new brakes and tires, the air conditioner needs repair and the transmission is slipping. It is a 1999 and not worth putting more money into it.
Though I am not driving right now, I am capable of driving and hope to again one day soon.  However, the hand controls are difficult for me to hold in place when braking and applying pressure for gas. It takes strength and has compromised my neck and shoulders.  I also have difficulty mounting the chair on the rear trailer and then getting myself into the drivers seat. I have had to turn over driving to others for this reason.
Mobility Works in Oakland specializes in vehicles set up for those with issues like myself and I have visited them twice. I have now put $1000 raised from this fund as down payment to them for a 2005 Toyota Sienna which is very clean, low miles and already handicap converted for me to easily drive my chair into and lock-in.
I am on permanent disability. I was a very active community and business person.  I desperately need to get back to helping others, performing and being a resource to others.  The last couple of years have been filled with confinement, fighting with insurance and the inept medical systems. I can not get a loan for a vehicle due to lack of income or afford to make monthly payments.  
I have attempted to work (answering phones, office work, social media etc.) in order to supplement my Disability income, but the catatonic episodes leave me unable to work.  We are still working on medical solutions.
I am a singer/songwriter with a lot of life in me. I could still have a life if I had a vehicle that was easier to get in and out of and fits my chair on the inside. Having an exterior chair carrier has compromised the life of the chair and in inclement weather I can not go out at all because of fall risk during transferring.
Would you help me get this vehicle so that I can participate in life again and possibly even return to performing?  At the very least, it would give me the opportunity to have some independence and self-care. Also, the costs of others driving me is causing a financial hardship.
My current vehicle is on it's last legs.  Please help me replace it as soon as possible.

Organizer