Support for Lee Melymick  Event: Stand by Lee and Leave No Man BehindThis fundraiser has been created to support Lee Melymick, youngest son of Mark Melymick and Terry Haubrich, who sustained a spinal cord injury resulting in complete paralysis from the waist down on June 23, 2015.  Lee is one of the most determined individuals you would ever meet, and has his heart and mind set on regaining use of his lower body! The only way this is at all possible with a complete spinal cord injury is with possible benefits of stem cell surgery. Although still in experimental stages, stem cell surgery is showing much promise in various hospitals out of the country. Since this procedure is in early stages it is, of course, expensive and not covered at all by insurance or other institutions. It is also presently only offered outside Canada and the U.S.  Stem cell surgery saved Gordie Howe after his stroke – and there are many new developments in China and England as well as other parts of the world in stem cell research as a possible treatment for spinal cord injuries. With the permission of Lee and his family, we are setting up this fundraiser to appeal to family, friends, colleagues, and anyone willing to help make a difference to raise funds for travel to receive possible surgery and any additional rehab costs needed to help Lee to regain as much function as possible.  Much research will be done before choosing where and when to go, to ensure all is legitimate and
progress for Lee is definitely possible!Please share this campaign and story and support Lee in his progress and recovery.Lee's Story
Lee has always been an impressive athlete. In high school he was a leader on senior football, basketball and baseball teams. His coaches still speak of him as one of the top athletes they have ever coached.  He was also an honour's student and impressive academically as well. After high school he was accepted into several University Engineering programs, but chose Ryerson so he could live at home and save money. He played baseball for Ryerson during first year and played for Leaside junior team in the summer. He was a top hitter for Leaside, and also pitched when needed. This spring he was throwing harder than ever and hitting well again for his team.  He loved paying baseball and was thrilled being an important asset for the team. To help pay for the costly Engineering program at Ryerson, he needed a summer job and in May, he thought he was lucky to land a job cleaning windows and eaves.
On June 23, 2015, Lee Melymick was seriously injured in a workplace accident after a fall from over 20 feet. His spinal cord was completely severed and he was diagnosed immediately with complete paralysis from the waist down. At times his pain was unbearable.
There were several complications and problems that occurred and additional surgeries and medical procedures were required. There were also many times all involved were not sure Lee would be able to survive this ordeal, but he did.  During his 70 days in trauma hospital he lost over 70 pounds. Lee went from an athletic strong 210lbs to a fragile 135lbs on his 6'4" frame.  Finally, after a third surgery in early August, Lee began to slowly make healing progress. He was able to move to a trauma ward and out of intensive care.
In early September, Lee was released from trauma hospital and moved to a rehab facility, where he is still receiving physiotherapy and occupational therapy.
While the costs of the actual medial care will be provided by Workplace Safety Insurance Board (WSIB), there are many associated costs that are not included—like purchase of a special vehicle, medical procedures out of the country, some alternate rehab, etc.—and it does not cover any stem cell treatment. Payments by WSIB are based only on lost wages, and nothing is allotted for pain and suffering. His dad Mark has even met with MPP and senior advisor to Minister of Labour in an attempt to change legislation to be more helpful to worker's who obtain serious injuries. This will take years.
Support from all who know Lee or any of his family members is extremely meaningful and appreciated by Lee and all his family. The "Stand by Lee" slogan is a play on the old popular song "Stand by Me" and the old military expression "Leave No Man Behind" is the slogan that Lee's close friends have put on T-Shirt's to let him know they will indeed stand by him and not desert him in time of need.  It is a perfect description of the incredible support that has been there for Lee and his family since the day of his accident, from his family, friends and community. 
About Lee
Lee is a 20-year-old, third year Engineering student at Ryerson University, and is the son of Mark Melymick and Teresa Haubrich and brother to Luke.  He grew up in Toronto and attended Sunnylea Junior School, Norseman Middle School and Etobicoke Collegiate Institute. In high school, he maintained honour roll grades and was a team leader on the football, basketball and baseball teams. He spent every summer of his youth visiting family and friends in Saskatchewan, where he took also took swimming lessons and attended baseball camps. He was given numerous academic and athletic awards and accolades in high school. Last year while in second year Engineering Ryerson, his team of four won the Junior Engineering competition then represented Ryerson in the province-wide competition.  In addition to working during the summer, Lee was also a valuable member of the Leaside Junior Baseball team. Those who have met Lee, know what an amazing individual he is.  His quiet, calm, kind, intelligent nature has impressed all who have met him through his 20 short years.   Canadian Actor Kim Coates, and Man in Motion Canadian hero, Rick Hansen, have both made visits to see Lee in hospital and both have been greatly impressed and impacted by how Lee has coped and handled this tragic injury. His incredible positive attitude has brought many to tears.  Lee is bright, kind, hardworking and has so many other qualities, and he deserves to have the best opportunities to recover and improve. There is no doubt that what he will achieve in the days, months, and years ahead will impress beyond expectations!
He and his family are grateful and thankful for any support you can offer. Please only contribute what you can afford and an amount you will not miss, or notice is gone. The total cost of travel, surgery and associated rehab is still note certain, but will most likely exceed $80,000.  The family will somehow cover any shortfall. If there is an excess of what Lee needs, funds will go directly to spinal cord injury research to help others. Lee's parents—both teachers—have both dedicated their lives to helping others, and now they need your help. This is an opportunity to help someone who truly deserves a break, and help spread awareness of problems after spinal cord injuries! Our other hope is this will help bring this the spotlight back on trying to find a cure/solution these horrible injuries that plague far too many!  Thank you so much for any help you are able to offer!  We encourage those so inclined to set up their own creative fundraising events for "Stand by Lee" and then contribute funds raised.   One idea that came up that would be fun (and cheesy, in a good way) is for the singers out there to record a video of a version of "Stand by Lee" and we can post a compilation for all to see.  Thank you all for helping Lee in any way you can!
When the night has come, And the land is darkAnd the moon is the only light we'll see, No I won't be afraid, no I won't be afraid,Just as long as you stand, stand by LEE.Oh come on, come on, stand by Lee, oh stand by Lee Oh stand by Lee, stand by Lee.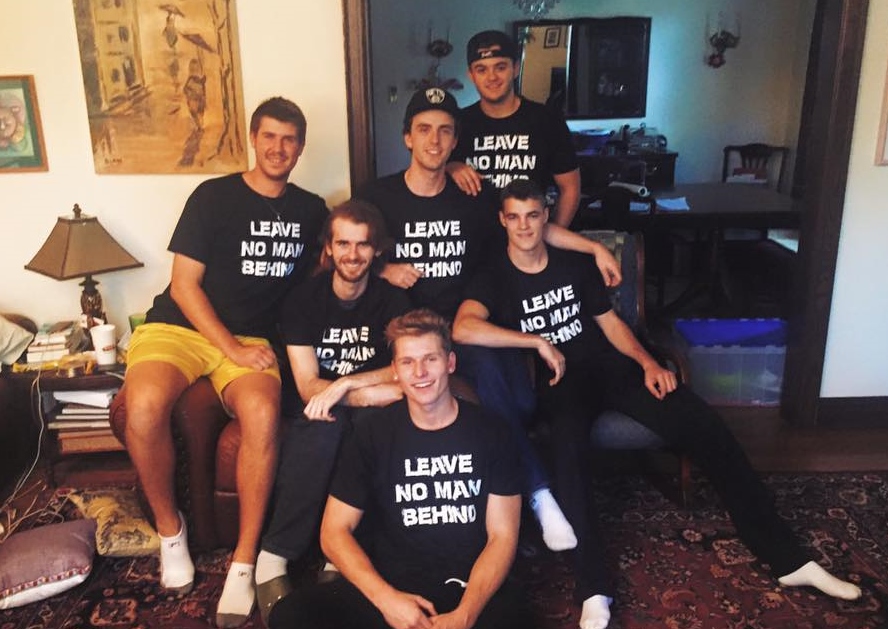 Lee's friends made these 'Leave No Man Behind' T-Shirts and brought them over when he was home on a pass at Thanksgiving.


Organizer