Squishies Donation Match in July!
We are so excited to have been made an incredible donation offer by a very kind and generous Squishies supporter!
Our donator (who would like to remain anonymous) wanted to make her donation count as much as possible, so she has offered to MATCH ALL DONATIONS MADE IN JULY!! For every dollar that is donated to Squishies through this link (or into our account/directly onto our vet account with prior arrangement) our amazing supporter will donate a dollar of her own! This is an incredible opportunity for us to clear some more of our vet bill and is OUR LAST CHANCE to avoid having to introduce a "one out, one in" policy, to prevent further vet debt. We simply cannot continue to take the number we do, without a serious reduction in our current bill. We have taken in all of the animals below (as well as several more) in the last 4 months. They have all added to our vet account and the majority of them have not even come close to covering their vet costs with their adoption fees. Incredibly, our wonderful anonymous donator insists there is NO CAP on her donation match offer, so please dig deep and donate what you can!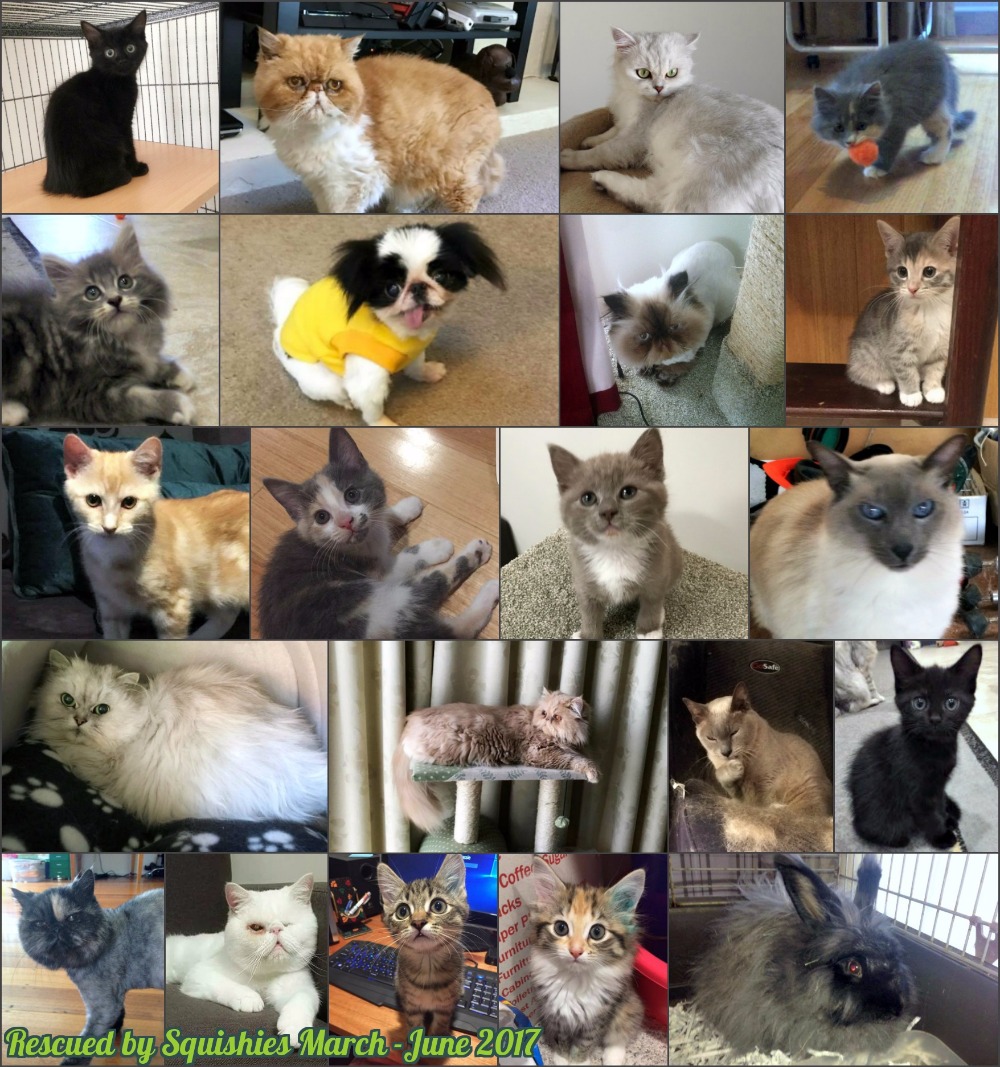 --------------------------------------------------------------------
About Squishies:
In 2011, Paw Prints Private Rescue began as a small all breeds cat and dog rescue group in the eastern suburbs of Melbourne.

After taking in a number of flat faced cats, it became apparent that there was a need for a dedicated rescue group, for these beautiful, but often horrifically neglected cats. Squishies Flat Faced Cat Rescue was founded in 2012, to give flat faced cats all the special care they need and to find them homes that understand the commitment they require.

After 4 years of running Paw Prints and Squishies Cat Rescue side by side, we have now merged the two groups creating Squishies Flat Faced Animal Rescue.

Our focus going forward will be flat faced cat and dog breeds, while still taking other breeds, whenever possible.

Squishies rescues from pounds nationwide, as well as taking private surrenders from owners who can no longer care for their pet.

All animals that come into care are desexed, microchipped, vaccinated and parasite treated and given all the time and support they need to be ready to find their forever homes.
Organizer