Speak I am Listening Initiative
Who we are;


SPEAK I'M LISTENING  INITIATIVE which means in our local language "MBWIRANDUMVA " is a local non-profit making organization with legal status agreed by RGB and it was created in 1996 with mission to deal with gender issues of vulnerable raped women, girls infected by HIV/AIDS and some left widows with large number of children who are now living in critical life conditions with poor health, poverty, hopeless, trauma and stigma feelings where today need special psychological and financial support.
In  the effort to find a lasting solution for our beneficiaries, MBWIRANDUMVA INITIATIVE has taken the initiative to launch a vocational school to help its youth in the long run and see how it can also help their parents to live in the future. That is why MBWIRANDUMVA TVET School started providing skills  where more than 80 graduates each year.
MBWIRANDUNVA TVET School was emanated from MBWIRANDUNVA INITIATIVES's mission statement of supporting the vulnerable of genocide survivors with remarkable effects of trauma, health problems and other related negative impacts to the Rwandan community.
However, the main principal approach organization used among others while addressing the issues of vulnerable was psychosocial counselling, activities generating income and vocational training skills.  Currently MBWIRANDUNVA TVET School is offering skills through hair dressing, beauty and tailoring trade at foundation level in order to overcome dependence syndrome for sustainable reasons.
It is for this cause therefore, the idea of transformation and extension of TVET School came up to find solution for an existing current challenge an organization have today.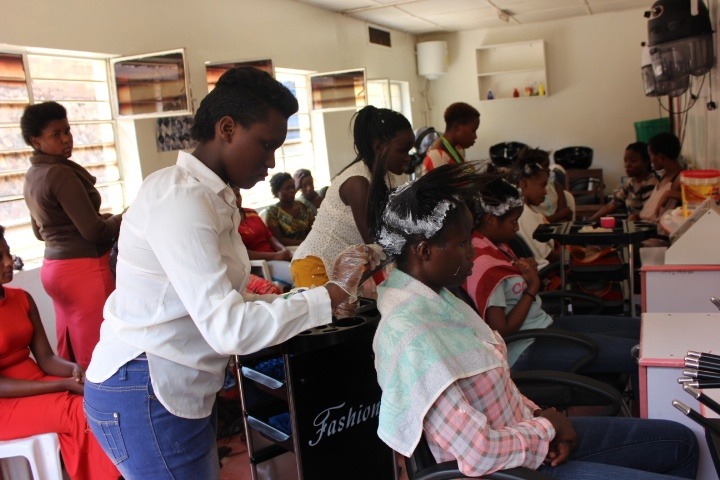 THE CAUSE OF THIS FUNDRAISING GOFUNDME
In the event that the Organisation has planned to extend its TVET School, it immediately met the effects of COVID-19 Pandemic and the planned budget to extend the school was quickly allocated to assist the organization beneficiaries in order to cop up the effects of COVID-19 including provide financial support to our vulnerable youths(girls and boys) and school staff to get basic needs to live.
In these days, MBWIRANDUMVA Initiative  organization which is the main financer of MBWIRANDUMVA TVET School is in critical financial economic conditions where it needs emergency financial support to restart the MBWIRANDUMVA TVET School to continue providing vocational training skills  to vulnerable young women and boys   who were benefiting skills and living.
That  is why we are asking the benevolent philanthropists to help us financially and see how we can  help our youths and MBWIRANDUMVA TVET School who have been severely affected by COVID-19  to be able to continue to work and help young people suffering from the effects of the plague.
Another purpose of GoFundMe is aimed at helping the graduates trainees
, In the process of helping young people who have completed vocational training skills to be able to cope with the problem of lack of space to continue to apply what they have learned, sometimes leading many to return to the bad lives they used to have before studying; MBWIRANDUMVA has decided to launch a program to create a place where these young people will continue to use the knowledge and skills acquired, but the organisation has a problem of the financial capacity of initiating the start-up that project. The main reason for this program is that, we have found that if this project get start; it will benefit many young people as each year about 80 youths complete the training courses in sewing and Hairdressing. So, after graduation many face the challenge of getting start-up capital. so, their talent and knowledge, they get from school is wasted.
So, we, as MBWIRANDUMVA, find it as an appropriate to help them find a lasting solution that will help our youth find a better way of life so that they can continue to feel that what they have learnt is important for them and for the country as whole so it is in that context that MBWIRADUMVA Initiative thought of raising funds so as to create a working station where graduates can apply their skills and sell their products made out of their hands and raise their living status.
For more information  visit our website   /
what we do/
https://mbwira-ndumva.org/