625
28
Sir Darius's PAW-some Mission
$18,720
of $10,000 goal
Raised by
610
people in 2 months
Sir Darius Brown is a 12 year old dog lover with a heart of gold, a young entrepreneur, honor roll student, multi-talented, impeccable dresser, and founder of Beaux & Paws. He specializes in creating handmade stylish bowties for our fur-babies (dogs and cats) and their "hoomans"
At the age of 2, Sir Darius was diagnosed with speech, comprehension, and fine motor skills delay. He never let his challenges stop him from accomplishing his goals. Sir Darius became interested in making bowties when he was 8 years old, helping his sister cut fabric to help develop and improve his fine motor skills.
In 2017, Sir Darius became emotional and was moved by the devastation of Hurricane Harvey and Hurricane Irma and wanted to do something to help. Learning that some rescue dogs were being transferred from the devastation in Texas and Puerto Rico to the ASPCA in NYC as well as other shelters, Sir Darius thought of a unique way to use his passion of creating bow ties to donate bow ties to the displaced dogs to help them look attractive and fashionable in hopes of getting them adopted faster and finding their new FUR-ever homes. During this time Sir Darius learned that every year thousands of dogs are euthanized at some shelters if they are not adopted in time due to limited space.   When he learned of this horrific act he was beyond devastated.  A dog lover himself, this was the beginning of Sir Darius's mission to help dogs and cats across the nation as much as he could.
Sir Darius has donated countless bow ties to animal shelters and adoption centers across the USA and in the United Kingdom.
Former President Barack Obama learned of Sir Darius and his mission, sending him a letter of recognition for his compassion, efforts, achievements and his commitment to service. What an honor!!! Sir Darius has been recognized by & received support & encouragement from former NBA All-Star Allen Houston, motivational speaker Les Brown, Michael Strahan, Walt Frazier, Scott Perry, The NY Knicks, NY Giants, actress Kenya Moore, Tiffany "The Budgestnista",  Radio host DeJa Vu and many others including over 42K+ followers on social media. He has also received the Leadership Award from "Leaders of the Future No Limits, Outstanding Achievement Award from the WDIB Conference, the Youth Changer Award from "Excel Honors" and he will be receiving the Jasmina Anema Youth Award from the "Black Cotton Foundation" July 2019. 
Sir Darius's story has been featured on the Rachael Ray Show, Pix 11 News, NY Post,  ABC World News Now, News12 NJ, Fios 1 News, JIF peanut butter "Imagine If' campaign, and Newark Patch.  Sir Darius's mission is to help dogs get adopted and find their FUR-ever loving homes and help save their lives. He speaks at youth and adult events encouraging and inspiring others to volunteer and give back generously to their community, as well as the importance of an education. 
Summer is upon us and Sir Darius's PAW-some mission is to visit 5+ states to volunteer at different shelters and adoption centers assisting with the care of their shelter dogs, helping with adoption events as well as getting them cute and dapper in his snazzy bow ties in hopes of getting as many dogs as he can adopted this summer. 
Sir Darius needs your help in reaching his goal from all of you amazing dog lovers and supporters. He needs financial assistance to help with: 
*Purchasing supplies to create doggie bow ties 
*A new sewing machine
* Shipping fees (to ship bow ties to shelters and adoption centers that he can't visit)
*Transportation/arrangements to 5+ states to volunteer at & to promote adoption events at adoption centers & shelters 
*Transportation to and from local shelters
*Registering as a 501C
*Registering his LLC
*Creating a website
* If he surpass his goal he will be able to complete almost everything on this list but his main focus is to visit and volunteer at more than 5 shelters and adoption centers across the USA which means helping more dogs find their loving FUR-ever homes.
Thank you so much for taking the time to read about Sir Darius's journey. He will greatly appreciate your donations to help with his cause and complete his Paw-some mission. I'm his older sister and he motivates and inspires me everyday. He is such an incredible young man and I will do everything I can to help him on his journey. I'm supporting him in his cause 100% and I hope you will join me. No donation is too small. 
Blessings to you all. 
**Links to his interviews/videos/social media**
Website:
www.sirdariusbrown.com
(Please subscribe to my email list
)
Instagram: @sirdariusbrown
Facebook: Beaux and Paws by Sir Darius Brown
Email address: beauxandpaws@gmail.com
Pix News 11
https://www.google.com/amp/s/pix11.com/2018/04/26/newark-boy-makes-bow-ties-to-help-dogs-get-adopted/amp/
Rachael Ray Show
https://youtu.be/zqWoihEiAv8
Inside Edition
https://www.insideedition.com/media/videos/12-year-old-ceo-aims-help-shelter-pets-get-adopted-quicker-54461
Hallmark Home & Family
https://www.hallmarkchannel.com/home-and-family/videos/adoption-ever-after-zeniba-home-and-family
PEOPLE Magazine
https://people-com.cdn.ampproject.org/v/s/people.com/pets/boy-12-creates-bow-ties-for-shelter-dogs/amp/?amp_js_v=a2&amp_gsa=1&usqp=mq331AQA#referrer=https%3A%2F%2Fwww.google.com&amp_tf=From%20%251%24s&ampshare=https%3A%2F%2Fpeople.com%2Fpets%2Fboy-12-creates-bow-ties-for-shelter-dogs%2F
New York Post
https://nypost.com/2018/02/17/this-kid-makes-shelter-puppies-look-fabulous/?utm_source=url_sitebuttons&utm_medium=site%20buttons&utm_campaign=site%20buttons
Sir Darius Brown sings "Electricity" by Billy Elliott
https://youtu.be/X9c0O-vngPk
Sir Darius Brown sings "Goody, Goody"
https://youtu.be/EZeobUJI17A
Endorsememt from World Renowned Motivational Speaker Les Brown
https://youtu.be/Sp7pnSG3gys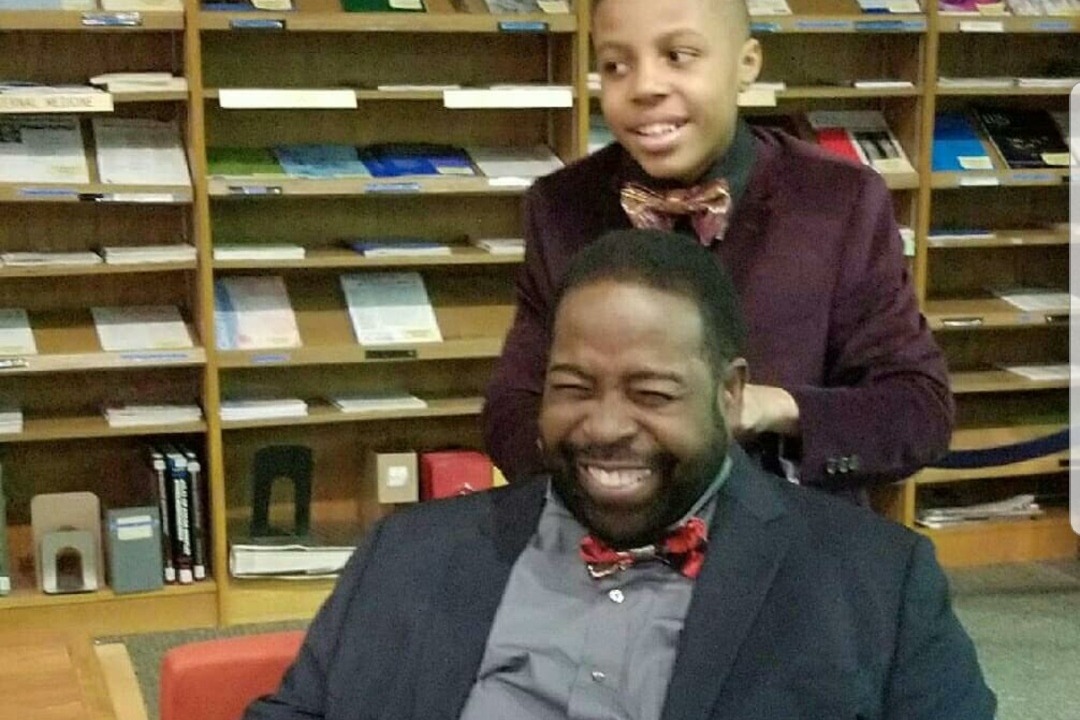 + Read More
Update 2
29 days ago
Share
Some Shelters Darius has visited so far.
*Mt. Pleasant Animal Shelter - E. Hanover, NJ
*ASPCA - NY, NY
*Street Tails Animal Rescue - Philadelphia, PA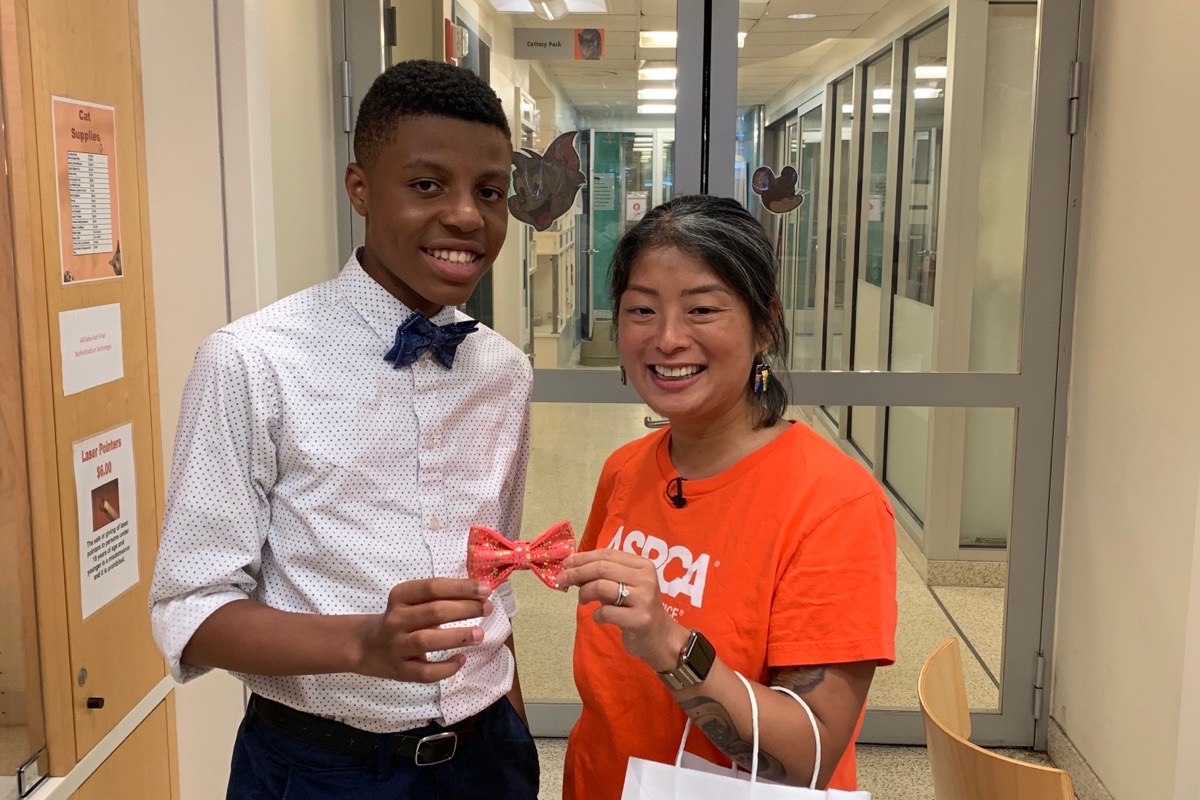 + Read More
Update 1
1 month ago
Share
From Sir Darius:

Thank you soooo very much to everyone who donated and supported me and the pups. Thank you for all of your kind words and encouragement. All of you have inspired me to push even harder to save even more pups around the world and help them find loving homes. I have received countless emails and messages from animal shelters around the United States and around the World requesting that I come to their shelter, adoption events, and donate my bow ties as well as help them find the fur babies FUR-ever homes. Now that you've helped me reach my goal, I am able to visit 5 shelters in the USA but I'm DETERMINED to fulfill the other animal shelter's request as well as continue my PAW-some Mission by donating bowties and/or visiting animal shelters in ALL 50 states to help get as many dogs and cats get adopted as I can. Please continue to support or share my campaign with others to help me continue to be a voice for the voiceless. I just want to say that I greatly appreciate you all.
Stay PAW-some!!!!
#adoptdontshop #dogslivesmatter
+ Read More
Read a Previous Update