Sian's campaign for Freedom4Girls UK
£544
of £500 goal
Raised by
19
people in 2 months
ABOUT ME!
Hi everyone! 
My name is Sian and I am a final year student at De Montfort University. For my final university project, I have created underwear that is 'period-proof' and can be worn as a substitute for disposable sanitary products. I chose to create this type of unique underwear to raise awareness about the environmental impacts of periods. Whilst this is a very important topic, there are many girls all over the world who still don't have access to basic sanitary protection. I want to use my project to raise awareness about the environmental issues of periods whilst also supporting period poverty!
WHAT IS THE AIM OF THIS CROWD FUNDER?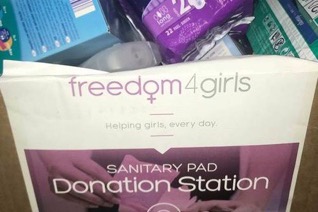 The aim of this crowd funder is to raise funds for Freedom4Girls. They are a UK charity who are fighting period poverty. They actively support girls in both the UK and developing countries who struggle to access safe menstrual hygiene protection.
Freedom4Girls don't just offer disposables, but they also offer environmentally friendly, washable reusables and menstrual cups! Girls all over the world miss school and work because of the stigma and taboo associated with their periods. 
Please join me in raising awareness and donating money towards period poverty – we need to end the stigma, women bleed every month and we should not be ashamed! 
https://www.freedom4girls.co.uk
WHY IS REUSABLE PERIOD PROTECTION NEEDED?
Approximately 700,000 panty liners, 2.5 million tampons and 1.4 million sanitary towels are flushed down the toilet in the UK every single day. Even if period waste is disposed of correctly using bins rather than flushing, plastic wrappers and applicators do not biodegrade and therefore sit in landfill for centuries. 
Reducing period waste isn't just a case of throwing used sanitary products in the bin rather than the toilet, but also seeking out alternative menstrual products that are plastic free. 
I think it is vital that those of us who are lucky enough to have access to sanitary protection, should consider using or at least inform ourselves about reusable period options!  If you aren't able to donate, I have included some links under the FAQ heading which include a variety of reusable options you can look into for your own period.
MY COLLECTION 
How does period proof underwear work? 
Sanitary protection is built into the gusset of underwear made up of 4 layers:
The absorbent layer can hold up to 20ml of liquid (the equivalent of 4 tampons) and the leak proof layer prevents any liquid escaping out of the underwear. After wear, the underwear should be rinsed under cold water and then washed at 30 degrees in the washing machine. 
Period-proof underwear is sold commercially by a number of great brands. I was inspired to create underwear that has inbuilt sanitary protection but doesn't sacrifice its design. 
For my collection, which is made up of 4 outfits, I have created my own flocked lace and combined this with satin for a beautiful and feminine design. I think being able to wear beautiful underwear whilst on your period can actually help to boost self esteem and make you appreciate your body and the amazing things it can do! (see my first outfit below, the undies in this picture are period proof!)
 All the underwear in my collection is fully period proof and able to hold up to 4 tampons worth of liquid – I have conducted fabric and wash tests to prove the idea and if you would like to read more about this, please feel free to read my blog which goes into more detail. (link inserted below)
https://sianhickey98.wixsite.com/website
Although I'm currently not bringing my designs to market, I want to use my project to raise awareness of the environmental issues of periods whilst also supporting period poverty!
FAQ's 
I can't donate but I would like to help, what can I do? 
You can consider using reusables for your own period! There are so many options from menstrual cups, period proof underwear, and reusable tampon applicators – by investing your money into a reusable sanitary option you are saving yourself money on disposables every month and reducing your impact on the environment! 
Here are links to some amazing reusable period options: 
https://www.fluxundies.com
https://divacup.com
https://wearedame.co
https://www.totm.com
+ Read More