As many of you already know, about 4 months back my cat Lulu was attacked by a dog and fractured her femur in two places.  The vet gave me three options.  I could amputate the leg for $1,500 with a 100% success rate.  I could have rods and pins placed in her leg for about $2,000 which he felt fairly confidently would be successful, or I could have a specialist do a full orthopedic reconstruction for about $4,000.  I couldn't afford to do a full reconstruction so I was left with the option to amputate her leg or have rods and pins put in place.  
     With the help of two generous beneficiaries I was able to afford to have the rods and pins placed in her leg.  The day of the surgery i dropped her off at the vet and anxiously awaited a phone call from the vet while I was at work.  Almost as soon as I got out of work I got the call from the vet that she was awake and everything went well.  When I arrived at the office the vet informed me that the middle section of bone had become devitalized and necrotic, so they had to remove it leaving only a small sliver of overlapping bone between the two segments.  The vet informed me that it was most likely going to take about 3 months to heal enough before we could remove the hardware.  She had to remain confined to a labrador sized kennel, with minimal movement outside of the kennel and absolutely no jumping.  I brought her in for another 2 rounds of X-rays costing an additional $150 each time.  After 3 months the vet had said that we could remove the pins in about two weeks.  I was so happy and relieved that this was all going to be over.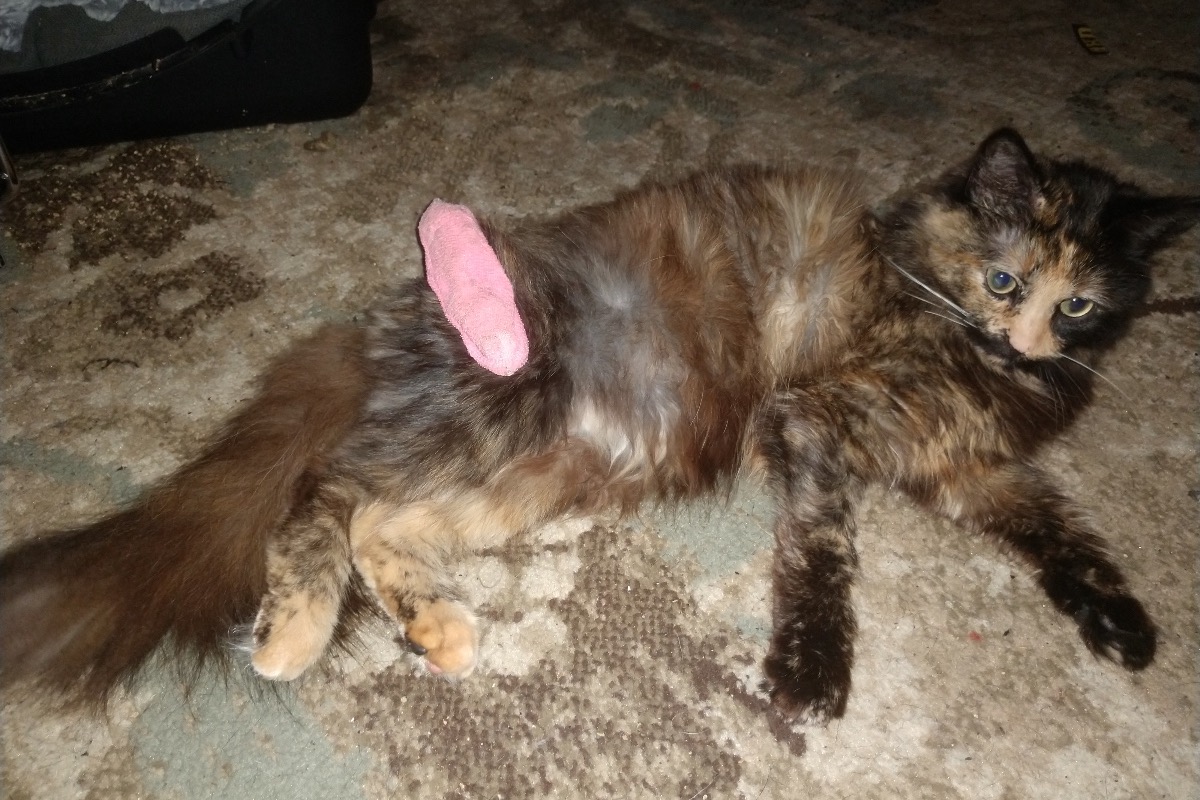 We set a date, August 14th, and I rearranged my schedule and pulled strings to ensure that I would be available on that day to be there for my little baby when she needed me.  I got the call and went to pick her up.  The vet showed me the X-rays and her bone looked great.  There was only a small sliver that needed to still fill in but there was enough bone growth to support her weight.  I was instructed to keep her very limited on movement.  Kennel when Im not home and confined to one room when I am and absolutely no jumping.  Now any of you that have animals, know that it is really hard to control their every move, but I did my best and prevented her from running around too much and absolutely no jumping.
     About a week following the hardware removal,  noticed that she wasn't putting weight on her leg when she previously was.  I looked at it and it was very swollen and she wouldn't allow anyone to get near the leg.  I knew something was wrong.  I made an emergency appointment with my vet and got the news later that day that she had refractured her leg at the initial site.  My options were essentially the same as the first time.   I have pretty much ruled out the rods and pins this time around.  It seems like her leg requires a more comprehensive approach than that particular procedure may be able to provide.  My options essentially are to amputate her leg or have the reconstruction.  I asked the vet to confirm with the orthopedic specialist that she believed the surgery would be a success.  She confirmed and explained that she would like to start her on antibiotics in case there was any infection that may have weakened the bone.  She continued that she would be using a bone graft from a nearby bone as well as placing a metal plate in order to provide extra support.
     From the moment I found out her leg was broken again, I started seeking out ways to fund a reconstructive surgery and this information made me feel all the more comfortable that I was doing the right thing for my baby girl.  I have already applied for 2 different care credit lines, as well as received and extremely generous loan from a friend, totaling $2,500.  I have also placed an application for financial assistance from an organization that aids owners who are unable to provide costly emergency care for their pets.  The total cost of the surgery is about $4,500.  I am typically very reluctant to ask my friends and family for money, but given the urgency of the situation, and because I just want to give my little girl the best quality of life possible, I am now asking for your help, because I just can't do this one on my own.  Thank you to everyone.  Every donation is greatly appreciated no matter the size.

Organizer