Sanatan Dharma Vedic Sage & Shamanic Retreat
Our ancient ancestors had unlocked the secrets of our existence, the universe, and the truth of Self, who we really are. A truth that is self evident to all who have experienced it. A truth that has unfortunately been all but lost to humanity. It was lost primarily due to the combination of religion and politics and those seeking power over humanity for their own gain.
My personal spiritual path led me to these truths. Truths which were unlocked through a number of spiritual teachers and then brought to full fruition in my work with Shamans in South America. Here I fully seated the knowledge of the truth of duality/non-duality and the ultimate truth of Self. This unlocked the truth of our human existence and brought full peace in our reality.
Later in this journey, I became aware of the ancient spirituality of Sanatan Dharma. The truths I had already come to realize on my own spiritual path had been laid out thousands of years ago by the ancient sages of India and put forth in the Vedas and their enclosed Upanishads. 
It turns out that the truths contained were the same, be it from the ancient Shamanic tradition of South America, or the ancient Sages of India. Both of these ancient cultures, the Shamans of South America and the Sages of ancient India, worked with plant medicines as a part of their spiritual connection and ceremony. 
Unfortunately, for India, these ancient traditions practiced by the sages have been lost to history. No one knows for sure what the formulation of Soma mentioned in the Vedas was today.  For those of us who have been lucky enough in our spiritual path to work with real Shamans in South America, and the plant medicine of grandmother Ayahuasca, the correlation is clear as we read the Vedas and Upanishads.  Ayahuasca to the Shamans of South America is what Soma was to the Sages of ancient India.
In a world filled with chaos, racism, bigotry and hate, I have a dream to create a space for true spiritual healing that blends the most ancient spiritual practices of India, Sanatan Dharma and the Vedic traditions with the equally ancient traditions of the Shamans of South America.
A retreat combining a Hindu temple with attached sacred ceremony space in front for ancient Vedic ceremonial tradition including Soma in addition to sacred Maloka and Temazcal ceremony spaces for Shamanic tradition.  A conjunction of two of the most ancient spiritual practices and paths to exist in our human history.
I have chosen the ideal location for this retreat, a valley in the foothills of the Andes mountains in Ecuador alongside a river providing clean water next to which the Hindu Temple can be constructed per ancient tradition alongside the river in addition to the sacred Shamanic ceremonial spaces. There are multiple suitable properties in this valley alongside this river for this project and I have already scouted many of them. The valley provides an ideal and comfortable climate for year around retreats.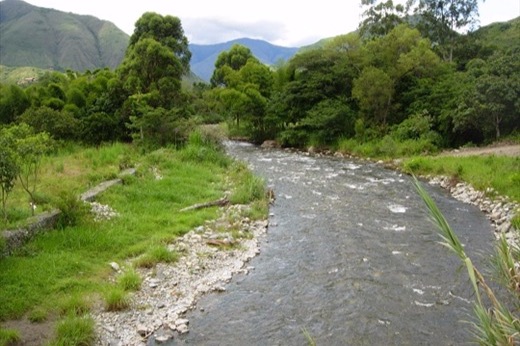 Luckily, Ecuador is still affordable so the initial startup costs for this retreat are estimated at $600,000 which includes the property purchase with existing structures/infrastructure for staff lodging & large kitchen for meal preparation, the construction on an initial temple and ceremonial spaces, as well as the creation of 20 aircrete dome homes as lodging for up to 40 guests per retreat initially (this can be easily expanded as needed). This retreat is an idea I have been working on for the last two years now but have only been able to realize $100,000 towards this goal.  Ready to move forward with this now, I thought about involving banks as I have enough to pay in to effect a loan and the credit history to justify it but I do not relish the idea of paying more interest to the bankers. I've done enough of that in my life.
The 20 initial guest lodgings for the retreat will be as shown here. Some with single beds for private accommodations, others with bunk beds for up to four guests. I have chosen this design for its cost effectiveness and minimal environmental impact on the land.  This design also allows easy cost effective addition of guest lodging for future expansion. The initial Hindu temple will also follow a similar construction technique with proper layout and a proper spire over the sanctum . 
As this will be a blending of ancient Sanatan Dharma/Vedic tradition with South American Shamanic tradition, in addition to the Hindu temple with attached sacred ceremonial space, there will be two Temazcal (sweat lodges) example shown here.
As well as a large Maloka, a covered ceremonial space with space for central sacred fire with adequate space for up to 60 participants, example of a smaller one shown here.
I contemplated the idea of doing a bank loan for this project but do not relish the idea of paying more interest to the bankers. Then realized that a Go Fund Me may help realize this dream for a retreat  integrating the Vedic traditions of Sanatan Dharma with the Shamanic traditions of South America. A retreat open to the world, to help the people of the world heal and realize their true nature. A retreat for people to focus on their spiritual path and seek answers to the questions we all have, answers to which we only need to unlock from within ourselves. A retreat always kept affordable and open to all through sliding scale, work exchange, and the principles of Karma Yoga, Jñāna Yoga, and Bhakti Yoga.
If you would like to see this retreat become a reality and join in the goal of blending two or our most ancient spiritual traditions, donate what you can, even if it's only $1. I have faith there are enough people in the world like me longing to see a shift in the consciousness of the people of our planet, an awakening to our true nature that this retreat can become a reality now.
Donations

Organizer
#1 fundraising platform

People have raised more money on GoFundMe than anywhere else. Learn more

GoFundMe Guarantee

In the rare case that something isn't right, we will refund your donation. Learn more

Expert advice, 24/7

Contact us with your questions and we'll answer, day or night. Learn more