Robert H. Lewis High School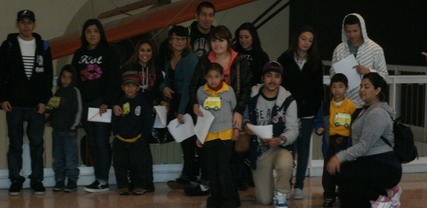 Robert H. Lewis High School is one of 43 continuation high schools in the Los Angeles Unified School District, and it functions as an alternative to traditional comprehensive high schools, with more flexible hours and more individualized instruction. Located in the eastern San Fernando Valley community of Sun Valley, Lewis High School often offers the "last best chance" for many students who have been unsuccessful in a traditional high school setting due to factors such as past gang associations, trouble with the law, drug abuse, teen parenthood, school phobia, poor school performance, chronic absenteeism, or long-term illness. Whatever their reasons for attending, the students of Lewis High School find a safe haven of supportive, caring adults who strive daily to push them toward academic and personal success. Lewis High School is a tight-knit group of students and adults, a "small learning community" in the truest sense, where every student, no matter how poorly he or she performed in the past, gets a clean start in an environment of trust and understanding. "Building Bridges to the Future" is our motto, and whether those bridges lead students to the workplace or to college or somewhere beyond, forward momentum for each student at each student's starting point is our key goal. We believe that our students can and will succeed, and everything we do on campus to help them must stem from this attitude. Assisting students to set goals and realize them, challenging them to think beyond the easy answers, maintaining consistent expectations for academic and personal success—these are just a few of the factors that make Lewis High School a uniquely positive place. 
Un Ciclo Sin Fin is a group of 13 people, led by six mentors and together we make a team of 19 loving, hardworking and altruistic leaders, creating a sense of purpose and satisfaction, as well as enabling efficient performance in all areas of our lives, under the supervision of the center of transformation and human development "Nueva Vision".
Our mission is to raise $11,000 to purchase 20 Laptops for Robert H. Lewis Continuation High School; this is a low-income school in the San Fernando Valley. These laptops are some of the most expensive items that need replacing.  The laptops are also valued as instruments that can earn deserving students scholarships for college due to the cost of owning one. 
Your contribution is tax deductible (Tax ID: 95-6001908).  We do hope that you will respond positively to our written request.  Below are the contribution levels available, however, any contribution is appreciated;
·      $541.82-$10,836.40 HP250 G6 15.6" CORE 15-72000
·      $456.38-$9,127.60   HP 250 G6 15.6" CORE 13-6006U
·      $433.03-$8,660.78   128GB  15T OPTIONAL
·      $499.99-$9,999.80   DELL INSPIRON 15 3000 SERIES (Intel)-3567
Join our cause and support us to reach our goal. Your gift can make a big difference and brings us closer to our goal of giving, dreams, hope and smiles to children who need it.
DONATE and become part of our AMAZING group "The Circle Of Life", please make your contribution payable to Robert H, Lewis Continuation High School.
Respectfully,
Un Ciclo Sin Fin/Via 12
Organizer and beneficiary