Help Bring RIVETS! to a Wider Audience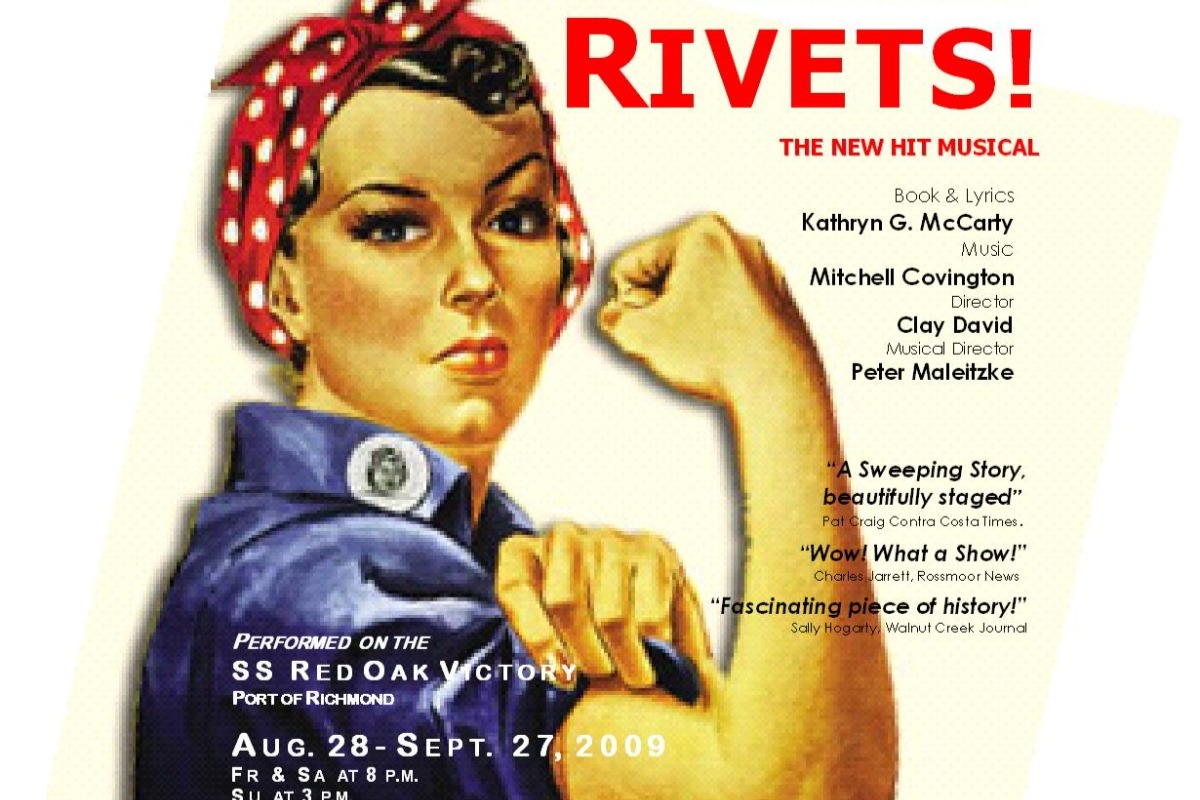 BACKGROUND
In 2009, award-winning Bay Area playwright, Kathy McCarty approached me about collaborating with her on a new musical paying homage to the women who dedicated themselves to the efforts to win World War II — the women we know collectively as Rosie the Riveter. 
Kathy was so passionate about this project that I couldn't refuse and, together, we spent much of the next 10 years writing, producing and refining RIVETS! In the process, I was blessed to be able to forge a deep friendship with a brilliant woman who had a huge heart.
That friendship and collaboration were cut short last June when Kathy lost her battle with brain cancer. The diagnosis came in 2020. Kathy wanted to continue working on RIVETS! as long as possible, but the disease took its toll on her. Even in the darkest days of her illness, Kathy remained focused on getting RIVETS! out to a wider audience.
STORY
RIVETS! follows riveter, Martha Mitchell and her 2 younger sisters as they navigate the turbulent waters of World War II. With songs of love, loss, honor, courage, overcoming and family, the show also highlights the issues of racism, sexism, social justice and the need to fight tyranny abroad and at home. It's a story of the 1940s that still resonates today. 
MUSIC
Here are a couple of songs from the show:
The Marrying Kind:    
https://youtu.be/pViFi4sXv3g
Love's Last Kiss:    
https://youtu.be/L60eh-afx1w
MAKING RIVETS! A REALITY
RIVETS! has been produced several times locally in the Bay Area, but Kathy's dream was always for this show to be produced by regional and national theatre companies. In order for RIVETS! to enter that world, it needs two things: 
-  An experienced theater orchestrator to arrange 316 pages of piano/vocal music for theater orchestra, and 
-  A professional script editor/consultant (known in the theater world as a "dramaturg.")
Our target is $10,500. That will help cover an orchestrator ($5,000,) script consultant ($5,000,) and printing/postage/administrative costs ($500.) We'd like to finish the fundraising stage of this process by Oct 10, 2021.
In 2022, once we have the refined script and orchestrations, we'll start to shop the show to major regional and national theatre companies.
I believe with all my heart that the story of RIVETS! is worth telling.
Please help us get this show to a wider audience.
Mitchell Covington (RIVETS! Composer)

FIND OUT MORE ABOUT the SHOW

To find out more about RIVETS!, visit the show website:
www.rivetsthemusical.net
GIVING TIERS
Every dollar will help get RIVETS! one step closer to the stage, so please give what you can. However, for our most generous patrons, we'll provide the following thank you gifts:
$50 or higher - We'll shout you out with thanks on our social media for helping to make Kathy's dream come true--plus you'll have our undying love and admiration!
$100  - A professionally recorded and beautifully packaged CD of eight songs from RIVETS! - and a shout out on our social media
$250 - "RIVETS! We Can Do It!" Baseball Cap, plus everything from the lower tiers
$500 - Signed "RIVETS! We Can Do It!" Baseball Cap. Plus 2 signed copies of the CD with 8 songs from the show, professionally recorded and beautifully packaged.
$1000 - Zoom Meet and Greet with RIVETS! Composer Mitchell Covington, plus everything from the lower tiers.

Organizer
Mitchell Covington 
Organizer
Pleasant Hill, CA