Resistance: thebattleofphiladelphia
WATCH SEASON 1 NOW - CLICK THE LINK ABOVE! OR WATCH AT RESISTANCESERIES.COM!


https://www.resistanceseries.com/     |     #thebattleof philadelphia     |     #theresistancesooncome

GREETINGS RESISTERS!
I am reaching out to tell you about my latest speculative fiction project, a near-future web series called
Resistance: the battle of philadelphia (Season 1)
. 
WHO AM I?:
My name is M. Asli Dukan.
I am an independent filmmaker
who embraces the futuristic, fantastic and imaginary genres of speculative fiction as a way to explore the possibilities of the transformation of society. For almost 20 years, I have written, produced, directed and edited short films, music videos, promotional videos, vlogs, critical review videos and documentaries that all revolve around a concept I call - Black Speculation.  (
See more about my past projects below.
)
WHAT IS THE RESISTANCE PROJECT?:

Resistance: the battle of philadelphia
  is a six-part, short-form, speculative fiction web series about a clandestine collective of residents who mobilize to resist the pervasive surveillance and the repressive state violence of a powerful corporate government in a near-future Philadelphia.
Inspired by films like Gillo Pontecorvo's
The Battle of Algiers
(1967), Ivan Dixon/Sam Greenlee's
The Spook Who Sat By The Door
(1973) and Lizzie Borden's
Born in Flames
  (1983), the series also subverts the dystopian genre to form a complex and historically rich narrative about the struggle for justice and liberation.
This web series will not only tackle a subject that is a part of our current conversation around social justice, namely police brutality, but will also connect to the long history of community resistance to police brutality in the city of Philadelphia.
HOW YOU CAN RESIST:

Join the resistance by making a financial contribution to our project!
We are currently in the distribution phase of our project. We are traveling around the country with our film to screen it in film festivals, at community events and even in people's homes, so that the filmmakers can engage our audiences in conversation around the project!  We call it our #postindustrialchocolatecitytour !

Support our efforts to travel and screen our work, by making a contribution to our GoFundMe campaign! 
During the month of October we raised $7000 through our GoFundMe account and secured a small investment, which enabled us to get the project "in the can." However, though we were able to complete production, we still have costs to cover from that phase! With your contribution, you can help us to reimburse the people and services that helped make it possible! Your contributions will also help us move on to the next phase of the project, post-production!
WHO IS THE RESISTANCE TEAM?:
For this project, I decided to primarily collaborate with Philadelphia-based actors, artists, media makers, activists and organizers to make this project an authentic reality!
Here are some of the skilled and creative people who were involved with the production phase:
CREW:
Producer:
Sara Zia Ebrahimi
Producer:
Anissa Weinraub
DP:
Aidan Un
DIT/AC:
Marie Alarcon
Sound Recordist/Boom:
Fred Schmidt-Arenales
,
Jeff Bethea
Wardrobe:
Kima Baffour
Hair/Make-Up/SFX Make-Up:
Mary Arlynda Williams
Production Design:
Tanya Jackson
, Anissa Weinraub,
Petra Floyd
Gaffer/Grip:
Bryan Oliver Green
Production Assistants:
Melissa de Leon
, 
Gabe Castro
Craft Services/Catering: Dorine Horn
CAST:
Jennifer Kidwell
as Zam
Lindsay Smiling
as Kurtis
Kennedy Allen
as Akewi
Loretta Graham
as Mother Adu
Dominique London
as Crystal
Daquan Wright
as Lester
Briana Horn as Briana
Dave Dougherty
as Detective Frank
Jos Duncan
as Sister Carol
Steve Clarkson as Officer Wilson
Tyler Cohen
as Cop
***
FESTIVALS! FESTIVALS! FESTIVALS!:
We are excited to announce that RESISTANCE: the battle of philadelphia (season 1) has been selected to screen at the 2018 ONYXCON Film Festival!
We are excited to announce that RESISTANCE: the battle of philadelphia (season 1) has been selected to screen at the 2018 MECCACon International Film Festival!
We are excited to announce that RESISTANCE: the battle of philadelphia (season 1) has been selected to screen at the 2018 Newark International Film Festival!
We are excited to announce that RESISTANCE: the battle of philadelphia (season 1) has been selected to screen at the 2018 Blackstar Film Festival!
RESISTANCE: the battle of philadelphia (prologue)
 :
Last summer, we produced a PROLOGUE episode to the web series and are pleased to announce that this stand-alone episode had its World Premiere at the BlackStar Film Festival in Philadelphia in August of 2017! 
We are excited to share that our PROLOGUE episode was selected for the Twin Cities Black Film Festival in Minneapolis, Minnesota and screened in October of 2017! 
We are excited to share that our PROLOGUE episode was also selected for the Women's Film Festival and will screen in Philadelphia, Pennsylvania in March of 2018!
Check out the prologue episode. 
WHY THIS PROJECT NOW?:

For the past several years, police brutality has become the subject of a highly public, national debate in our Internet-connected society. However, in African American communities across the United States, police brutality is an historical issue that has plagued the well-being and safety of Black people for over 300 hundred years. As campaigns to reform police departments and to abolish police departments collectively raise their voices across the country, I wanted to add my own voice to the public conversation through my art. And as my films often revolve around the idea of Black Speculation, I began to wonder how to tell a story about Black resistance to police brutality in a futuristic context?
Resistance: the battle of philadelphia is an attempt to create a work of art that not only entertains, but enlightens and empowers the audience to be critically engaged with their world.
MORE ABOUT MY PAST PROJECTS:

My work is inspired by two different film modes. First, are the thought-provoking speculative fiction (SF) films that I watched in my youth like
Planet of the Apes
(1968),
Ganja & Hess
(1973) and
The Brother from Another Planet
(1984) that explored themes like addiction, war, authoritarianism, feminism, race and racism. Second, are the films by Black filmmakers of the "L.A. Rebellion" (late 60's to mid 80's) that I was first exposed to while in film school like
Charles Burnett
,
Julie Dash
and
Haile Gerima
, whose films focused on themes relevant to Black people like migration, cultural traditions, unemployment, mental health and police brutality. I was inspired by all of this work to try to find a balance between the use of SF devices and the traditions of independent Black filmmaking in the service of my own cinematic vision of the future.
My previous "Black Speculation" short films: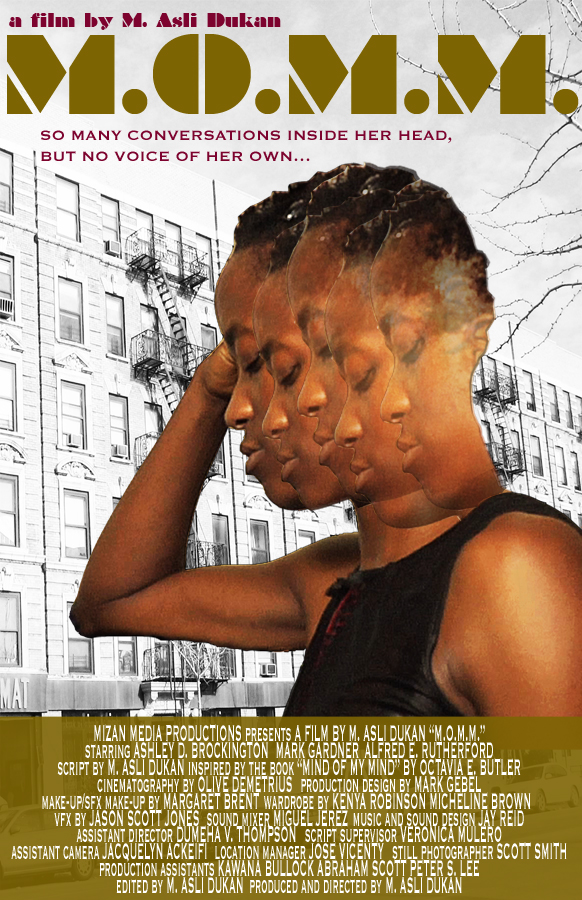 M.O.M.M.
(2011) is a fan film based on the work of the late, Black SF writer,
Octavia E. Butler
that centers the narrative on an impaired and imprisoned Black mother who is trying to escape the control of a powerful immortal male spirit.
73
(2008) explores a near future New York City that is ruled by a brutal corporate government and focuses on how two Black women refugees collaborate to secure and keep their freedom.
Orishas
(2001) introduces us to a story where the pantheon of African deities, the Orishas, exist in parallel to the human world and focuses on one of these deities as she tries to help a troubled young woman navigate the complexities of her drug addiction.
My current feature documentary work-in-progress,
Invisible Universe
details the history of the representations and participation of African American writers in the genres of speculative fiction literature. It includes a "Who's Who" of Black creators and reveals the emergence of a movement of Black speculative fiction creators that developed after the turn of the 21st century.
WHERE YOU CAN GET MORE INFORMATION:
Website:
https://www.resistanceseries.com/
Facebook:
https://www.facebook.com/resistanceseries/
Twitter:
https://twitter.com/ResistanceTBOP
Instagram:
https://www.instagram.com/resistanceseries/
Email: [email redactado] . com
Scribe Video Center

$1,500 

(Fuera de Internet)

6 yrs

Buckmild Fundraiser

$150 

(Fuera de Internet)

6 yrs

Jacob Winterstein

$20 

(Fuera de Internet)

6 yrs
Organizador
M Asli Dukan
Organizador
Philadelphia, PA