Rhonda is my mom. She was a fiery redhead, stubborn, and loved any and all sports. She usually had a book within an arm's length and could spout off all sorts of random facts about old, English queens. She had the loudest sneeze in America and a contagious laugh. She wasn't a great apologizer, but would do anything for just about anyone. She is Owen's (and now Everett and Claire's) Grammy. She loved Jesus, even when her path was hard. 
On March 17, 2011, during a hysterectomy, a large tumor was found on her liver. We later found out she had Stage 4 Colon Cancer. She was 47. For 2 years, she fought. While she fought, she continued to live. She became a Grammy in that time and nothing in the world made her happier. For 2 years, she endured endless chemos, blood draws, good news, and bad news. On March 17, 2013, exactly 2 years later, she left us and her body was made whole and perfect. She was 49.Her passing left a huge void in a lot of people's lives. If I'm being honest, her passing felt unfair and terrible. I began to pray that God would use all of my hurt and pain for some good. 
Shortly after, Remembering Rhonda was born. Each year, we raise money in her honor to give to the people she was most passionate about- her fellow cancer warriors. These were her people. She loved them and now we use her memory to help us show them that love. We also celebrate 'Remembering Rhonda' day on Oct 2nd, her birthday, by doing acts of kindness for people affected by cancer.Thank you for joining me on this journey and still being my friend even when I post 6382829 times between now and Oct 2. Seeing God bring beauty from these ashes is so tender to my aching heart. 
This year we will split 75 % of the money up among 2 families as well as using 25% of the money to give as many $200 Blessing Boxes full of giftcards as we can!
Meet this year's families.
Our first family is part of my family- Jesse and Carolyn Faulkenbery. Carolyn was my mom's aunt, but more than that- she was her very best friend. When my grandmother died, she stepped up and came to every one of my events, traveling all over to support me (and maybe scream too loudly every now and then.) She and my mom shared countless memories and she was by her side every step of the way.  
Jesse is Carolyn's husband. He has been making me laugh and embarrasing Carolyn at every family event for as long as I can remember. They recently celebrated 50 years of marriage.
In February of this year Jesse underwent surgery for a noncancerous lump on his colon. While under surgery, the doctor explored his other organs and found a mass on his liver. A biopsy and later tests confirmed that it was Stage 4 Pancreatic Cancer. Due to heart complications, he began an oral chemo regimen that maintained his cancer until June. In June, his heart went into AFIB and his implanted defibrillator shocked him 47 times before doctors were able to get the situation under control. At that point, doctors declared his heart to weak to continue with chemo and it was decided that he would go home on Hospice care. He has been at home with Carolyn since that point with nursing staff visiting a few times a week. 
I know if my mom was here she would physically be walking right beside Carolyn and Jesse as they endure this heartache. Supporting them through Remembering Rhonda this year makes me think that in a way she still is. 
The second family this year is Katy Wood and her husband,Jody, and their daughter, Iris. Katy isn't a part of my family, but our hearts are connected forever. Katy and I shared a best friend who we tragically lost last August. When I showed up to Kelsi's visitation and saw the huge line of people, Katy was the first person I saw and instantly I had to get to her and hug her. Our hearts are broken in the same way and because of that connected forever. Kelsi loved Katy entirely and walked most of Katy's cancer journey with her. For years, I have heard about Katy from Kelsi, listened to Kelsi cry when Katy's cancer returned, and loved her because of how much Kelsi loved her. Since losing Kelsi, Katy has been a shoulder for me to cry on and someone I love dearly. This is a little of Katy's cancer journey: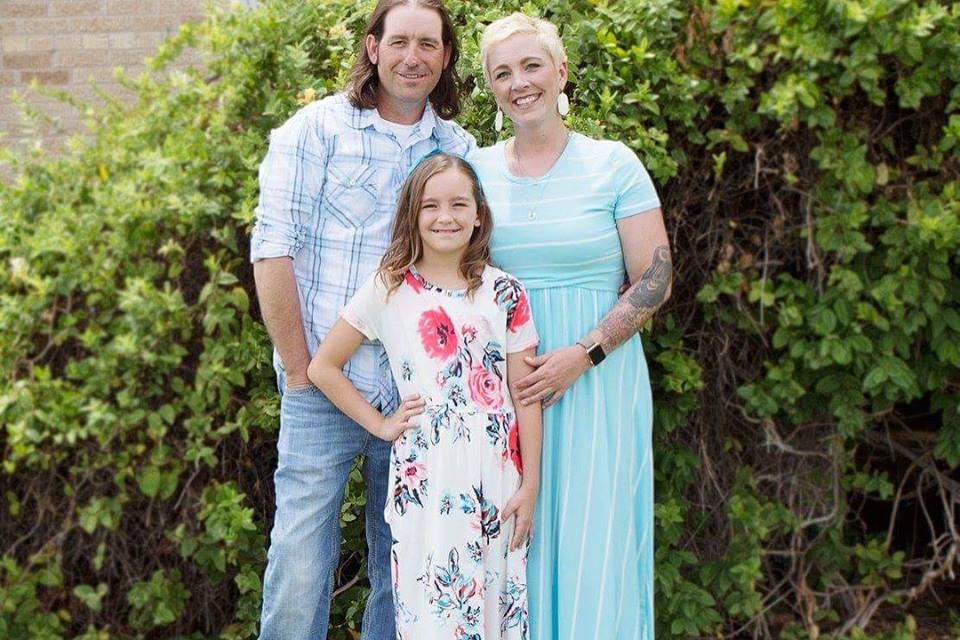 In November of 2004, when Katy was 19, she was diagnosed with Granulosa Cell Ovarian cancer. This cancer is insanely rare and is about 2% of all Ovarian cancer types. She then had surgery to remove her right ovary followed by 6 chemo treatments. In May of 2005, she was declared in remission. In 2008 she had her daughter, Iris. In March of 2009, she had to have an emergency surgery that resulted in a complete hysterectomy as the cancer had returned. Dr.'s declared Iris a miracle due to the severity of the cancer. She then complete 8 chemo treatments and was again in remission. All was well until 2012, when another mass appeared on her stomach lining. She had it removed and began again with another 8 treatment chemo cycle. During this time she began seeing a doctor at MD Anderson who specializes in the rare cancer she has. He agreed on the current plan and everyone had remission in sight again. However, in 2014 a routine CT scan checkup revealed several tumors in her abdomen. In September of 2014, she had a major debulking surgery that lasted around 11 hours. The doctors were not able to remove it all, but got what they could. Since that time, she has been on all kinds of treatments. The cancer did spread to one of her chest lymph nodes, but so far the treatments are mostly keeping them stable. She recently was enrolled in a clinical trail that was successful for about a year. Most recently, on the year anniversary of our best friend's death, Katy went to the ER with uncontrollable abdominal pain. The doctors unfortunately found an increase in size in one of her right abdominal tumors. She is currently in discussions with her MDA team to find the next treatment that will be successful for her. 
Katy is one of the strongest people I know with one of the biggest hearts. I am honored that she is one of our Remembering Rhonda families this year.
The 3rd set of people that will benefit from Remembering Rhonda 2018 are our Blessing Box recipients. We will take 25% of the money and use it to sponsor as many boxes filled with $200 worth of giftcards. Last year we did 7! We filled them with grocery, restaurants, massage, gas and Amazon cards! We can't wait to spread some extra love again this year! 
All donations will be deposited into my bank account and then distributed to each of the recipients.
Donations

Organizer
#1 fundraising platform

More people start fundraisers on GoFundMe than on any other platform. Learn more

GoFundMe Guarantee

In the rare case something isn't right, we will work with you to determine if misuse occurred. Learn more

Expert advice

Contact us with your questions and we'll answer, day or night. Learn more