Paying it Forward: Susan & Tom Read


Community Members in Urgent Need! 

Help is needed!
 This is an urgent plea being sent out to the communities of Deer Run, Deer Ridge, Queensland and to anyone else whose life has been impacted by the good works of Susan and Tom Read.
My name is Gina and my family has called Deer Run Community, in Calgary, home since 2005. I have had the pleasure of knowing both Susan and Tom Read for over 12 years.  I am requesting the assistance they would never ask for themselves. In 2017, tragedy after tragedy has befallen this family and I would like to share a small portion of their story in hopes that you can find it in your heart to help them during these difficult times. Let's work together to help out this integral duo in our community. 
This is our chance to pay it forward. 


Who Are They? 
Susan and Tom have made Queensland and the surrounding Calgary communities their home for over 40 years.  Over the last several decades, they have worked tirelessly to make our communities a better place for our families. I strongly believe that Deer Run, Deer Ridge, and Queensland are better communities because of the passion these two have demonstrated. Many of us are simply better people for having known them.  
I am sure there are countless individuals that can remember a time that they received a helping hand or ear from Susan and Tom. Please consider sharing those stories here as you donate. The family would greatly benefit from knowing how much Sue and Tom have touched the hearts of others as they persevere through these trying times. 
Susan and Tom Read are my best friends.  As hard as it is to tell, here is their story…
 

Susan Gail Read. 
(I'm on the Left!)


 Sue has worked tirelessly as the Centre Manager and Out of School Care Operator at the Deer Run Community Centre for the past 22 years.  The hours she put in weekly always exceeded her job description and she rarely complained.  If you have grown up or raised a family in Deer Run, Deer Ridge, your life has probably been impacted and enriched by Miss Susan. Whether it was through the DROOS Out of School program or one of the other many hats she has worn as Center Manager, we have certainly all been helped and touched by her kindness and generosity.
With no exaggeration, I estimate that the number of lives she has personally touched is up in the thousands. With at least 100 children and over 60 families per year in out of school care services alone, she has been there for well over 1000 of our community's children over her career. Miss Susan has always been there, spearheading community outreach programs like the "Giving Tree," organizing fundraisers, and sitting on countless Community Boards. Yet her office door was always open to whoever needed an ear and she was always heady to help.

Thomas Read.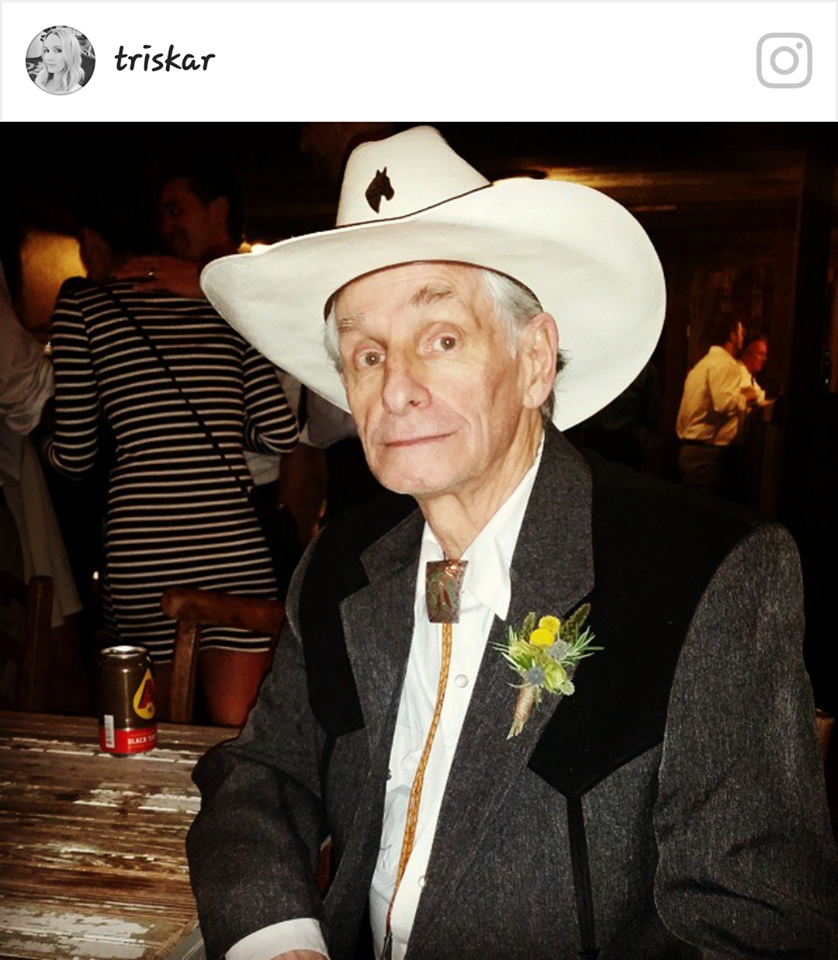 Through it all, Tom Read has been a fixture at her side.  Born in 1945, Tom's parents were told he had a hole in his heart and the doctors expected him to not live past his infancy. But he prevailed against the odds.
Tom was blessed with his first daughter, Shonda, in 1973 and after his first marriage ended, he met and married his new love, Susan, in 1978.  Medical technology finally improved in the 1980's enough to allow Dr.'s to manage his heart condition and so the couple made Queensland their home and soon added more beautiful daughters—Triska, Chrissy, and Lindsay—to their family.   
Eventually Tom had to give up his career due to health concerns. So, approximately 15 years ago, he took ownership of Johnnie's Hobbies and sought to re-invent himself. You would find him down at the Blackfoot Farmer's Market every weekend, happily sharing his knowledge of collectables and memorabilia with anyone who would listen. He was a friend to all, even making sure to keep candies and small toys at the ready to surprise all the children who came through his shop.  
After retirement, you could find Tom at the Lighthouse Pub almost every Tuesday evening. He doesn't drink, but always enjoyed an O'Dooles and steak sandwich. (Don't forget the Milk!) His community spirit, candy for the ladies, cowboy hat & slicker, music knowledge, and willingness to listen to anyone with a problem made him a fan favourite at karaoke night, even though he never sang! On Fridays, he would play pool with his friends at Station 52 (NE Calgary), if his health allowed.
 

Tragedy & Timeline.
In January 2017, Tom was hospitalized with a failing heart and was hospitalized again in September as his condition worsened. The family was told at that time that he had several blocked arteries and his heart would only continue to break down. Tom's lifelong battle with his heart was coming to an end.  He was in the final stages of Congestive Heart Failure.  
Tom's career as a glazier had left him with COPD (Chronic Obstructive Pulmonary Disease), most likely from glass dust in the workplace. He had always managed, but as his heart failed, the COPD also worsened.  After many tests, and two separate hospitals weighing in, the surgical team broke the news. With his lung condition, age, and failing health, he simply could not survive an operation.   
Looking after an ailing husband, running the community centre and still trying to be there for anyone who needed her took its toll on Susan. On Wednesday October 25th, 2017, Susan woke up and knew something was wrong.  But her staff's payroll needed to be entered and, once again, her priority was to help those around her before helping herself. She drove herself to the Community Centre that morning, finished her date entry and asked to be taken to the hospital. 
The Doctors told us that during the night, Susan had suffered a major stroke in her sleep.  Mobility in right side soon began to be diminished and eventually even her speech became compromised.  She spent 2 weeks in the acute stroke unit and has since been transferred to the rehabilitation unit.  Christmas Day will mark the 2-month mark since she was hospitalized.

Prognosis - Susan.  
Unfortunately, Susan's progress has been slowed at times with several emergent complications.  Thanks to the medical staff, they have been addressed and we pray we are past the worst of it.  Susan's recovery time with rehabilitation at this moment is predicted to be 10 – 14 months.  She wants to return to the community she loves, the job she loves.  Susan is working hard in her daily therapies and is determined to overcome and retrain the right side of her body.  I see small improvements in her mobility weekly.  In the end, whatever she cannot overcome, she will have to make peace with and adapt. It is too soon to speculate which parts of her brain will re-map itself, and which connections may be lost.
Prognosis - Tom.
As hard as it is for me to put these words to paper, the reality is there will be no recovery for Tom and he is in the end stages of his illness. His loving family has moved him into a beautiful Hospice care center, and his family is with him.   
The Family.  
These 4 amazing young ladies are doing all they can for their parents, all the while still holding their own families together.  Their days are spent shuttling between hospital and hospice, between Father and Mother.  Someone is always with Dad and one of them sleeps at the hospice every night, so he is not alone.   
All of our lives seem to be put on hold.  The Christmas season has taken on a surreal tone, but it still needs to be celebrated somehow, for everyone's sake.  There are three small grandchildren to think about.
  

Assistance Urgently Required! 
Susan has spent her career working for non-profit organizations and there are no medical or disability benefits. Life insurance was a luxury they could not afford. 
Bless their hearts, the Deer Run Community Association, rallied to Susan's aid immediately and continued her salary for the first while – an amazing gift that the non-profit I'm sure could barely afford.  On behalf of the entire family, I thank them again for this kindness.  Without those funds, the situation would have been even more chaotic.  But this reprieve was obviously not a sustainable solution and ends this month.
There are already out of pocket costs piling up.  All funds raised will be used for expenses that will be incurred for Susan and Tom's medical care, residential needs, therapies and modifications that will needed for their home to accommodate Susan's eventual return, whatever that may look like. The looming expenses of a funeral for Tom, when he passes, also weigh heavily on Susan and her girls. 
Since costs and expenses will be a fluid thing, I will update this page frequently! 

My Plea. 
And so, I am crying as I write this.  It has been an emotional journey that I wish on no one.  I have no idea how it will end and what toll it will take on any of us. 
It is a heartbreaking situation.  But I feel, if we can come together as a community, perhaps we could at least ease the financial burdens that Susan and her family are facing. 
Maybe if they dont have to worry about how to pay the rent right now, and she knew that the community was taking care of things while she goes through this, Susan could simply concentrate on getting better and on saying goodbye to her Husband.  Maybe if the girls didn't have to worry about how they are going to afford the renovations, or the medical costs, or the funeral of their father, maybe they could all take a breath and just enjoy one last Christmas all together.   
I have never asked a community for something before.  And I am not asking for myself.  But please, if these amazing people deserve one payback for all the good they have given this world, if Karma is a thing, then please, please join hands with me and as a community, as a city, and as friends and neighbours, let's make sure this amazing family knows we care!
 

How Can You Help? 
Please consider donating right now!  If each one of us who knows this amazing duo made even a small donation, you could help me do this.  We, as a Community, have the ability to repay these amazing people for touching our lives. 
I wish we could take away the struggles or the pain.  I wish I could do something to change what's happened and what's going to happen, but I can't.  None of us can.  But as a collective, as a community, we do have the power to change something. We can ease the Read Family's immediate financial fears.  We can show our support and take away those worries TODAY.  We can make sure the rent gets paid and the lights stay on, while Susan applies for Disability and whatever else we need to do to find her supports until she is ready to re-enter the workforce.  We can work on the home projects we already know about and save for the additional costs down the road.  We can plan for an inevitable funeral, and allow the family to grieve, instead of worry about costs.
I believe that if we all join together, we can truly change the outcome of the only thing we have any power over right now! Please help me give my friends Peace of Mind for Christmas! Help me show them how much we care! 
Please Consider the Following Actions:

Donate:
-     
Even a small amount per household will quickly add up!

Share this page:
-     
Share this story with all the people you love!  Tell your friends and neighbours what is happening and give them this link.  Make sure everyone in the community knows that we need help! 

Share Your Story:
-     
Add your story to this page.  Tell people about this amazing couple and how you know them.   Share your experiences. The Family would love to hear how you and your family has been touched by their kind hearts.

Share, Share, Share:
-    
  Remember to share this link on your social media sites so that no one in the community misses their chance to help or celebrate this couple.

Help us tell them you care:
-    
  We can lift spirits and remind Susan and Tom that they are loved.  Drop off boxes for your cards or letters are being srt up at both the Deer Run Community Centre and Queensland Community Centre.  We promise to read them to Tom and to paper the walls of both their rooms with your thoughts and photos.
-     
You can help your children feel like a part of the solution by suggesting they draw Miss Susan pictures or make her a card.  Please consider adding a photo of your child and we will add it to a project I have in mind for Susan.
-      If you knew Miss Susan when you were a child, please send your photos as well!  Let's see the faces of the future!

Offer to Help:
-     
Consider an offering of your time and abilities to help in some way. We honestly don't yet even know what we need yet, but I will keep a list of offers for when we do!


Fundraising, Business and Sponsor Help:

A Fundraising evening is in the earliest planning stages and there is hope this takes place in February or March 2018.  Updates will be made on this and other sites as information becomes available.
Fundraising and event planning can take a lot of effort. (I should know, I guess!)  Please remember to watch for updates so that we can get all of you out into the community talking to local businesses about this amazing local family.  Many Business Owners already know of Susan or Tom as community members and may be more than willing to stand behind our cause.  There will be a collection of merchandise, unwanted gifts, and gift cards after Christmas to be used during the fundraiser as silent auction items etc. 
In closing, and from the bottom of my heart, I thank you for simply reading this.  Even if you don't know any of us, I thank you for listening to my story.  Even if you can't afford to help, please be sure to pull your loved ones closer this holiday season and tell them what they mean to you.  Never assume that you have tomorrow.  Never let the people you care about go one day without knowing just how special they are and what they mean to your life.   

PLEASE RESPECT THE FAMILY'S NEEDS AND PRIVACY DURING THIS VERY DIFFICULT TIME.  WE IMPLORE YOU TO USE ONE OF THE METHODS ABOVE TO EXPRESS YOUR WELL WISHES AND COMMUNITY OUTPOURING OF SUPPORT.  I PROMISE THEY WILL SEE EVERY CARD, AND BE AWARE OF ALL YOUR BEAUTIFUL STORIES SHARED HERE.   

PLEASE UNDERSTAND THAT BY FLOODING THE FAMILY'S FACEBOOK ACCOUNTS OR MESSAGING THEM PERSONALLY THROUGH EMAIL, TEXT OR CALLS WILL MAKE IT IMPOSSIBLE TO RECEIVE THE MESSAGES FROM FAMILY, MEDICAL STAFF, AND EACH OTHER THAT THEY NEED TO BE RECEIVING.  I UNDERSTAND THAT MANY OF YOU WANT MORE BUT I PROMISE THERE WILL BE A TIME FOR FRIENDS.  UNFORTUNATELY, THAT TIME IS NOT RIGHT NOW.  I PROMISE UPDATES ON HERE FOR EVERYONE!   

THE FAMILY HAS KINDLY REQUESTED THAT SUE AND TOM RECEIVE NO OUTSIDE VISITORS, AT THIS TIME, WITHOUT PERMISSION.  I BEG EVERYONE TO RESPECT THAT WISH.  IF YOU ARE CONSIDERING A VISIT, PLEASE CONTACT ME AND I CAN ASK.  SUSAN AND TOM KNOW YOU CARE, I PROMISE.  IF THEY HAVE ASKED FOR YOU, BELIEVE ME, WE WILL GET YOU THERE!


Organizer and beneficiary
Gina Garland Balasubramanian 
#1 fundraising platform

More people start fundraisers on GoFundMe than on any other platform. Learn more

GoFundMe Guarantee

In the rare case something isn't right, we will work with you to determine if misuse occurred. Learn more

Expert advice, 24/7

Contact us with your questions and we'll answer, day or night. Learn more