18
7
Rachel Flowers CalABLE Fundraiser
$3,364
of $9,000 goal
Raised by
23
people in 8 months
• Rachel Flowers has amazed audiences worldwide with her musical ability.  At age 25, she's pursuing her dreams as a working musician and composer, yet today's music industry presents significant challenges.

• Being blind from infancy, Rachel faces additional hurdles: she needs personal assistance when traveling, adaptive technologies in the studio, and extra support at home.

• Your donation will help Rachel clear these hurdles and put her on a path toward a flourishing career.  By donating, you'll be participating in Rachel's success by providing critical seed funding she needs. Please join me in this effort. Thank you!  David Michael Kalman, Organizer



My Rachel Flowers Story, by David Michael Kalman

In March 2016 while puttering around Soundcloud, I came across cover tracks of songs by two of my favorite bands. Gentle Giant and King Crimson are known for complex, challenging music. I was astonished to learn the covers were performed and recorded by one young woman from southern California, Rachel Flowers.

I listened to Rachel's covers and interpretations, which also included The Beatles, ELP, Prince, Debussy, and Zappa. I watched videos of Rachel performing Keith Emerson's most ambitious compositions, and I saw her joyful impromptu performances of Joe Satriani's "Flying in a Blue Dream" and Steve Reich's confounding "Piano Phase ." 

I was amazed that one person could play every instrument as well as (or better than) my lifelong musical heroes.

In August 2016, I drove to Ventura to hear Rachel's jazz trio at Squashed Grapes. I met Rachel's mother Jeanie, who was very kind. And I met Rachel, who held my hand as I told her I had driven six hours to see her. She thought that was "cool." I thought her performance was even cooler. With the trio she played jazz standards, obscurities, and original compositions. Between sets she soloed imposing Keith Emerson works. Rachel's performance that evening was sublime.

To bring you more up-to-date, listen to the title track from Rachel's latest album, "Going Somewhere ," and note that Rachel played every instrument and engineered the album herself in her home studio.

Why I'm Supporting Rachel

I've seen musical prodigies before, but Rachel is different. She combines musicality and sensitivity with focus, creativity, and encyclopedic knowledge. She works and studies hard, and it shows in her mastery of instruments and in her fluency across musical genres. Just since I've known her, I've watched her continue to grow at an accelerating pace. I'm convinced that she's not simply great, but potentially groundbreaking and influential.

That said, the reality is that any music career is a challenge. Up-and-coming artists must produce and perform extensively to build audiences and connect with music industry influencers. It's daunting for any artist no matter how talented or experienced. 

Being blind from infancy, Rachel faces additional hurdles. She needs personal assistance when traveling, adaptive technologies in the studio, and extra support at home. Rachel's mother Jeanie has done an awesome job fulfilling those needs while caring for Rachel and nurturing her career. Jeanie's done this while also raising a teenage son and holding down a full-time job – using her vacations and unpaid leave to travel with Rachel as needed.

Yet with so many opportunities opening up for Rachel, there's an increasing need for funding to get her to the next level.

When California announced the CalABLE program, it struck me as a perfect vehicle to help Rachel raise funds and invest in her career in a way that wasn't possible before.

About CalABLE

CalABLE is California's implementation of the ABLE Act, which established a tax-advantaged savings account – like a college savings plan – for individuals with disabilities. Anyone can contribute, earnings accumulate tax-free, and withdrawals for qualified expenses are tax-free. Qualified expenses can include transportation, assistive technology, personal support services, and other living expenses, as well as those that help beneficiaries pursue their careers.  Exactly what Rachel needs.

One key advantage is that CalABLE assets don't count against the limit on personal assets for individuals who qualify for public benefits. Over the long term, this will allow Rachel to collect and save funds without the risk of losing her safety net as she takes steps toward financial independence. In the short term, she can withdraw funds to help her produce more amazing music and perform more frequently for audiences around the world.

When I first learned about ABLE, I decided to help fund Rachel's account.  I waited for the CalABLE launch in December 2018, and then selected GoFundMe as the fundraising platform to make it easy for friends and fans to contribute.

Fundraiser Facts

• Anyone can contribute at any level.

• The Kalman Family will match the first $2500 to double the impact of your 2019 donations.

• 100% of funds will go into Rachel's CalABLE account (minus GoFundMe payment processing fees) up to the CalABLE annual limit.

• Jeanie and Rachel are aware of this fundraiser and support my efforts, and deeply appreciate your contributions.

• Your donations to Rachel's CalABLE account are NOT tax deductible.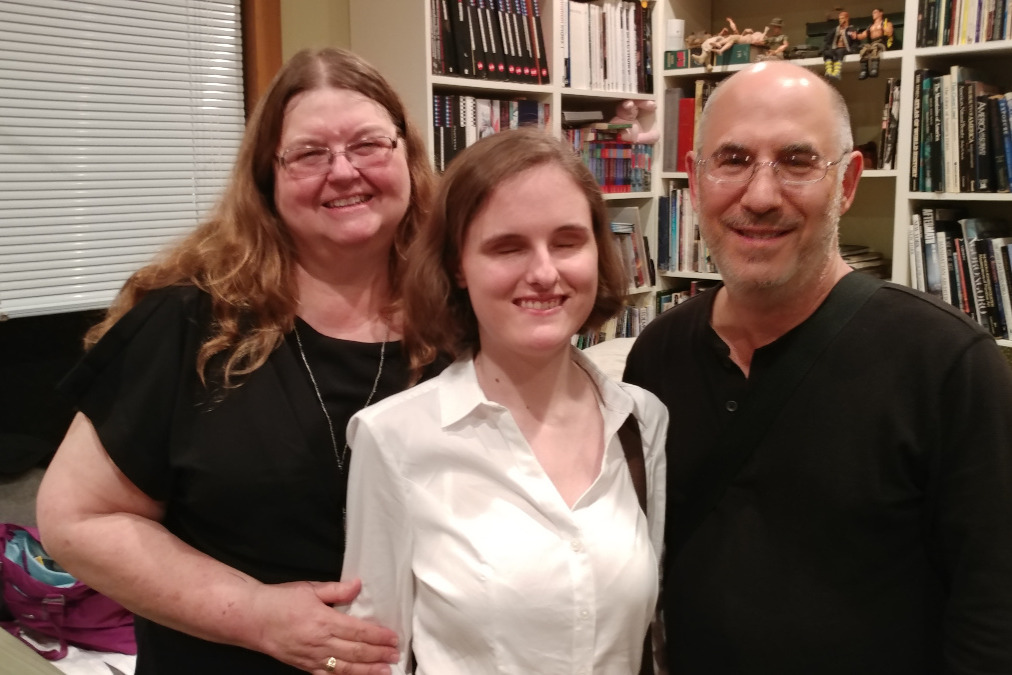 Jeanie, Rachel, and me after a performance in Henniker, NH

About Me: I'm David Michael Kalman, from San Mateo, Calif. I live with my wife Audrey and older son, who is himself a music composer/producer and student. Our younger son studies physics in Colorado. Over the past 35+ years I've been an editor, publisher, author, software developer, entrepreneur, media consultant, and karate instructor.  I was fortunate to meet Rachel and Jeanie in 2016 and we've since become good friends. Most recently, I've been doing whatever I can to help Rachel achieve her goals. I've taken on this fundraiser so Rachel can concentrate on her music and Jeanie can continue to focus on being the super mom that she is to Rachel and Vaughan.
Thank you for reading my very LONG Rachel Flowers story and thank you for donating.  For more about Rachel, I recommend Lorenzo DeStefano's wonderful documentary film, "Hearing is Believing ," which chronicles Rachel's life and astonishing musical talent. It's available on DVD, Blu-Ray, and streaming including Amazon Prime Video.

+ Read More