Delivering PRIDE to LGBTQ Youth
Purpose

The goal of this campaign is to raise money to send
free
copies of the LGBTQ affirmative PRIDE Coloring book to non-profits, school gay-straight alliances (GSAs), and community PRIDE events.
Why 
We've made a lot of progress as a society to support LGBTQ young people. But many of these youth continue to experience rejection, discrimination, and hear messages of hate. 
Many young people either don't have the financial means or cannot risk online purchases of LGBTQ affirming material. Yet, these are the ones who need messages of hope and inspiration the most.
I know many of you want to help these young LGBTQ people.
You want them to know they are not alone. I want to do everything I can to bring messages of hope and inspiration to LGBTQ youth, too.
We want today's youth to realize there are many people who love and support them. 
The Backstory


My name is Ron Holt. I am a gay man and a psychiatrist. Along with my husband, we've created coloring books that provide messages of affirmation to LGBTQ people. 
We want to share these messages of hope and affirmation to LGBTQ youth regardless of their ability to pay.
Our most popular coloring book has been the PRIDE Coloring Book. It includes 39 beautifully created mandala designs. Each mandala has a corresponding inspirational quote and message of affirmation.  
Over the last year, I've donated hundreds of copies of the book to educators, students, and conference attendees. And I've witnessed how it has helped people.
Seed money from the Ellen DeGeneres Show
In January 2018, I was invited to be in the audience for Ellen's 60th birthday show. She invited people who had participated in her "Million Acts of Kindness" campaign.  
If you know Ellen, you know she is a generous person. On her birthday, she gave everyone in the audience an equal amount of prize money. But when she announced this gift, she suggested we "pay it forward". 
Ellen's spirit of generosity motivates much of what I do. I  continue to donate my books to those who need messages of hope and inspiration. And now I used a portion of Ellen's prize money to start this GoFundMe campaign.
The Need
This year I am receiving many requests for the coloring book from LGBTQ non-profits, GSAs, and community PRIDE organizers from across the US and Canada.  These organizations and groups provide great services to the LGBTQ community.  
They have contacted me because they would like to have the book as a resource for the communities they serve. They would like to give away these coloring books at various venues, including community PRIDE activities.
Unfortunately, most of these organizations are underfunded and don't have the budget to provide these books.  And many of the young people they serve don't have independent resources or supportive families.
We want to partner with you.
Together we can provide these coloring books to as many young LGBTQ people as possible.
And we will do this regardless of their ability to pay.  
We will be raising money through July 2018. This will allow time to get the coloring books into the hands of LGBTQ affirmative non-profits, GSAs, school clubs, and community PRIDE events. And we will start fulfilling requests for books as soon as donations come in.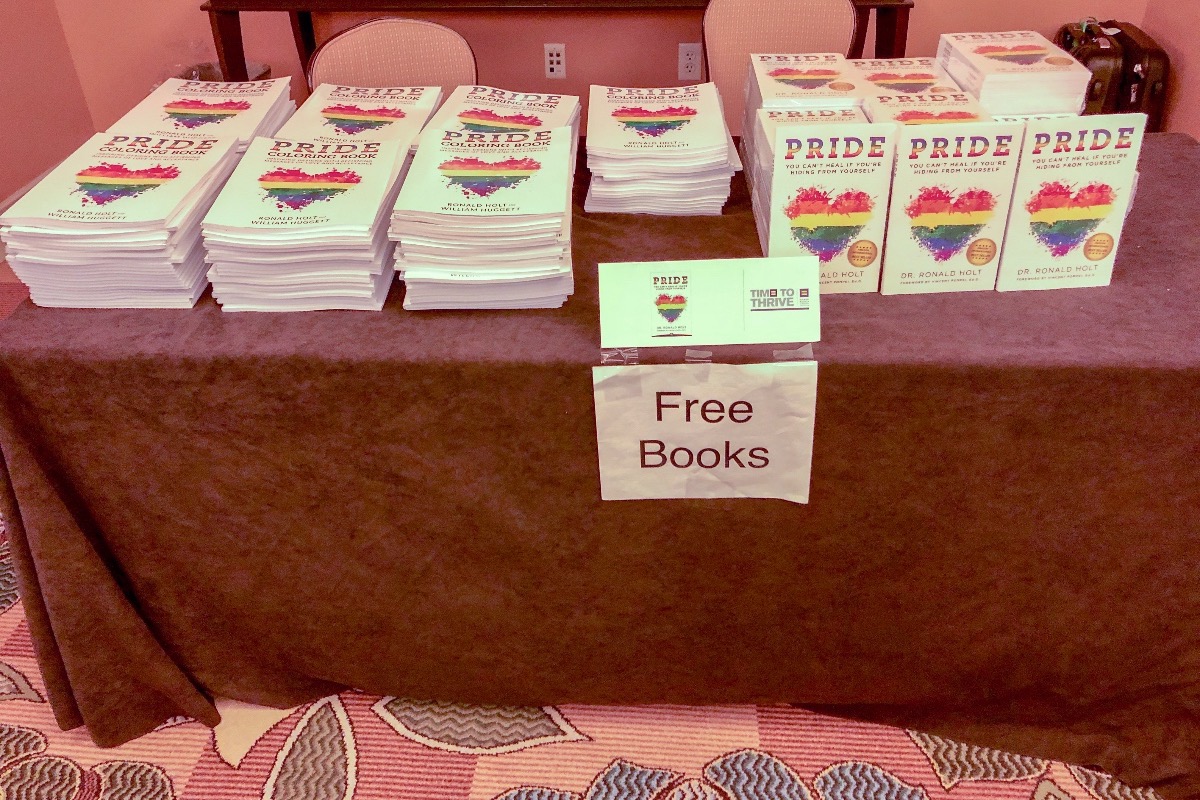 Costs


My husband and I are offering these books
at cost
, plus shipping and taxes. We are not making any profit from this campaign and are donating our time to make this campaign a success.
All money raised will go directly to providing coloring books to those who need them most. Our goal is to make sure each dollar goes directly to help these young people. 
A breakdown on the costs and how far your donation will go:
*The cost per book is $2.15 plus shipping, taxes, and a 2.9% GoFundMe service charge + $0.30  for every donation/transaction they process. 
*Each book will therefore cost approximately $3.25 if shipped within the US and approximately $4.35 for each book shipped to Canada.  
Unfortunately, due to the limitations of distribution, we are not able to ship books to other countries at this low cost.  You can, however, download a free
PDF
  of the coloring book. This is our gift to you for helping us with this campaign. 
Again, 100% of your donation will go to purchase and distribute these books to those who need them most.
And we will post updates to this site so you can see the kinds of orgs and groups you've helped.  
How You Can Help


There are
two
ways you can help. 
1.  Donate to this campaign.
2.  Spread the word about this campaign through word of mouth, social media, and/or your contacts.
Any size donation is appreciated. Everyone who donates will receive a personalized thank you note from me via the GoFundMe platform.


To entice donors who live in the US, I am throwing in some reward levels: 
$100+ donations get a mailed copy of my book PRIDE: You Can't Heal If You're Hiding From Yourself.
$250+  donations get a mailed copy of both my book PRIDE and the companion PRIDE coloring book.
$500+ donations get copies of all five of my 
books.
Our goal is to get as many of these books as possible into the hands of those groups who need them, regardless of their financial means.
Thank you!
Thank you for your dedication to helping these young people. 
No words can express how grateful I am for your efforts in making this campaign a success. 
Whether you donate money or spread the word, I am grateful to you from the bottom of my heart. 
Together we can make this campaign a great one and deliver coloring books to all the groups who need them. 
LGBTQ young people need our help now - more than ever.  
Together, we WILL make a difference in their lives. 
Organizer
Ronald Holt
Organizer
San Francisco, CA