Coach webb has been a teacher for 16 years and has coached for 14 of them.  Coach webb and his wife have been married for 22 years, he has  five amazing kids. His 2 oldest daughters are attending Brigham Young  University, his has another daughter that is a senior this year and has been accepted to SUU and 2 younger children in middle and elementary school.
He loves his job because he gets to teach amazing students everyday and works with caring and giving  teachers and staff.  He misses being able to talk and laugh with his students.
In October he was diagnosed with stage 4 colon cancer.  It was a shocker, one day he is MC ing the pep rally  and  coaching, the next day he was in the hospital fighting for his life.  The first 21 days in the hospital were filled with test after test, then came the surgeries. First  was the brain surgery to remove the golf ball size tumor from his head and then he had two surgeries in his colon and stomach area.
All during this time he kept his humor.  The nurses told him to do some light stretches to help his muscles. I gave him his stretch band and turned around and this is what i saw. I asked him what kind of exercise is that, He said, "I am doing P90X modified," we all laughed so hard. He has the best sense of humor.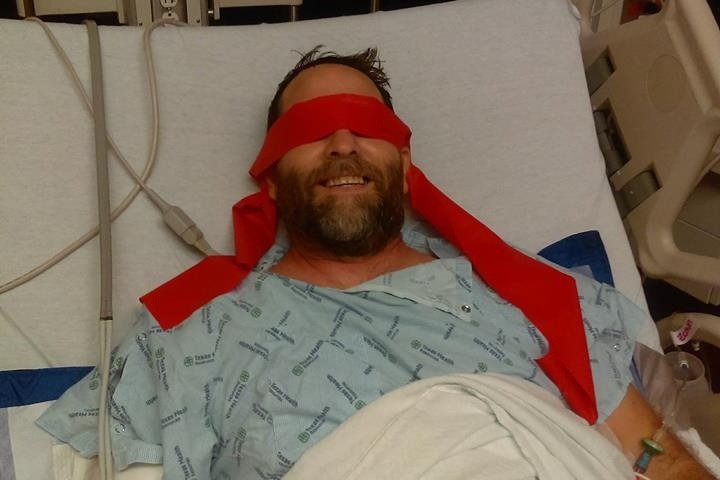 Finally we were able to come home and then two weeks of radiation started. Finally he was able to start chemotherapy. He decided he wanted to wear his star wars hat to chemotherapy.
He has had this fighting personality from the beginning.  Since early October Coach Webb has not been able to work and we don't know when he will be able to go back.  Medical bills are starting to pile up and now we are trying to figure out how to pay for them. We have been blessed by having such amazing people around us. His students and staff at Fossil Ridge High School has been so incredible.
The students and staff came and wallpapered our walls with heartfelt letters, which has truly helped him. They helped give our children christmas and then a couple of weeks ago the school decided to surprise coach webb with a pep rally on our front yard. It was truly an inspiring event to see all those students and staff come out and show their support for the Webb family.
The support so far has been truly inspiring, however because of the continued treatments the Webb family still needs our help. Every penny counts in this fight against cancer. The Webb family thanks everyone for their support and is truly thankful for all of the love and prayers that are being sent their way.

Organizer
Adam Webb
Organizer
Keller, TX