Please Help Give the Gift of Speech
Can you imagine not being able to talk? How would you communicate with your loved ones, friends, and co-workers? How would you communicate even your most basic needs?
The ability to talk is something we all take for granted. But for those who have lost this ability due to conditions like a stroke, throat cancer, brain injury, Parkinson's Disease, ALS, Autism, and Down Syndrome or for any other reason, the impact can be devastating.
And the impact isn't limited to just the person who has lost their speech. Family life is also disrupted as loved ones—who want so badly to help--often suffer from frustration and feelings of overwhelm and powerlessness.
Here is a testimonial story about Bob;
Gina, I just want to thank you and your support team for all your help and most of all, creating app2speak.
I discovered app2speak after my best friend Bob, (we've been like brothers for 60 years) . was diagnosed with throat cancer and was told he had to have a laryngectomy and he would lose his voice.
He's not as technical as I am and asked me to try and find something that would allow him to communicate with his mobile phone once he became speech impaired. He wanted to be able to text his words and have his phone speak them out for face-to-face communication.
After searching the web for something that might work for him, I kept seeing app2speak pop-up. I went on the website and it looked like it would be helpful.
I contacted customer support and that's when you helped so much.
You let me download the 14-day full app trial to my phone.
The two features of the app, text to speech and the photo-based pages with their phrases, and the ability to create custom pages and phrases was amazing.
Bob purchased the app (worth every penny) and we began practicing with each other until he was comfortable with using it before his surgery.
The best part about this story is when Bob had his surgery at Tuffs Medical Center in Boston MA, he woke up from recovery and was able to communicate with the medical staff immediately. The nurses were amazed and had never seen that app before. They took the information down for future patients.
Not only could he text his words to speech but he found the preloaded photo pages to be extremely helpful.
Now that he is home, he uses the app every day. He has his custom pages set up for everything from the supermarket to an emergency call photo with critical emergency information.
This app is truly a life changing tool.
Again, I want to thank you.
Wayne, Pelham, NH
Hi. I'm Gina Baldwin, a Speech Language Pathologist from St. Louis, Missouri. My passion is helping people with their speech and communication challenges.
I am a certified Speech Language Pathologist, proudly endorsed by the American Speech Language Hearing Association (ASHA). Over the course of my fulfilling 40-year career, my primary joy has been helping individuals forge connections with the world through the power of speech and communication.
Throughout my professional journey, I have had the privilege of working with a diverse range of clients across various environments. Assisting them in swiftly returning to their daily routines has been an incredibly rewarding experience.
During my extensive career, I have created numerous speech boards and utilized various technological devices and apps, all aimed at enhancing communication for individuals with speech and communication impairments. While each of these tools had its merits, they also came with their own limitations and obstacles. Speech boards, though helpful, had their constraints. Many existing devices and apps were overly complex and financially inaccessible. Some relied on symbols and icons that didn't resonate with my clients. After an exhaustive search, I realized the ideal product I envisioned did not yet exist.
I realized I needed to embrace the challenge and create an intuitive, photo-based, and reasonably priced speaking app—a true Augmentative and Alternative Communication (AAC) application that my clients could seamlessly utilize. And so, APP2Speak was born.
Leveraging my extensive experience, I developed APP2Speak to be the best app for speech impairments. It is a photo-based, user-friendly, and affordable solution. With full customization options, you can seamlessly incorporate your own photos, capture new ones within the app, and even personalize with familiar voices. By simply tapping a photo, users can express anything from a short phrase to a complex story. With preset photo pages and a text-to-speech feature, immediate speech and communication are made possible.
As you can imagine, in my work as a Speech Language Pathologist, I hear many tragic stories—people who have had a stroke, aphasia, brain injury, ALS, throat cancer or surgeries that have affected their lives in profound ways.
Meet Helen and listen to her brief story.
To give you a sense of the variety of reasons people might need help from an app like APP2Speak, here are just a few recent inquiries from our website:
"Finally got the app started for my father -in- law (Parkinson's Disease), he was able to have a phone conversation with his brother by laying the phone next to his iPad and it brought him to tears. I think it is going to be a huge tool for him to use."
-Aaron, Caldwell, ID
"I had a laryngectomy (due to cancer) and cannot speak anymore. I've been trying prosthetic voices, but none work for me."
-Clyde
"My mother recently had a stroke and it caused severe issues with her speech and communication. It's extremely frustrating for her."
-Don
There's no doubt about it. The people I meet through my work—like those quoted above—face difficult challenges in trying to communicate for themselves (if they're the one who has lost their speech) or (for family members) in trying to communicate with a loved one who has lost their ability to speak.
As the creator of APP2Speak, I'm very proud that I've been able to provide a speech app for people who are nonverbal around the world (we now have users in 15 countries) to help them better communicate with their loved ones.
Nothing makes me happier than seeing someone discover that, by using the app, they can once again communicate with those around them. You should see their eyes light up!
Here is another example. A few years ago, St. Louis police officer Gary Glasby was in his patrol car when a pickup truck hit him at high speed, resulting in a traumatic brain injury. He couldn't walk for four months. He also lost his ability to communicate because his vocal cords were paralyzed.
A St. Louis TV reporter who had done a story about officer Glasby connected me with him. In a very short time, he was using the app to communicate in ways he hadn't been able to do since the accident. He was so excited and appreciative when I demonstrated the app for him!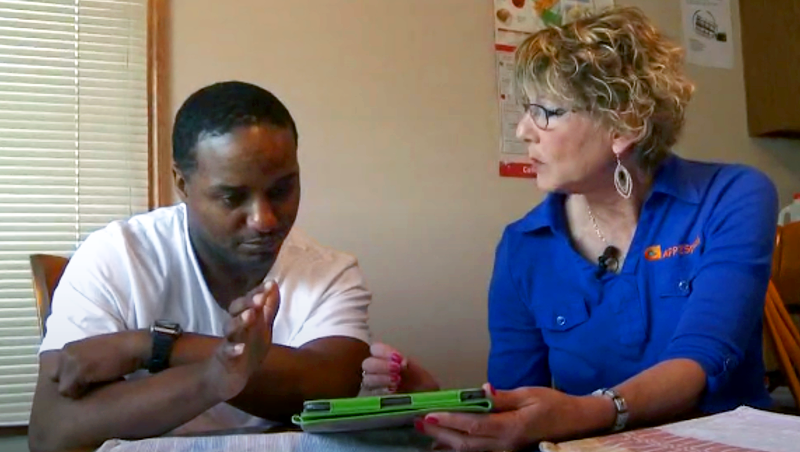 So, now that you know my "WHY" I designed and created APP2Speak, and what it does...
You may be wondering, why am I using business GoFundMe to raise money?
Well, with my husband's total support, we've been able to self-fund APP2Speak for the past 8 years, but it has become harder and harder.
The fact is, with today's ever-changing technology it has become almost impossible to continue providing this wonderful product (my husband sometimes tells me, "Honey, you have a very expensive hobby").
So, we're asking for your donation today to help with the expensive costs.
We need funds to defray the cost of further development, travel to various educational conferences for assistive technology, where we demonstrate the app. We also need money for marketing, ads, social media marketing, and consultants to help with the website. All of these things are necessary to spread the word about this life-changing technology—and, believe me, these costs add up!
Will you please help me keep APP2Speak speaking app going so I can continue to help people like Bob, Aaron and Officer Glasby and the thousands of others who have benefited from the app?
Thank you very much for your support. I sincerely appreciate your help.
Even a small donation would help—whatever you can spare.
Kind regards,
Gina Baldwin, M.S., CCC, Speech Language Pathologist, Founder of APP2Speak