Peter & Brittney Nestingen
Peter and Brittney Nestingen are simply the sweetest two people you will ever meet and would never ask for anything, however, in the early hours of  August 28, 2018 the couple awoke to heavy rain and rising water from the nearby creek.  The water quickly began to fill their basement and soon filled their entire home.  The basement collapsed under the pressure of the flood waters.   They were able to escape out of a window in their garage and were saved by a responding rescue boat.  Peter and Brittney were forced to abandon their home with nothing more that the pajamas they had on, their wallets, phones, and little dog, Isabella.   This property is not in the floodplain and thus they didn't even have the option to purchase flood insurance.  They have now found themselves with a home that is uninhabitable, damaged beyond repair, and a complete loss.  Ultimately, a substantial portion of damage will not be covered under their home insurance.  Please help in any way possible as they have lost their home and all of their belongings.  The couple will be staying with family until they find a new place to call home.
Background information about this family:
After years of trying to conceive, several rounds of unsuccessful IVF, and  a failed adoption, this couple has recently learned that their greatest dream of becoming parents has come true.  Pete and Brittney will be welcoming a baby into their family in early 2019.  This makes the need greater as they will need to provide for this little blessing. 
There is no doubt that these two will be the greatest parents but need your help to create a cozy space for their precious little baby.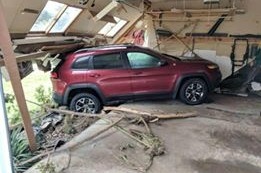 Organizer and beneficiary