"I live in a bubble, no, not a literal bubble, but my life has become so restrictive that it's hard to even call this a life."
Those are the words from my mother
Peggie.
Where to begin with my mother, Peggie's story. Well, Peggie had been happily married, and what appeared to be healthy. But after the birth of her children in 1985 and 1988 ( myself and my younger sister Rashelle) Peggie began having very bad symptoms that were just the beginning of the "life in a bubble" she lives today.  
Over the course of 30+ years Peggie endured physical symptoms such as seizures and fainting. Going from doctor to doctor with different "possible" diagnosis from each one, but no real answers.  In more recent years it had been narrowed down to a chemical sensitivity to everyday things such as perfumes, hair products, soaps, candles etc...It sounded so weird and crazy some people didn't even believe it.
In fall of 2013, Peggie's beloved husband passed away from a brain aneurism and heart attack/stroke at only 56. Left not only heart broken, but also to take on the expenses of not only the household, but any medical expenses she needed in her search for help with her seizures... Determined to be self sufficient, she continued to work at her job, and do her best to deal with the seizures and various other symptoms that could overtake her without any warning. But as time went on the seizures became more violent, more frequent, and now with more symptoms. In addition to the seizures, her symptoms had now expanded to passing out, affecting her bodily functions, her mind clarity, ability to work and to have a normal life. 
At the end of 2013 My wife Liz and I made the decision to move our family of 4 into the house along with both my mom and Grandfather, Popper, in order to take on the financial and household responsibilities while also being able to support Peggie in her time of need.  As time passed her symptoms slowly worsened and also began to morph into new symptoms that she had never experienced.  
Different doctors from all areas of expertise (neuro, heart etc..) and even holistic have given several different ideas as to what the diagnosis is but nobody has been certain...
I myself have taken her to doctors and have seen the puzzled look on their faces when she has a seizure, but no other signs of epilepsy. They have no answer as to why the chemicals would cause seizures. They even put her on epilepsy medication to stop the seizures but had even worse side effects. 
In 2016 things seemed to actually be taking a turn for the better. Peggie had met Michael and was in a fantastic relationship. She also seemed to have a grasp on how to live everyday life and manage her symptoms. Peggie had tried new holistic approaches that seemed to help offset some of the symptoms. In fact, at one point in time she seemed to be showing signs of vast improvement. In June of 2017 Peggie and Michael were married and began their new life 
together. Unfortunately, things did not stay that way...   
Shortly after the wedding her symptoms returned 10-fold and also brought new challenges that she had never faced previously. Along with intense seizures and other symptoms, Peggie began experiencing extreme coughing fits that evolved into anaphylactic shock. They began to close her airways and she had to be issued an Epi-Pen as a last resort, as yet again, the doctors could not explain why this was happening, or how to prevent it. 
After over 30 years she has actually been diagnosed with a concrete answer as to what she has been battling. 
An extremely rare Autoimmune disease called Malignant Mastocytosis which is a blood and bone disease.  This affects all her major organs, nervous system, neurological, lymphatic system, spine, muscular, and skeletal.  
Now, her everyday life consists of anaphylactic shock 1-3 times per day each one could be her last. Michael is now not only her husband of only 8 months, but now her full time caregiver unable to leave her alone to be able to work to provide for their family. Other friends and family are not even able to help because she is to avoid contact with people as it may trigger more anaphylactic reactions.  He often has to give her mouth to mouth and medicine during an attack to keep her breathing. This disease is debilitating, and weakening her everyday.   
She has been given a terminal prognosis and only expecting 4 months to 1 year to survive with conventional methods that would include chemotherapy, blood transfusions, and other extreme treatments.  It is a newly discovered disease and doctors do not know how to treat it, but are still researching the best options .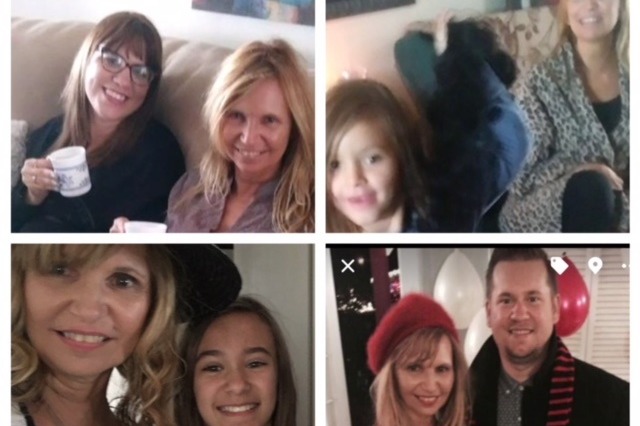 Fortunately, we have found some other promising forms of treatment including a strict diet and lifestyle change to control every aspect of what her body intakes.  This will include becoming 100% Vegan and absolutely every item that is cooked with or used in the house and even worn being fully organic and natural.  Other natural treatments and natural path doctors not covered by any insurance  may be beneficial.  
Using the components of both conventional and holistic treatments Peggie, Michael and the whole family are determined to keep fighting and not give up. Our goal with this GoFundMe is to help Peggie afford the needed treatments to keep fighting.  Peggie needs help paying for treatments not covered by insurance, doctor visits, and a strict diet that unfortunately is extremely expensive to follow. They also will be able to use donations to help with household expenses since Michael stays with her when suffering from symptoms and can not work as he used to.  
Please consider making a donation of any size today, it means the world to Peggie, Michael, and our whole Family. From the bottom of our hearts we thank each and everyone one of you for your support.       

Organizer and beneficiary