Fight Pedrin, Fight!
On April 2nd 2014, Pedro Jesus Abreu Grullon, (Nicknamed Pedrin by family and friends) suffered an "evil" and "unfortunate" traffic accident in the Dominican Republic when he was traveling home for lunch on a motorcycle.   
It was evil because the occupants, both driver and passenger of an official institution license plate vehicle, did not respect the law by running a red light and struck the motorcycle driven by Pedrin with a friend who fortunately escaped the scene unharmed.
It was unfortunate because Pedrin did not have the same luck.  The impact he received sent him in critical condition to the nearest clinic.    He arrived with his intestines outside of the abdomen and without much blood because of the severe hemorrhage (My apologies for the graphic description).
He went to surgery immediately.   To complicate matters his blood type was not very common and the community initiated a blood drive via blood banks and local clinics to try to provide the lost blood. However, through this process and after getting the first few pints his kidneys  stopped working and he had to undergo dialysis for 35 days until his kidneys started to partially work again.
During more than 100 agonizing and long days, Pedrin was in intensive care, and for the most part in an induced comma.  He suffered and fought with incredible strength over a dozen surgeries with some of them lasting up to 8 long ending hours. 
To prevent gangrene because of the lack of blood supply, he has suffered amputations in three parts of his right leg until arriving at the max limit of the hip.  Also, because of the violent nature of the impact he lost the majority of his small intestines which makes the process of feeding him very difficult. 
Pedrin is a young man very amicable, happy and was only 23 years old at the time.  He is tall, good looking, and very athletic.  He has demonstrated an incredible physical strength throughout this ordeal that few people posess.
The doctors, that several times warned of the worst outcome are suprised of the incredible resiliency under the numerous complications that have surfaced during this long period.  He has miraculously overcome most of these setbacks.  
We are conviced that Pedrin has been able to overcome these obstacles not only because of his strength and determination to live but also for these reasons.  First, God without a doubt is keeping him alive.  Holding him in his warm embrace.   Second, the  doctors, take care of him without rest and apply the most advanced techniques and medicine.  Thirdly, his parents, with an unwavering Christian faith and lastly his friends,  who are always with him and provide unconditional support.  Not to mention all the numerous prayers from people all over, who without knowing him pray for his health and a prompt recovery.
For several weeks and for everyones happiness, Pedrin was able to be consious and talk with family and close friends.  He showed increadible strength and optimism for the future, despite the physical limitations he will confront. He shows a lot faith and character, which are keeping him alive under the difficult circumstances.
Later, he suffered a setback and for weeks he went back to a comma.   He then  faced a surgery in his throat to facilitate breathing and was the victim of an aggressive bacteria that the doctor fought with everything in their power.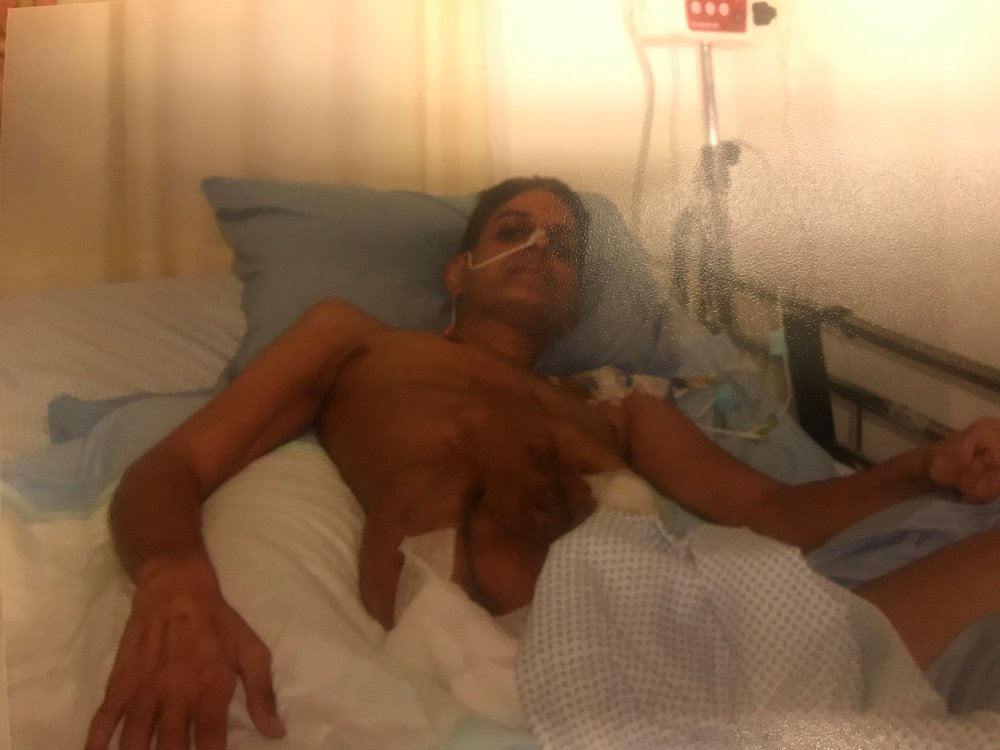 Obviously his situation changed again to critical and his prognosis less optimistic.  But everyone around him keeps firm as always and had little doubt of his recovery because of the great faith God afforded Pedrin and the incredible mission in his life.  Everyone around him believes he will perservere for years to come.  From the deepest part of everyones heart we keep saying,  Resiste Pedrin Resiste.  Which means keep fighting Pedrin, keep fighting.
This article appeared in a local newspaper in the Dominican Republic and all over the internet, It was published by a columnist named Sergio Forcadell.  You can see the original version in Spanish following this link: 
http://acento.com.do/2014/opinion/8157306-resiste-pedrin-resiste/
It accurately depicts Pedrin situation right after the accident.  
Today Pedrin is still standing tall and unfazed with the challenges ahead.  He continues to show the inner strength that helped him face this unbelievable reality.   Now, Pedrin is fighting for the last steps of his recovery.  He recently underwent another surgery to remove a piece of equipment to help him urinate and the next step is to get his prosthesis. 
The challenges continue for him and his family. Because of the emotional and stressful events of the few  years now both of his parents have lost their jobs and the insurance companies are looking to drop them because of the expensive care he has undergone.   God has ways to work through people and now positive news is starting to roll in. The special prosthesis needed to attach to his hip has been donated by the Kendall Prosthetics & Orothotics Care Clinic in Miami, however, the family needs to find funds to travel and live in Miami for at least 3 months to get this last step completed.  We are asking for your support to help Pedrin overcome this last hurdle and have a chance to a normal life again.
Your contributions will not go unnoticed by the God who made us, Pedrin is alive for a reason and with your help, we can make Gods wish come through.

Organizer
GUILLERMO ABREU 
Organizer
Penn Township, PA