Our Father needs an Emergency Medical Evacuation
Around three weeks ago I received a phone call from a hospital in
Bali, Indonesia, informing me that my father Peter Wood, had suffered a Stroke

With little detail of his condition due to the language barrier, and knowing he was travelling alone, 
I rushed overnight to properly assess & try to assist him back to Australia for more adequate medical treatment.
The idea of him being treated by comparatively substandard medical care in a developing country was worrying. 

After I consented to scans,  it was revealed it was a Hemorrhagic Stroke ~ a burst blood vessel & bleeding of the brain.They needed to operate to locate the leaking vessel, and then cauterise it.

Because of this, I was unable to bring him home straight away, as I had planned… I was told air-carriers do not allow transport of this kind, as the cabin pressure could kill him, or at least decrease his chances of survival.
I was forced to agree to requested brain surgery by the local doctors.

The operation went as well as we hoped for. The pressure was relieved, and although he was basically fully paralysed, there was slow recovery signs after the op. Within 5 days he gained limited movement in one hand & arm, tracking of us in one of his eyes, and some muffled, mostly incoherent speech.
I have to admit, my emotional concerns regarding insufficient medical care, based on personal experiences 20 years ago, where somewhat relieved. They were far more professional than I was giving them credit for. 

His prognosis was hopeful at this stage, and he was expected to be able to fly home within a month, when enough pressure had subsided and his condition had become more stable.

Then, infection set in and his condition deteriorated. More swelling on the brain & high fever as a result. This time it the swelling wasn't due to blood, rather fluid build up.  Another surgery to put a drain in place to relieve the pressure build up was needed.
I reluctantly signed off on that also. There was no other option.

Now, his vitals are finally stable, but totally unresponsive, and his prognosis with the facilities available here is not good at all. No fault of the doctor's & nursing staff, rather their conditions & equipment they have available to work with. Not to mention another round of infection, this time in the lungs, thorax and kidneys, alongside pneumonia
which had developed as a result.

The main hope for him now, as they themselves admit, is an emergency medical evacuation by air-ambulance. 
Medical bills for the 2 operation and hospital stay, now currently stand at more than I and family back home can come up with at this time.

I checked around for his insurance details, which he usually gets for his trips, and discovered for some reason, this time he had not.
After chasing down many avenues to resolve this, we have yet to find any assistance available.
It goes against our own selves for us to divulge family matters to the public & to plead like this for help, but this time we've have had to swallow all pride for his sake.
If anyone can help financially, we could not express to you how much it would mean to to us all.

My father is a vital lynchpin in our family, and loved by so
many others in his hometown of Darwin, Northern Territory, Australia.

At the age of 73 he was, up until this, very active, still at work & still on the tools, providing for his second family.
Your typical old school, hard working man, who never shrugged his responsibilities throughout his life.

Even though he could have retired at 65, and not have legally had to contribute towards his then teenager kid's
schooling & care on rotation with their mother... As is his way, he did his part. 
He often took short trips to Bali to unwind the stress that so often plagues many of us with running their own business, and caring for family these days.

Aside from my own emotions as his eldest son, I can't imagine what his younger sons Reno 23 & Breean 21, and his daughter Leana 18, with their own personal pain & angst, are going through right now. 

Both boys came over to be at his side, but had to return due to work commitments. Leana is still here with me, and I see her pain everyday, even though she tries to hide it.

His first daughter, Shannan, died recently at the age of 46 and that cut the family deep. 

Leana, lives with him, and was due to find her own way in life very soon. My father was then so looking forward to his dream of slowing down & retiring in Bali, after Leana had become independent.
It saddens me that his well deserved dream may never eventuate in the current circumstance.

We all pray that this won't be the case.
I have included as much evidence (below) as possible  of our fundraising plea, to try and alleviate any concerns
of scam or fraudulence.

Our faith is still strong, and we stay committed to positivity. 

In all sincerity, I thank you all for taking the time to read this. 
If you can't help financially, your prayers are more than currency to us in this time...

Gratitude.
Peace & Love, to You & Yours.

Damian.
______________________________________________________________________________________________________________

Reno, Leana, Breean & dad @ Leana's High School Graduation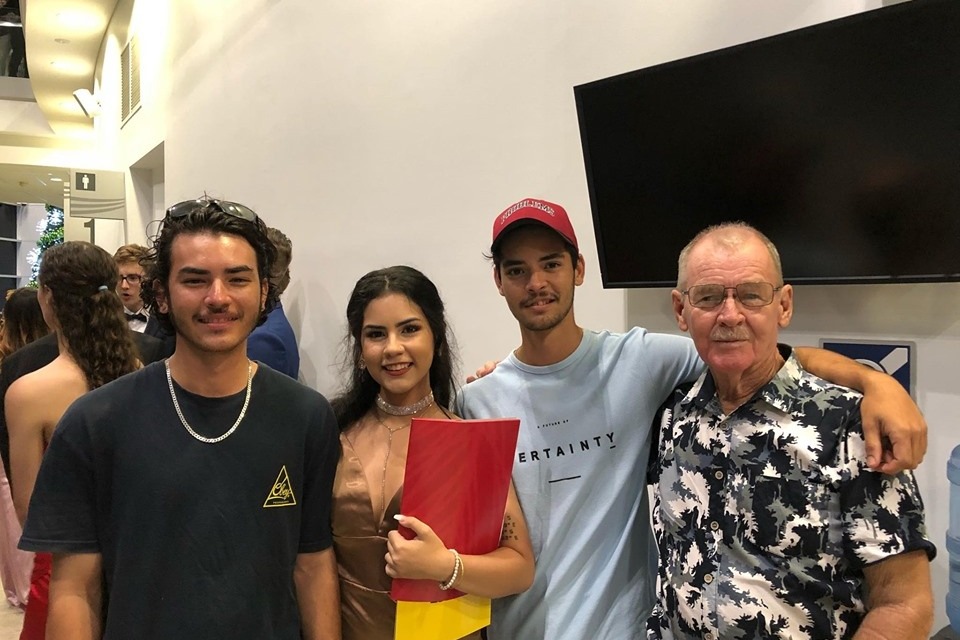 Hospital Admissions Form


Hospital Medical certificate

Latest Hospital Bill
Apologies on not being able to post whole pages, I can't work out how
to do that.
____________________________________________________________________________
Expenses.

Emergency Evacuation,  Bali to Darwin ~Quote:  AU$55-60,000
**will post copies when received.
Hospital costs to this point in time:  AU$20,000
** another operation, a tracheotomy is need when fever subsides.
Estimated @ AU$ 3-4,000.

~$6000 of these costs have already been paid by us.
** see hospital invoice.

Fundraising team: Team Dad (4)
#1 fundraising platform

More people start fundraisers on GoFundMe than on any other platform. Learn more

GoFundMe Guarantee

In the rare case something isn't right, we will work with you to determine if misuse occurred. Learn more

Expert advice, 24/7

Contact us with your questions and we'll answer, day or night. Learn more