Get Heirloom Quality 11x17 Prints Of Fall Colors
Yes that is a real picture of current fall colors!  It is from my current Fall Colors 2020 Aerial Photography tour.
Can you see a beautiful print like this as a center piece in your living room?   How about bringing color to a child's room, while inspiring their imagination to soar above the trees!
Sponsor my tour of the nation, and you can receive one or more heirloom quality 11x17 prints of your choice from the photos of this trip, or any of my other photos.  I have other rewards for you too!
While you are safely staying home, you can enjoy a virtual vacation with me, and support my search for the most beautiful fall colors in the nation. Help support my tour and see the fall colors I am finding across the United States.
Get Your 11x17 Print For Your Support of $35 or more!
The large format prints that I make easily sell for $75 or more, but when you give $35 or more, you can select an 11x17 large format print from the photos of this trip. Printed on quality paper with Epson Durabright inks, Epson estimates over 80+ year lifetime for this ink.
Get Two Prints For Your Support Of $60 or more!
Select 2 (two) 11x17 large format prints from my photos library.
$100 Photowall sponsor
4 photos of your choice, 11x17. Create a beautiful photo wall, or adorn several rooms of your home and office.
$150 Unique Multi-Photo Compositions
Can't choose just one pic?  How would you like to brag that you have a special one of kind print?  I will create three unique composition prints just for you.  Each 11x17 composition print can combine up to three photos of your choice from this tour, or my other tours.  I will have a number of layouts for you to choose from to arrange the pictures you choose for each print. 
Would you like to take control of a flight, from the comfort of your living room? Would you like me to fly at your direction and gather unique photos and video just for you?  I have special rewards offers for you too!  Please take a  look at the $200 and up rewards at my website
TheGarnet dot NET
Would you like to make some money as a fundraiser for this trip?
Please see details at the end of this page on how you can make money as a fundraiser for this trip.
My Story
Hi! My name is Garnet R. Chaney. I am an FAA licensed drone pilot, photographer, and entrepreneur. I have been building a varied library of aerial photographs, and videos, to use in various projects. It is time to take my skills to the next level, I am asking for your help to support my cross country aerial photography tour of the United States.
Update October 10, 2020:
I kicked off the tour last night with aerial photography of a very famous San Francisco Landmark that is in the National Historic Register, the Coit Tower. Photos from last night will be my first entries in the Wikipedia contest I will tell you about later on this page. More photos added to this page later today!  Come back to this page often, I will be featuring some of the best pictures from the trip right here!  Or, become a sponsor for any amount, and get first class seating, and the latest scoop, in the special sponsors forum!  Now, back to the story about this trip and how you can help....
Living in California for 30+ years, it has been many years since I have seen great fall colors for myself, and right now the fall colors are coming out beautifully, and I would like the challenge of using my aerial photography skills to get some great photos and videos of them. And be able to share them with a growing group of fans that are enjoying my photography. I have found that aerial photography and videos really brings a lot of joy to many people. They like the new perspective. They often share with me the dreams they have that my work inspires.
There is also a Wikipedia sponsored photography contest, "the world's largest photography competition", going on this month, "Wikimedia Loves Monuments", and I would like to visit as many historic monuments as possible along my path, and provide aerial photos and videos of monuments for that contest. Those photos will be licensed as Creative Commons, and thereby are usable by anyone for their projects. This will be a nice way to really give back to the community, and history, some great photography work, from an aerial perspective, of these monuments that everyone can use. You can help me select my best photos to submit for the contest. For more info on the contest ...
I will use the funds to provide for the expenses of this trip. It will last through the end of October 2020, with the potential of extending the trip depending on the sponsorships received. 
World class photographer, Keith Ormerod, of
inmyeyephoto
, is one of my advisors for this trip. Here you can see the results of a one-on-one training with him where he was teaching me his secrets for bringing out the hidden colors in a photo. I learned how to apply his techniques to my videos also!
I already possess several drones to use on this photo tour, computer equipment, and an old vehicle that I think will be OK for the trip.  
I also have a skill that I can use to fund the trip: I sharpen scissors for hair salons. Last year, in September 2019, I funded a cross country trip to visit my father in Cincinnati by sharpening scissors all across the nation. I called it my "Make America Sharp Again" tour.  I also took some photos across the country, and have been surprised to find that people really like them. I have a portfolio book features 40 of my best prints so far, and I have two more portfolio books to fill, I plan to make those available as often as possible to get new sponsors during the tour.
But this year, given everything happening, and the wide variety of locations to photo for the fall colors and monuments, I think it would be better to concentrate full time on photography on this trip, and not have to jump in and out of salons that are still not fully back in business in many places across the country. Doing aerial photography is a much better socially distanced work to do at this time.
Time is of the essence...
The fall colors are out now, and they don't last a long time. There is a tree I found on this trip that has very little color left in the tree. Across the street was a field with fall wild flowers in bloom, with the fall colors on the hills in the distance!
Your sponsorship of the trip as soon as your are able, is much appreciated. I have a few early bird specials throughout the rewards.
Rewards? Did I say rewards?  Yes.  This trip means a lot to me, but also the joy that I can bring to others with my photos, videos, and prints, is important too. And I want to bring joy especially to my sponsors.
So, to bring you joy as one of my sponsors, and reward your participation, I have developed a lengthy list below to give you some great rewards, no matter what level you are able to help with on this tour. (I have since moved many of the awards to my personal website, link below.)
Last year, during my "Make America Sharp Again Tour", this horse in Oregon tried to sell me his barn.....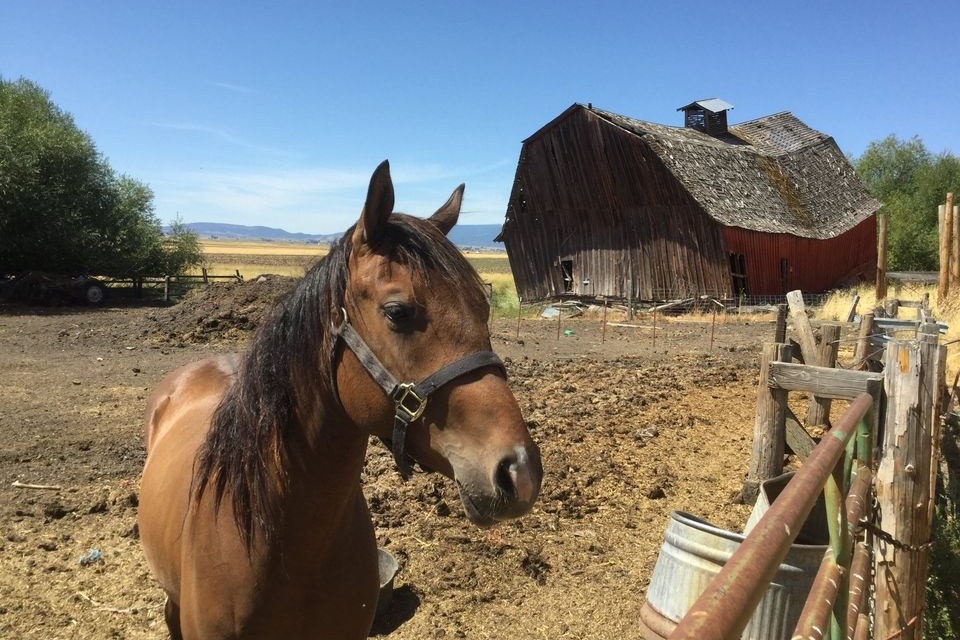 The Story of Sandy and Charlie
This photo is of two of my recent happy customers who bought two of my 11x17 prints. One is "Horse With A Barn to Sell" which is one of the most popular photos I put on my Facebook last year during my "Make America Sharp Again" trip. They also purchased an aerial print of their home.   I really enjoy how mesmerized home owners are when they see their homes from the entirely different aerial perspective.
When I first showed Sandy the aerial photos of her home, she remarked "I didn't realize our home was that big!"  Aerial photos give people a whole new perspective even on things they know very well.
Charlie and Sandy absolutely loved these 11x17 prints that I made for them.  These are the size prints I will be rewarding sponsors with for this October 2020 Aerial Photography tour. I will mail them in padded envelopes. I am not promising framed prints in the rewards below, but the prints are definitely suitable for framing. I am using Epson Durabright Inks for the best quality and longevity.  They can also be hung like posters. 
Help Me Inspire Dreams by Sponsoring This Cross Country Aerial Photography Tour
I recommend using my prints as inspiration for your dreams. Want to own a horse someday?  Do you want to have a vineyard?  Do you want to tour the beaches of the world?  Do you want to travel and see amazing cities?  Do you need to cross an important bridge in your life?
I have beautiful aerial photos of all of these subjects. One, or more, of my prints positioned strategically around your home, or office, where you will see them often, will be a great reminder to stay focused on your dreams, and remind you to think everyday about what small step can you make that day towards achieving your dream.
So I am hoping that you will join with me, in sponsoring this trip, and also helping me inspire many with these photos to make progress towards their dreams as well.  This trip will help me add many more inspiring situations and locations to my library.
I also will make it possible for all my sponsors and supporters to follow along online with the progress of this trip.  I hope that you will find the peace and serenity of following along with this tour to be a pleasing diversion, escape, and temporary refuge, from the many other things happening in the nation over the next weeks.
Photo Tour Trip Planning


Note that these routes will change along the way, especially if sponsors want to add specific locations to the itinerary.
Segment 1: Goal: Get to New England States ASAP!
   * I am here in Maine now!  In a few minutes I am heading up to Northern Maine to photo the northernmost lake at Saint Agatha Maine.
  * Then back down the east coast, Salisbury Maryland, Baltimore, Pennsylvania, Raleigh, Nashville, and visiting boyhood locations in Cincinnati, including the lovely Eden Park. - 5800 miles total. 
  *
Google map of Segment 1
Segment 2: Northern States  such as Wisconsin, North Dakota, Montana, Washington, Oregon, and back to California.

Many of the expenses associated with this trip:

  * I have been roughing it, staying in my van where possible. Last night and tonight I got a room, but will go back to staying in the van.  I appreciate my sponsors who made it possible to stay in a room last night. 
  * Daily gas at 16mpg. Am figuring at $2.50 a gallon, just the first segment will be about $900 in gasoline, and maybe an equivalent amount to complete the round trip.  $1800 gasoline.
  * May need 2-3 oil changes along the way, $100 total.
  * Food along the way, $20 per day, $400 total 
  * Monthly fees for the sponsor membership forum, web server for website, photos, videos, etc., Adobe editing software, etc.  $250 per month
  * AAA membership  $100
  * My 2010 Grand Caravan SXT with 330K miles on it seems in good shape, but could there be car repairs along the way?
  * Total is close to $3000 (plus an occasional room, $5000 for a room each night of the trip).
As I mentioned, I can fund this trip by stopping along the way to sharpen scissors all across the country. I am willing to do this. But it will greatly impact on the time I could be spending doing photography of the fall colors, looking for and driving to monuments, creating great aerial photography for the Wikimedia contest. 
So your sponsorship is critical for me to be able to focus on photography during this trip.  
And I have a whole list of rewards for you for your help!   So the more you can help me focus, the more choices there will be for you to choose from for your rewards!
Reward LevelsAny support -
 You'll have my undying love and admiration, and you will also be invited to join the sponsors forum, so you can have first class seating to enjoy photos and videos from this tour!
Special rewards for $200 and up sponsors are at my website TheGarnet dot NET 
You can sample many of the pictures from this trip at my Facebook
Garnet R Chaney Facebook page
  Great pictures to share, photo caption competitions, and more. Only my friends get to see all the picture I share from the trip, so please send me a friend request so you can see everything. 
Make Some Money For Yourself As Part Of The Funding Team For This Trip
Would you like to make some cash for helping me find sponsors to support this trip? Let me know you want to join the funding team, and sponsor this trip at the $100 community builder sponsor level. That includes 20 no cost sponsor level passes to the sponsors only forum. (You could even sell those passes for a small amount of money each, between $5 or $10, or even $20, and pocket those sales for yourself!) I will award you with 10% commission on all the sponsorship that you raise for the trip. 
Extra bonus: When your commission totals $200, I will give you a free upgrade to Photowall Sponsor with all of it's benefits..
Extra bonus: If your commission total exceeds $1200, you will get a free upgrade to whichever package is equal or lesser in value to your commisions, and I will still send you your commissions too!  You could become a Fleet Captain, or above, just from the sponsors you bring to this campaign!
Commissions to be paid every two weeks on Paypal or Venmo, (when $50 or more commissions is owed) for sponsorships generated before the current two week period. I reserve the right to fairly modify the payout schedule, while we see what GoFundMe's does with any sponsors who request a refund, or payments don't go through, or anything like that.
Special bonus:
 Join the funding team before October 20th, and generate $500 in sponsorships before October 20th, you get a free personal upgrade to Photo Wall Sponsor, which three beautiful framable prints of your choice from this trip.
And one last special:
Lifetime 10% commission on the sponsors that you bring. If sponsors you bring later make additional contributions, for example buying extra prints, or upgrades to higher levels like copilot or fleet captain, you get 10% commission on those upgrades too.  Can you find a board member, or even a chairman of the trip?  These levels include the bonus of bringing in their friends to enjoy the perks of their position.  15% commission on board member or chairman sponsorship, and 10% commission on the extra purchases or sponsorship upgrades of the friends they include in the perks of their position. 
Notes:
*Location - I am an FAA licensed sUAS Remote Pilot, and I respect the limits on where I can legally fly. More about that in the sponsor forum, in a private area for discussion for copilots, fleet captains and fleet executives. No federal parks like Yosemite are allowed, no flights within miles of the capital in Washington D.C., no flying over people at events, etc. In some airspaces I am able to request FAA approval for flying. If you desire a very specific location for your sponsorship, please contact me to discuss your requested location ahead of arrival, so I can make sure it is legal for me to fly there, and make sure the trip is planned around your needs. If you can be flexible in your higher level donation (Fleet Captain and above), I will keep in close contact with you during the trip to offer you locations as they come up to provide one that meets your needs..
* All prints are sent unframed, in padded envelope. If you desire framing, I will research how to provide you a frame print, and cost of mailing. I suspect that may start around $75 extra per print for an inexpensive frame as shown in the picture.
Organizer
Garnet R Chaney
Organizer
Novato, CA