(version française ci-dessous)
Hello lovely people of the world!
Here is some more explanation about this beautiful project full of hope and joy.
I'm Valentine, I work as a flight attendant and that's how I met Mother Charity and her orphanage in Lomé, Togo.
It would be wonderful to be able to help Mother Charity to build her orphanage. 
Mrs VODJOGBE Yawoavi Charity is a dedicated woman who took in children who were abandoned and orphans. Maman Charity (Yes! It's her real name) is currently renting a house for her 40 children, but the problem is that the owners of the property want to raise the price of the rent in order to make more profit. In this case, Maman does not have the resources to pay for a higher rent or to pay on time. Therefore, they would be forced to leave the house. This makes it a difficult situation for Maman and the kids because in order to rent a new house she would have to pay a 6-month deposit. At the moment, the rent of their current house is paid until December 2016. However, as of January 2017, Maman will have to pay the rent on a monthly basis. This is why we need to find a long-term solution for Maman Charity and her big family.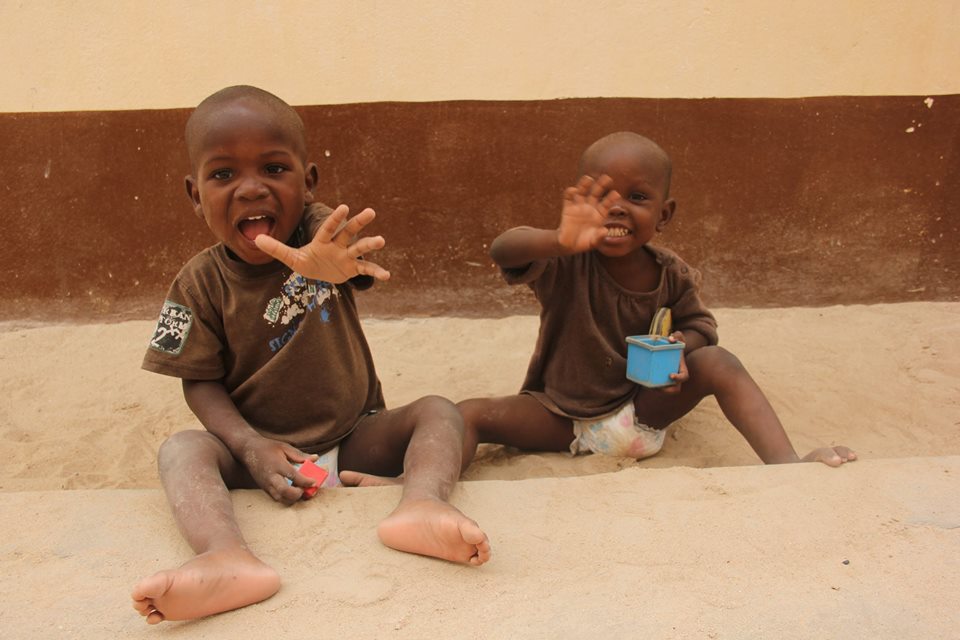 Her vision is to have their own property and build a house, a school and a nursery where the children can play, have classes and be taken care of. Furthermore, people from the community could make use of the school and the nursery for a small fee. With this project, Maman Charity would have an income and would not be as dependent on donations as she is now.
The property Mother Charity would like to buy is located in:
Alassani Kope, 60 km North-East of Lomé, with the value of 7,200 euros. Maman already managed to collect 1,000 euros, that have been used as an advance on the total price of the new property. Knowing that the construction of the orphanage and the water supply infrastructures will cost some extra thousands of euros, any donations are welcome and will contribute to help building a better future for these children.
I will personally hand over the donations to Mrs VODJOGBE Yawoavi and will provide a proof of purchase of the property on this page and on Facebook.
Thank you all very much!
For further information, pictures or any idea or suggestion do not hesitate to contact mothercharity25@gmail.com or on facebook Orphelinat Mother Charity - OMC
or to drop me a mail, via gofundme


Bonjour à tous !
Voici quelques explications à propos de ce beau projet, plein d'espoir et de joie, porté par une femme en or .
Je travaille comme hôtesse de l'air et c'est ainsi que j'ai eu la chance de faire la connaissance de Mother Charity et de visiter son orphelinat à Lomé, la capitale du Togo. Ce serait merveilleux de pouvoir aider Maman Charity à réaliser la construction de l'orphelinat.
 
Madame Charity Vodjogbe Yawoavi est une femme dévouée qui a recueilli 40 enfants abandonnés et orphelins. Maman Charity (et c'est son vrai prénom !) occupe actuellement, avec ses 40 enfants, une maison qu'elle loue. Malheureusement, les propriétaires du logement ont prévu d'augmenter le prix du loyer afin de faire davantage de profit. Dans ces conditions, Maman Charity ne dispose pas de moyens financiers suffisants pour payer un loyer plus élevé et dans les délais. Cette situation forcerait Maman Charity et ses enfants à quitter leur maison. Cela les mettrait dans une situation très délicate puisque pour la location d'une nouvelle maison, le dépôt d'une garantie de 6 mois est nécessaire. Pour l'instant, une avance sur les loyers du logement actuelle a été versée jusqu'au mois de décembre 2016.
L'augmentation du montant du loyer met Maman Charity dans l'urgence de trouver une solution à long terme afin qu'elle puisse continuer de prendre soin de sa grande famille dans les meilleures conditions.

L'objectif et le projet de Maman Charity est d'acheter un terrain sur lequel construire une maison, une école et une infirmerie où les enfants pourront jouer, suivre des cours et recevoir des soins. En outre, les habitants de la région pourront profiter de la présence de cette école et recevoir des soins à l'infirmerie, et ce contre une modique somme. Ce projet permettra notamment à Maman Charity de disposer de revenus réguliers et d'être moins dépendante des dons humanitaires par rapport aujourd'hui.
La propriété que Mother Charity désire acheter pour ses enfants est située à Alassani Kope, à 60 kilomètres au Nord-Est de Lomé et son prix est de 7200 euros. 1000 euros ont déjà pu être récoltés et ont été versés comme avance pour l'achat du nouveau terrain. Sachant que la construction de l'orphelinat et l'approvisionnement en eau coûteront plusieurs milliers d'euros supplémentaires, tous les dons potentiels sont les bienvenus et contribueront à construire un futur meilleur pour les enfants de Maman Charity.
Les dons récoltés seront remis personnellement à Mme VODJOGBE Yawoavi Charity et une preuve d'achat du nouveau terrain sera fourni sur cette page ainsi que sur Facebook.
Merci mille fois à tous !
Pour plus d'informations, photos, idées ou suggestions, n'hésitez pas à contacter Mother Charity à l'adresse mail suivante : mothercharity25@gmail.com ou via Facebook : Orphelinat Mother Charity - OMC
ou contactez moi via gofundme
Merci,
Valentine