Help Our Mom Battle Stage 4 Cancer
On behalf of our mother, Aisa Manzo
Hello everyone,
Our mom is truly a beautiful person inside and out; very supportive, optimistic, caring, and brave. In fact, she's the strongest person we've ever met. She's selfless; always thinking about the welfare of others before her own. She is a loving mother, wife, and daughter, that is why my brother and I wanted to put up this campaign for her.
To be honest, our mom was reluctant when we mentioned about doing this for her. She didn't want to be a burden to anyone and was planning to carry this load on her own. We may not truly understand what she's going through, but we can sense how stressful and daunting this situation is for her. Thus, this is our way of helping her during this difficult time.
Our goal is to help ease some of the financial burdens associated with her illness. She has worked hard and sacrificed a lot for our family; and our desire is for her to focus on getting better instead of worrying about the cost of her medical treatment. We also made this because others have reached out to us and asked where to donate for our mom; this is one of the ways we thought of helping out. The donations will go to her treatment, medications, and the rest of her medical expenses.      
(Our mom working as a nurse) 
It has been 3 years since my mom started battling lung cancer. She has been stable for 2 years and we all thought that her illness has gone away. However, her latest routine CT scan in August 2018 showed that her cancer recurred; and this time, it metastasized to her brain and lymph nodes near the trachea. We were shocked to hear the news; but since we know that our mom is a strong woman, we believe that she will overcome this battle with God and everyone by her side. 
Where her battle with cancer began: 
In October 2014, mom went for her annual PPD skin test for work. Her result turned out positive so she was sent to have a chest x-ray done; that's how the doctors discovered some abnormal growths (nodules) in her lung area. After a series of tests, her physicians believed they were non-cancerous; so they just continued to monitor her lung nodules. However, her nodules started to increase in size within a few months, so she was advised to have them removed.
In July 2015, mom decided to push through with the surgery; they had a part of her lung removed (right upper lobectomy) at Orlando Regional Medical Center. The tissues they removed were sent for a biopsy to test if they were cancerous; and indeed they were. The state of her lung cancer was designated as stage 1-b, and her surgeon did not recommend chemotherapy at that time. After her recovery, she went back to work in October 2015.
In December 2015, she experienced an unusual chest pain while working, so she went to the Emergency Room for a check-up; there the ER doctor advised her to follow up with her oncologist since he found a lesion which made him suspect of cancer recurrence. Hence, mom went to see her previous oncologist from ORMC, who performed more bloodwork, scans, and biopsies; the results revealed new lesions on mom's lymph nodes and sacrum. Due to this discovery, mom's cancer stage was designated to stage 4. Mom had to go through chemotherapy in February 2016. However, after 8 cycles of chemo, it became ineffective and even resulted to a bone destruction on her left 6th rib. As a result, she went through radiation which targeted her rib area. After her radiation cycle, her oncologist decided to put her on medication (Afatinib) and advised mom to follow-up by getting a CT scan every 3 months to monitor her tumor growth and overall condition.    
(Mom during her chemotherapy session)
Mom was doing fine and we've been following up with her routine check-ups and CT scans every 3 months. In fact, she was medically cleared by her doctors to return to work since her medication was working well and her condition has been stable for quite some time; mom was looking forward to getting her life back. However, on the 2nd of August 2018, her routine CT scan showed 4 new lesions in her brain. Her oncologist told her that the medication (Afatinib) stopped working, and now the cancer has developed new mutations in her brain; each measuring 5 mm and 2 mm. In addition, they discovered 2 new lesions in her lymph nodes near the trachea. Due to these new mutations apart from her previous ones, her condition was designated as stage 4 lung cancer once again.
We sought second and third opinions from different physicians and they all suggested brain radiation (SRS or stereotactic radiosurgery) to treat and specifically target small tumors in the brain.
As of now, mom just finished her brain radiation cycle at ORMC. Unfortunately, she experienced nausea, vomiting, weakness, headache and dizziness due to brain swelling, so she was placed on steroids to help relieve her symptoms. Since her cancer mutations are rare (as stated by her oncologist), we were advised to seek additional treatment options at Moffitt Cancer Center since they have clinical trials that could help with mom's specific condition; if not, she would have to go through the same cycle of chemotherapy she once did at ORMC. Right now, mom is exploring her options; so in the coming weeks, we'd be traveling to Moffitt to see how her lymph lesions are going to be treated.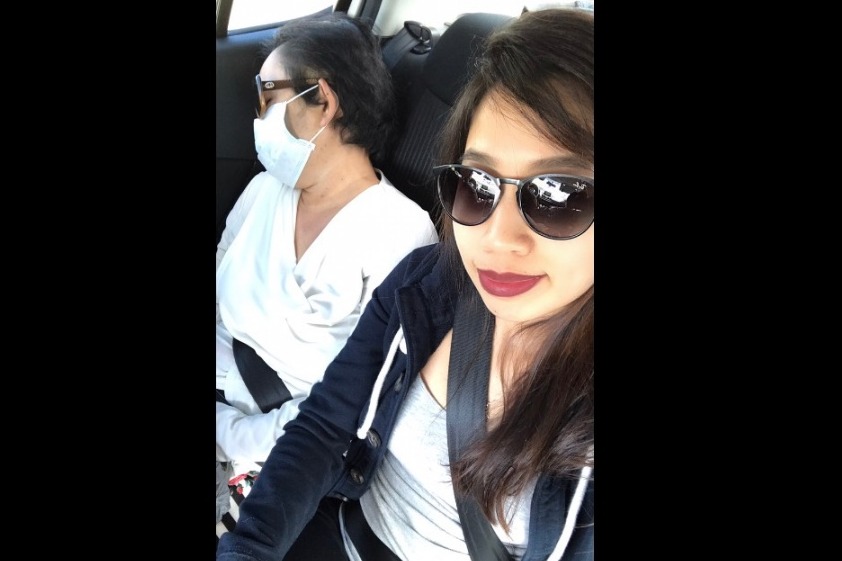 (Going home from her last day of brain radiation at ORMC)
Even if we see her getting worried or exhausted, she never once gave up. We admire her compassion, optimism, and outlook in life. She aims to inspire others and touch lives by telling the story of how God worked in her life. Our desire is for her to continue inspiring others on what she believes in; that she is a living testimony of God's goodness; and that no matter how insurmountable the trials are, keep trusting in the Lord. 
She tells us that whenever she feels alone and hopeless, she would cast her cares to the Lord because He is always available to us; God is good all the time. She truly is an inspiration not just to me and my family, but to others as well. I'm also glad to share that throughout this journey, mom has been baptized as a Christian and has gained a wonderful church family. 
Thank you so much for all your prayers and support; any amount you give would be greatly appreciated. May God bless each one of you.
- Ayana and Aaron Manzo

Organizer and beneficiary