Hello my name is Lady and I am a Mix Terrier/Yorkshire, I am 11 years old and have a fantastic life with a wonderful mommy and very nice family.  I enjoy all my cuddles, walks, road trips and sleep overs with my family full of many huggies, kisses and a warm cozy blanket and pillow at night.
Lately I have been going to visit the Vets office more than usual and Mommy has been very sad and crying sometimes.  I do a lot of licking and snuggling with her trying to make her feel better.  Come to find out I have a very big Tumor 12.7 mm (almost baseball size) between my rectum and the vagina area.
Unfortunately, the Cause of the TUMOR was an Ovary and Horn left behind from when I was spaded as a puppy unknown to my mommy at the time.  My body continued to produce estrogen which as cause the growth of this Tumor now in my older age.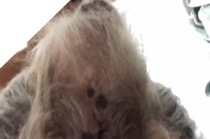 I walk a little bold legged and having a hard time going pee pee.
I recently had an ultra sound and the tumor is on the lowest level of becoming cancer so far but growing rapidly.  I can have it removed but there are very dangerous areas to be concerned about during the surgery.  Main concerns are the Urethra/Urinary Trac/Colon/Sciatic Nerve and the major cost it will cost my mommy to save my life.  If I don't get the surgery within a few months, I will no longer be able to go to the go pee pee or poopie which will mean I will have to leave mommy and go to heaven. 
Mommy needs help with my medical bills in order to keep me here with her and my family.  I love her so much and she loves me too, PLEASE help us together make my life longer her on earth.
Mommy already has a bill of $2697.12 , for my ultrasound, blood tests, xray and biopsy.  It will be an additional $5066  Total of $7763.00  to make me better.
Please help save my life, any little bit will add up and I will be able to keep my mommy smiling again and I can enjoy more time with them.  Love you all in advance for reading my story and supporting your 4 legged fury friends and giving us so much love.
Copies of the bills and estimates.

Lady(#8967)
Species: Canine (Terrier, Yorkshire)
Sex: Female Spayed | Color: Tri
Birth: 03/10/2007 | Age: 11y 9m | Weight: 10.2 lb
Detailed Information
Date Description Qty Price Total Low Price
Day 1 Episioplasty Vulvar fold excision Adv 1 $1,265.20
Laparotomy / Exploratory & Biopsy 1 $745.50
Biopsy Mass 1 $256.25 $256.25
Anesthesia 1-2.5hr Risk 2 1 $496.40
- ADD Maropitant (Cerenia) 10mg/mL/mL IHINJ 1 $15.49
Fluids Surgery 1 $73.45
Hospitalization 1 $119.95
Histopathology 1 $214.25
- Histopathology Addl Sample(s) 4 $304.96
CRI Pain Maintenance/hr 12 $45.36
CRI Pain Setup 1 $54.80
Fluids IV Maintenance/hr 12 $43.20
Marbofloxacin (Zeniquin) 25mg Tab 10 $41.65
Tramadol (gen) 50mg Tab 30 $24.05
Metoclopramide (gen) 5mg/mL/mL 1 $40.87
Famotidine (gen) 10mg/mL/mL 1 $40.61
Day 2 CRI Pain Maintenance/hr 16 $60.48
Fluids IV Maintenance/hr 16 $57.60
Hospitalization/hour Level 2 K9 S 16 $153.28
THIS TREATMENT PLAN AND ESTIMATE MAY RANGE FROM: $4,053.35 to $5,066.69*
Bills for ultrasound/biopsy/blood work/Anastasia
Organizer
Jenny Horta 
Organizer
Pembroke Pines, FL