Mariposa Property Fire Recovery
I have no idea how to write up a GoFundMe. But if there were ever a list of scenarios most appropriate to create one, this would be one of them. If you have any suggestions or insight on a better way to do this please let me know.  The only information I have to offer right now is this. . . 
      My family's property up North in Mariposa was hit hard by the Detwiller Fire. A fire that has so far consumed over 75,000 acres. It's destroyed homes, businesses, livestock, and has devistated just about all of our 80 acres of property. My family purchased the property about 30 years ago, and nothing like this has ever been close to happening. But if you own land, you have probably shared this same fear of fire. We never expected something like this to happen. No one ever does. But it did. And we are heartbroken by this. Many of the items lost were inherited and priceless. . . It would be hard to even assess the value of what we had up there.  All I know is we could use all the help we can get right now.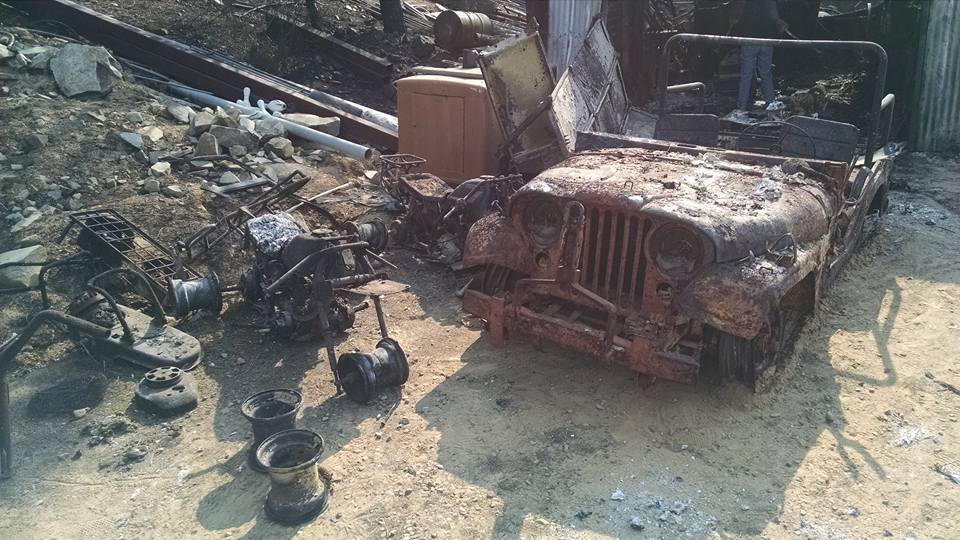 Total known losses so far:
-          1952 Jeep M38A
-          Backhoe
-          8N Tractor
-          Steel Master Garage and all tools, hardware, contents inside.
-          Chainsaws, Lawnmowers, Weedeaters
-          2 Bicycles
-          3 Honda ATC's
-          2500 Gallon Water storage tank
-          450 Gallon Water storage tank
-          4 Generators
-          Wood burning stove
-          Tables
-          Chairs
-          Hoses, pvc, piping
Our transportation around the property is gone. So if you or someone you know has any old ATC's, Quads, or Motorcycles that they aren't using and would like to give up or sell, let us know. Even if they aren't running. 
If you have an old Jeep or truck w/ 4wheel drive that might need work but is fixable and not worth your time, let us know.
If you have anything else that you see on the list so far that you have and would like to donate or sell, let us know. 
If you or someone close to you has had the opportunity to come up to our property and experience what it's like out there, and if you share the sense of loss that all of us are feeling, please donate anything that is within your means. Every dollar will count I promise you.
Please feel free to contact me directly at the contact link provided,  if you have any questions or insight, or if you have something you think we could use. 
Thank you all for your consideration.
Branden Schoedl
Organizer