Lilac Mask: A Short Film - FUNDRAISER
[donation incentives below] 

Have you ever met someone for the first time and a flood of familiarity comes rushing back to you? Conscious or not - there's a remembering. Maybe you're remembering a past you've had, or the future you're about to embark on. Regardless, you know your life is changed forever. 

This is a story about letting the truth rise to the surface, despite it being frightening.

The filmmakers:
We began conceptualizing Lilac Mask before the COVID-19 outbreak (apparently "masks" were in  the collective consciousness, little did we know...) and had continued working on it while quarantining.

Lilac Mask was inspired by a few different ideas that ended up merging. On one hand, we wanted to create a story that encapsulated our own experience meeting each other and having an immediate connection. It was like finding someone you'd always known and only forgotten about. As exciting and rare as it is to meet someone who feels so familiar, it can also be tumultuous - it may feel like you've known each other forever, but you haven't (at least in this lifetime), and so the process of discovering each other and your boundaries takes time.  And then we thought, what happens when you meet that person but aren't necessarily at the point in your life where you're ready for them? 

On the other hand, Bradley has extremely vivid dreams that influence all of his writing. We wanted to make a film where we were able to catch even a glimpse of that state - the ephemeral and symbolic nature of dreams. Bradley had a particularly strong dream one night while we were working on the film, and he felt so inspired by it that he wanted to turn it into another short film. Georgia had the idea to combine the two - the dream and the love story (after all falling in love feels like a dream) and so that's the experiment that is Lilac Mask in our eyes.

We could not be more excited for this project, in large part because of the amazing team that has come together to bring the vision for this film to reality! One of the things we love most about film is that it is such a collaborative art form. So while we wrote the script and will be directing and acting in it (I know, we're indulgent) - at the end of the day, Lilac Mask truly will be the byproduct of our entire team. And that doesn't just include the crew & cast you see listed here, it also includes every one of you who supports the project! The entire team seriously appreciates you - YOU are making this possible. 

-- Bradley Layne Beachum & Jennifer Georgia Gould 

DONATION INCENTIVES:

Any donation:
Donate any amount and receive a free e-copy of the Lilac Mask Zine (mini magazine)! We created it with art and poetry from the film.

$50 or more:
Donate $50 or more and we'll ship you a physical copy of the Lilac Mask Zine with a personal thank you from us!

$100 or more:
Donate $100 or more and we will send you a personalized poster print of one of the pieces of artwork from the film!

$500 or more:
Donate $500 or more and receive an invite to the screening of Lilac Mask in Los Angeles, CA! (or a private screening link to watch the film early)

$1,000 or more:
Donate $1,000 or more and receive Executive Producer credit on the film!

What the funds will be used for:
Hiring crew and cast, securing set locations, equipment/props/set pieces, post-production/editing, musical composition, filming permits, and distribution.

Every dollar counts, thank you in advance! 

MEET THE CAST & CREW:
(this list is constantly being updated as new cast members and crew members are onboarded -- stay tuned!)

Georgia Gould (Writer, Director, Producer, Actor - playing Iris): Hi there! I'm Georgia (many of you may know me as Jenny ☺️ ) - and I'm playing Iris. Ever since I could remember I was telling stories. I've always been interested in the human condition, relational dynamics, and learning through storytelling. In 2019, I graduated from UCLA with a BA in Acting. This is my first short film that I'm writing, directing, and producing. I'm so thankful to be co-creating this story with my partner and collaborator Bradley, and our amazing crew and cast. To be able to bring this story to life is truly a dream come true. Thank you for any and all contributions in advance, even the smallest amount can make a world of difference. Blessings!


Bradley Beachum (Writer, Director, Producer, Actor - playing Isaac):  My name is Bradley Beachum and I am a 22 year old writer, actor, entrepreneur and soon to be director. I've acted and worked on multiple shorts at this point and am also deep in development on a series of novels. I've been lucky to collaborate with a few members of this crew on previous films - but always as an actor and never as a writer or director. Seeing this project evolve from a dream, to a script, to a whole team of amazing artists collaborating has been one of the most exciting things I've ever been apart of. And in some ways - the nexts steps, actually shooting and editing the film, are the most exciting part of all. I want to extend my gratitude for any and all who visit this page. Whether you've donated your attention or money, you're helping to bring this vision come to reality. Thank you!


Reina Guthrie (Actor - playing the Young Woman): Hi, I'm Reina Guthrie (she/they), an Asian-American & queer actor who studied theatre at NYU Tisch before moving to Los Angeles where I have acted in films, television, commercials, and most recently as the lead in the children's web series HackerSpy Leaks. I also premiered my directorial debut, Influentials, at the LA Shorts International Film festival after also writing, executive producing, and starring in the film. I am tickled pink to be joining the Lilac Mask team and to be part of such a beautiful project.


Saul Orpinel (Actor - playing the Lover): Bio coming soon! 



Peter Larney (Actor - playing the Older Man): Bio coming soon!


Kathi Koenig (Actor - playing the Older Iris): Bio coming soon!


Shane McCormick (Actor - playing Young Isaac): Bio coming soon!


RayeRaye Gardiner (Actor - playing the Young Girl): Bio coming soon!


Sameer Dosanjh (Actor - playing Young Boy #1): Bio coming soon!


Ayden Elijah Montano (Actor - playing Young Boy #2): Bio coming soon!


Max Brandenburg (Director of Photography): Hi, I'm Max Brandenburg. I'm a Seattle raised, LA based cinematographer. I am thrilled to work on Lilac Mask since this script that Brad and Georgia have written is one of my all time favorites and I can't wait to help them translate the script into a visual medium.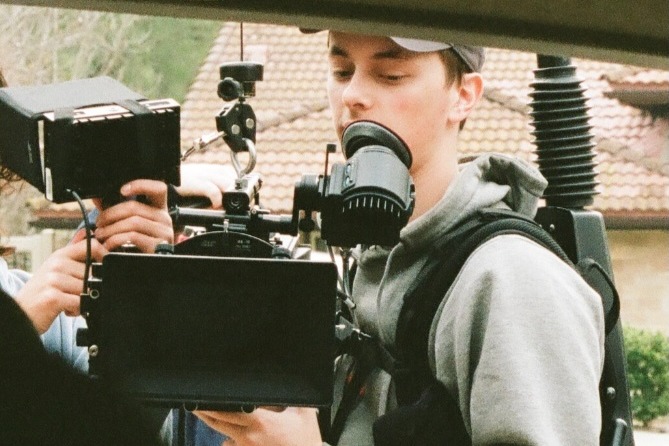 Max Schwalback (1st AC): Bio coming soon!

Jamie Hughes (Producer): Hi, I'm Jamie and I'm a Producer for Lilac Mask! My background is in theatre and more recently I have made the wonderful transition to film. After almost 18 months of staying home, I couldn't be more excited to be collaborating with this group of enthusiastic creatives. When Georgia and Bradley sent me the script, I was in awe of the visual story-telling and dialogue. Thank you in advance for your contribution and we can't wait for you to fall in love with this story!


Ryan Porter (Producer): child magician, retired.


Logan Davis (Producer & Casting Director): What's up! I'm Logan and I'm another producer! I'm a multi-hyphenate in the entertainment industry and am thrilled to be a part of the artistic magic that will be Lilac Mask. I'm an alum of the University of Michigan where I studied film and sociology, and my favorite snack is Flaming Hot Cheetos.


Bryce Nahaku (Producer, 1st Assistant Director): Hey there! My name is Bryce and my experience on professional sets such as Sneaky Pete, ESPN, and Starbucks gives me a heads up on how to retain motivation and passion through any project. I am a dreamer who always looks for ways to elevate. Utilizing my respect and experience of production, I'd like to create audience connection and an appreciation for filmmaking.


Liz Bradford (Art Director): I am a designer and horror curator based in Silver Lake. Graduating with a BA in Media Arts Production from Emerson College, I've worked on various short films as a Production Designer and Make-Up Artist. I am excited to help bring the mysticism of Lilac Mask to life.


Ekaterina Moysova (Production Designer): Hi I'm Ekaterina and I'm a San Francisco-based painter and filmmaker. I received my certificate at Pennsylvania Academy of Fine Arts and went on to receive a BA at Emerson College for Visual Media Arts. It was there that I found my passion for production design, which combined my fine arts background with the collaborative nature of film. Through this process, I've discovered the symbiotic relationship between painting and film and have gravitated towards projects that capture this essence. When I read Lilac Mask, I knew that it would be a piece that I would thoroughly enjoy working on based on the feelings it conveyed. I am so excited to be a part of this team of talented and like-minded artists and can't wait for production to begin!


Quinn Straw (Costume Designer): Hi, my name is Quinn and I am a fashion designer and artist currently living in New York City. I recently graduated from Parsons with a degree in fashion design and a focus on menswear. I have worked on a few films as the costume designer as well as some production design. I have had the pleasure of knowing Brad for many years and am very excited to use my expertise to bring their vision to life.


P.J. Riley (Sound Recordist): Bio coming soon! 

Hannah Tindall (Visionary Artist): Hi! I'm Hannah,  a mixed-medium artist from Tampa, Fl. I believe that the creative process allows us all to express, process & see ourselves... and our world... through an alternative lens. When I'm not painting, I can be found teaching yoga classes, eating Mediterranean food or wearing the color yellow. 


Miranda Perry (Script Supervisor): I'm Miranda Perry, a writer and humorist currently based in Los Angeles. Although I spend most of my days krafting cheesy (but grate) puns for Instagram captions, I love the collaborative energy of production and have worked in a variety of roles on several independent films, documentaries, web series, and commercials. I'm thrilled to be part of this incredible project and I can't wait to help Bradley and Georgia bring Lilac Mask to life. Go team!


Zach Williams (Composer): Hello. I'm Zach Williams, filmmaker and lifelong musician. This spring I graduated NYU Tisch School of the Arts with a BFA in film. The prospect of this film has me excited, and I can't wait to start working on the score. 


Luke Richert (2nd Assistant Director): Hi, I'm Luke. I'm a filmmaker from Washington state and recent transplant to Los Angeles. I've written and directed a number of film projects, including a 2020 sci-fi thriller Emerson College thesis film Passage. I'm passionate about creating previously unseen worlds and making audiences feel previously unfelt things with every film I'm a part of. When not making movies, I can be found reading or haltingly learning jazz piano.


Evan Springer (Production Assistant): Hi, I'm Evan and I have no prior experience with any of this but I'm always ready to help my cousin, Brad and good friend, Georgia. They are multi- talented and I'm looking forward to seeing them bring this story to life!


Serena Hughes (Editor in Chief of Lilac Mask Zine): Hi! I'm Serena Hughes, a multidisciplinary artist with a degree in experimental animation, currently based in Los Angeles. 



Thank you for your contribution toward storytelling! 



Organizer
Jennifer Georgia Gould
Organizer
Los Angeles, CA