Lifechanging auto accident
The Backstory
            On February 16, 2019 at approximately 2:30pm I got a call that I wish on no one. As my phone is ringing, I look down and see my sisters name on my caller ID. My sister and I are texters and usually never call, so I immediately felt a sense of dread.
            The voice on the other end of the line was barely recognizable as my sisters, it was void of emotion and clearly in shock. That voice said the words that will haunt me for the rest of my life, "Um, Mom and Dad were hit by a truck on their motorcycle. Dads unresponsive and they both have been air lifted to Asheville Trauma Center."
            My brain was racing, was this a prank?! Dad is always so careful on the bike! After speaking to the Franklin Fire Department, I knew it was not a joke. I was told by them to "get to the hospital as soon as possible, because your father is pretty banged up and unresponsive." I live in Charlotte, NC and my sister in Orlando, FL. We both were racing to get to them.
            I arrived at the trauma unit first and found that my mother was responsive, but with multiple broken bones and other injuries. My father was, thankfully, responsive but in extremely bad shape.
            The ER nurses let me see my father for a few seconds and he was unrecognizable to me. He was covered in blood, dirt and bandages. After several hours my father had a room on the trauma unit. I went to visit him, leaving my mother in the ER. The first thing he asked and even cared about was my mother, at that moment I knew he was still the same man I call my father.
            My father had a broken tibia and fibula the bones were sticking out of his lower leg in several places, and a completely shattered hip, he also had a broken nose, a broken cheek, broken wrist, several broken fingers. What we did not know until several days later is that he had no recollection of the accident at all, we were told he had a severe traumatic brain injury. He had several stiches and splints placed on him right in the ER room.
            My father went into surgery for his lower leg on February 17th and had a rod placed in his lower leg. After he came from the OR he was placed in 30lbs of traction to help pull his leg down and stretch his hip. The hip surgery was done on February 20th. It took 2 specialist over 4 hours to pick the shattered bone fragments from his hip and install a bracket. We were told by the surgeons that a hip replacement was not done because there was nothing to attach the artificial hip to, they had to dig out "several dozen" bone fragments from his surrounding muscles.
            My mother was released from the hospital after 5 days. She was told she had a torn MCL, broken thumb, dislocated shoulder, broken ribs and severe bruising on the right side of her body, which resulted in bruised lungs. My sister and I took turns taking several weeks off work to make sure that my mother was driven to and from the hospital for 5 weeks, 2 hours each way to see my father.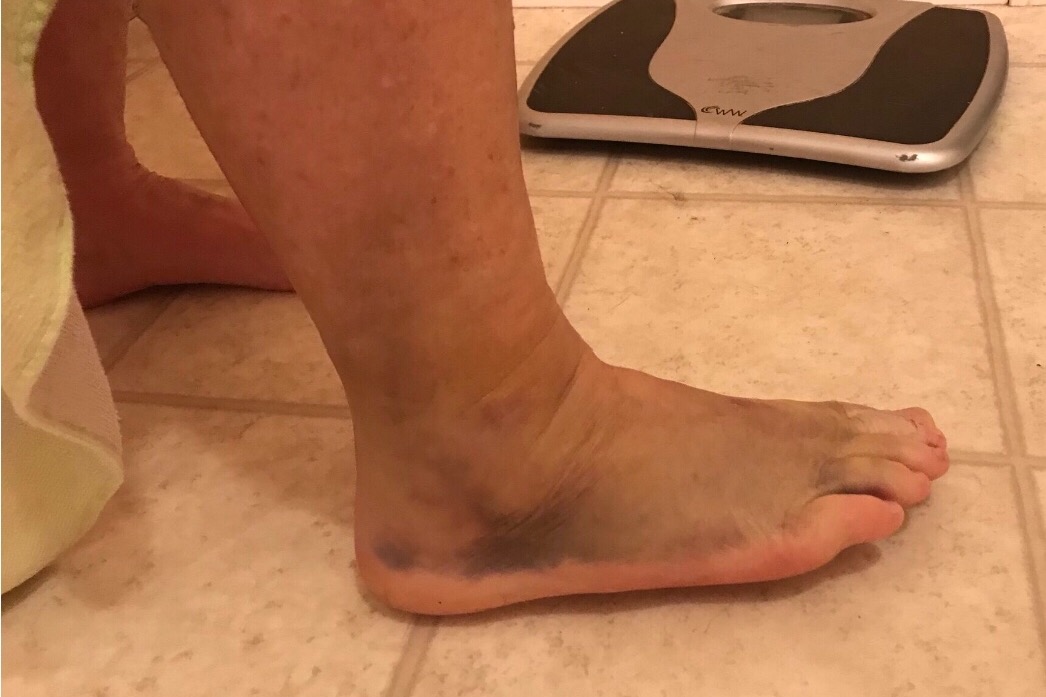 After 3 weeks in the hospital and an additional 2 weeks in rehab he is finally home. He needed a custom ramp installed for their house because he now uses a walker. We are told that he will not be able to put any weight on his leg for at least 3 months. Then it will be at least another 6 months before he will have to learn to walk again. It is not known yet if he needs a cane or will be able to walk normally, though the surgeon is convinced he will have a permanent limp. His face is disfigured, and he will have multiple scars.
     My mother will suffer from early arthritis and will have a lower set right shoulder because of the way that it is healing, which we are told will cause back issues.  My mother was also diagnosed with PTSD and anxiety. She remembers the accident and replays it daily. There were several times we were driving to the hospital to see my father and she would see someone on a motorcycle and she would have a panic attack.
The Life Altering Impact
         As you can imagine all of our lives have been changed. My sister and I and are constantly worried about our parents and do not want to leave their side. 
  It's hard to think that before 2/16/19 these were the same parents who worked for a living, paid their bills and lived a normal life. They went on hikes, river tubing and walks with their dogs. Now everything has changed. Not only has their enjoyment of simple things, like taking their dogs to the park to throw the ball, was so carelessly taken away from them; but the day to day living has also been changed. 
     I personally am wishing and praying that my father will be able to walk me down the aisle for my wedding in October, even with a cane. 
  Neither of them can work for a long time. No work=no money. My parents are struggling to pay all the co-pays and medication that is needed on top of the 'normal' bills. 
How you can help
       We took a long time to decide to ask for help, we were raised by two proud, hardheaded parents. This made my sister and I proud and hardheaded. We did not want to ask for help, but this situation has become more than we can handle.
    A donation of $20 will help with the cost of the pain medication for my father. 
     A donation of $25 will help cover some of the cost for the home supplies needed for the new 'normal' for my father (ie: shower chair, toilet handles)
    A donation of $50 will cover the cost of one of the multiple co-pays for the mandatory doctors visits for my parents. 
   Just know that any amount would be beyond appreciated. We know we all work hard for our money. We are just hoping to help two people who worked hard for their whole lives, and are now having to work harder to get back to life.
Organizer and beneficiary
Karli Mathis
Organizer
Charlotte, NC