-------

Update:
 Please help me reach my goal of 200+ donors by making a $5-$10 donation! While I want to raise $5,000, I want to also have 200+ contributors, to show KLS who's boss!
-------


I have a brother named Mat.
From the outside, he looks like a normal dude. He is 23, lives in Tempe, just graduated from ASU, and basically trying to find his way in the scary post-grad world. When he's not in an episode, you wouldn't know that he has KLS ( Kleine-Levin Syndrome). 
When he's in an episode, however, he is an entirely different person. He had his first episode when he was 17 years old, and is currently in an episode right now.  
He knew he was going to start his episode last Tuesday, October 25th, and was in a full blown episode on Wednesday, the 26th. 
-An "episode" is a period of time where my brother is essentially in a sleep induced state, where he loses all touch with reality. He isn't able to socially interact with anyone, he can't drive, he can't apply for jobs, he can't go to work, he can't do anything as he normally would until the episode is over.
-He loses his entire personality while in an episode. My brother and I are very similar, so imagine if I completely lost my smile for an entire month.
-Episodes can last anywhere from a week to over 4 weeks, or even up to several months. We never have any idea how long it is going to last until it's over.
-Episodes can be triggered by a multitude of factors, with the main ones being: lack of sleep, emotional stress, drinking alcohol, or any substance that changes the chemical balance in his brain. So, you know, basically everything that happens when you're in college.
-As a college student, Mat has never been allowed to drink. EVER. My 23 year old brother went to ASU and was the sober person at the party every time.
-Remember those all nighters you pulled studying for that college exam? How you were so proud that you got an A (or a C....) after spending 12 solid hours cramming in the library? Mat could never do that.
-Since KLS is so rare and affects a small percentage of the population, it is often misdiagnosed as bipolar disorder or depression. Obviously these misdiagnosed people do not receive the care that they need, so they are repeatedly struggling with KLS episodes and have no idea what to do about them.  
-There is no cure, or even the funds to do the adequate research that is needed to find a cure.
But you know what? 
WHO CARES
that there aren't enough funds to do adequate research? Let's raise the money for research ourselves. Let's do it for our friends with KLS, our brothers with KLS, our sisters with KLS, our children with KLS. Let's do it so no parent ever has to go through the pain of seeing their child go through their first episode,
ever again.
Once we take money out of the equation, the possibilities are endless.  
So, please join me, my brother, my family, and the entire KLS community to kick KLS's ass, forever.
You can learn more about KLS here. 
If you're not able to donate a lot, please know that every single donation helps! $5-$10 donations are just as important as larger ones. 
All money raised will  be sent directly to the KLS foundation. 

----


Here's a picture of the T-Shirt and Hat package from the Reward Level!!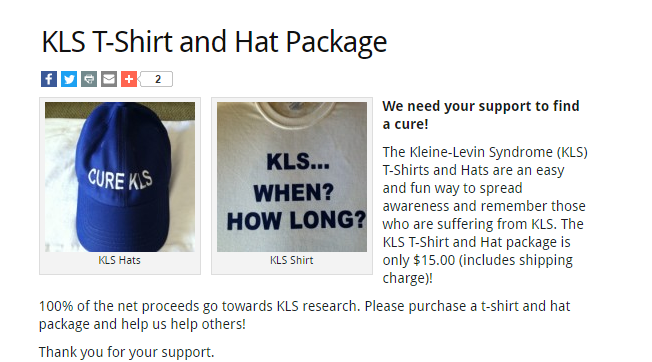 Donations

Organizer and beneficiary
Klein Levin Syndrome Foundation 
#1 fundraising platform

People have raised more money on GoFundMe than anywhere else. Learn more

GoFundMe Guarantee

In the rare case that something isn't right, we will refund your donation. Learn more

Expert advice, 24/7

Contact us with your questions and we'll answer, day or night. Learn more