Happy Belly Lunch Money Fund
Greetings friends!
I am raising lunch money funds for the children at Kingdom Junior School in Kigoogwa Village, Uganda.  My teacher friend Waswa Samuel is one of those lion-hearted people who not only teaches a variety of subjects to children from 5 to 14 years old, but he also cares for them as a parent would.  Some of the youth are lacking families of their own, so Waswa Samuel is the father (and mother) figure to many of these bright young people.  My prayer for him is that he see his hard work and dedication come to fruition in the minds and futures of his students, that they can process and retain all that they learn by having full bellies during the day, and a proper lunchtime.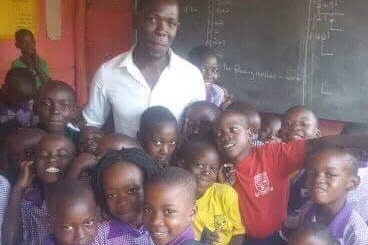 Currently the school only has some sweet potatoes for children to eat, and they would like to purchase some cornmeal to further the provisions.  There is no government assistance, only what comes from the generosity of people who care. 
Funds are needed immediately!
  Children need the security of at least the lunchtime meal everyday, especially in a community that suffers from poverty, where breakfast and dinner may not be guaranteed either.  
This school is part of a larger non-profit organization, of which Mr. Samuel is Chief Operations Manager.  The organization is incredibly inspiring.  It combines the highest standards and goals of not only child development, but the development and support of the agricultural community.  The organization's programs focus on creating partnerships among youth and farmers.  They work to support increases in agricultural production, broadening of agribusiness in the area, and imparting diverse skills to underprivileged youth, relating to technology, business, and  environmental and agricultural concerns.  Check out their website at:  
youthskillingorg.com
Please make a donation today so meals can be served tomorrow
.  We would love to be able to post updates and photos of happy children enjoying their lunch break and eating a nutritious meal.  $80 is enough to feed the entire school of 170 students for one week, but any amount is ecstatically appreciated.  All outpourings of love for this cause will be celebrated!     
Organizer
Eden Zillioux
Organizer
Lopez Island, WA