How can we explain the anguish and hurt we feel right now?  Our youngest son Isaiah is such and amazing kid. On June 4, 2018 we went through a nightmare in real life.  I received one of the worst calls a parent can get. He  called me to tell me he was injured pretty bad from a freak accident at home!  He was so very calm I didn't believe him at first.  He extinguished himself and the fire in the house, called 911, flag the ambulance down and arrived at Grady Memorial hospital with 2nd and 3rd degree burns on about 30% of his body.  That day was unreal needless to say. His dad works in another state and rushed home to be by his side on the over night flight.
 Isaiah needed surgery and multiple skin grafts on all of his burns...arms, leg, chest, stomach and face.  They had to remove donor skin from his whole left thigh to repair the burns. He needed a blood transfusion and we were told they were going to induce a coma for him to remain comfortable through the pain he was going to experience.  He had to have a breathing tube to assist him for 4 days.  He was in the ICU for a total of 2 weeks.  He was a trooper through all the IV sticks, constant injections in his feet and hands, morphine, blood thinners, pain medications, and an array of other medications we couldn't even pronounce.  The cleaning of the burns lasted 3 hours a day everyday and were horrendous in that we were unable at times to get through visually with the event and had to leave the room while the nurses did their job caring for him. We realize this may not be the worst of any accident or illness one person will experience but it is
OUR
worst accident/illness that has happened to our son. Mom works from home now to be with him if he needs me in any way while Dad has to travel for work and sometimes is away for weeks at a time, brother helps and is there for him as well and runs errands for the family as we cannot leave a burn victim alone due to emotional concerns, someone is always with him no matter what.  Including God.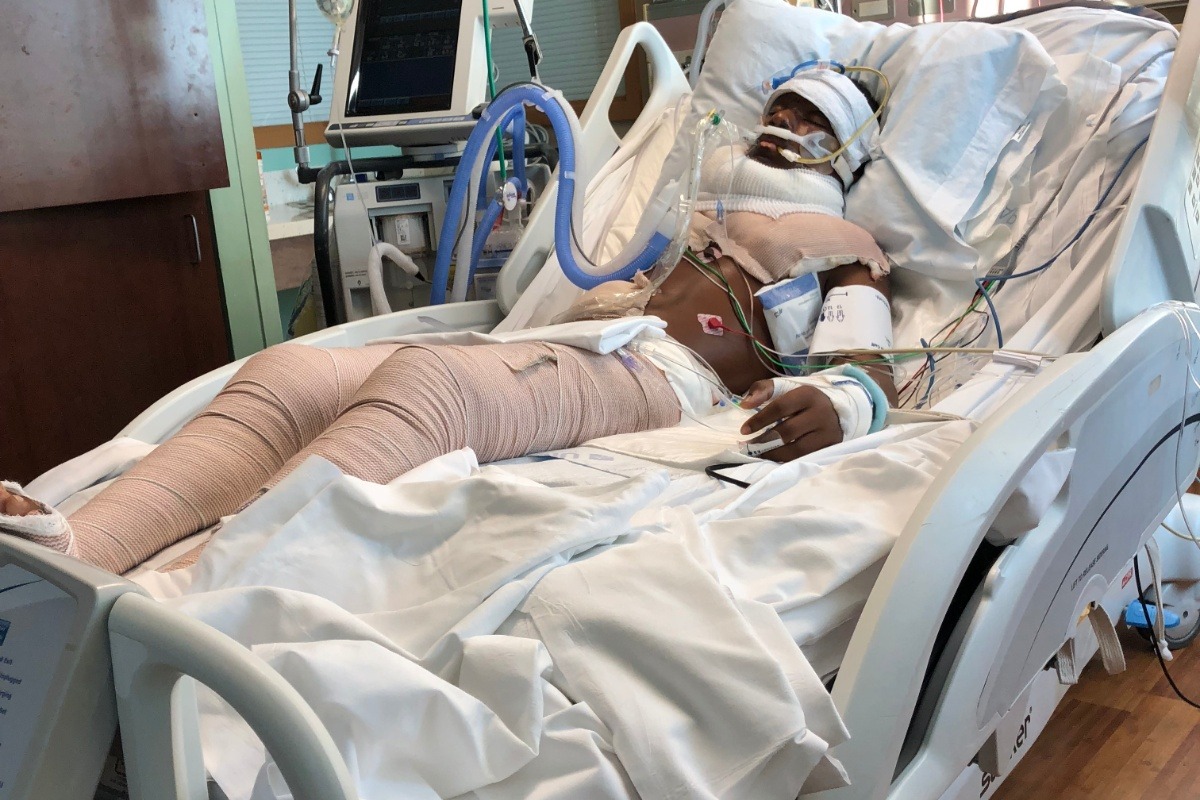 He his going to have a long road ahead of him and live with not only the scars but also what is going on inside him as a burn victim ie:  emotional, itching (uncontrollable at times), no exposure to sun, infections, multiple skin grafts in the future on his neck because he is still growing, wearing several compression garments for 23 hours of the day for 1 year and beyond (they are lined with silicone specifically for burn patients which are very costly and insurance only covers 50%) , physical therapy (indefinitely),  visiting the psychologist to help him realize he is not alone (which includes co-pays every visit), dressing with clothing that will have to cover-up and protect his burns for quite a while, a good diet (important for healing) This list goes on and on....Just him sitting in the proper chair at home and school has been something to address including his bed in which he sleeps "hot" and we have to adjust the air in the house constantly for his comfort (he is not sleeping through the night).  He was in online school for a couple of weeks and to his dismay he was not happy and told us he felt like his education was "going down the drain" and "he needed to be in a classroom for better learning. " At his request we re-enrolled him in his regular school he has been attending, he is in 10th grade.  He has been given many accommodations at school and they have been more than helpful in this situation. 
Why we need assistance?  One bill came in at $385,000 the next bill came in at $22,000 and counting yes we have  and are blessed with medical insurance but it does not cover everything. We are asking and praying for any type of donation as the bills are coming in and the real work has begun and will last quite a while as you can tell...  being able to cover just the basic necessities ie: the proper clothing, quality food, an awful lot of cocoa butter,  cleaning supplies (everything has to be very clean and sterile around him) alkaline water for healing, pain medications, sleep aides, gauze, bandages, sheets, correct pillows not to mention co-pays etc... 
Isaiah is a different kind of kid, unbelievably kindhearted, smart and has a keen sense for learning. He is passionate  about being an engineer and wants to build his own computer (and is actually in the process now, we need to keep him busy) and he loves life through everyone's eyes.  We are blessed to still have him by our side and we as a family will do the best we can to make him comfortable and keep him realizing life is precious and to always strive to be the best and win. He has won, he was released from the hospital two days before his Moms birthday which was also Fathers day weekend that means we also won as a family. God Bless you Isaiah keep fighting, you are the Real Black Panther Superhero.
 Thank you to all the nurses and doctors especially Dr. Hodge at Grady Memorial Hospital.  Atlanta truly cannot live without Grady we owe you the world because you kept our son alive.
Thank you to all in advance for your assistance, prayers, and blessings.

Organizer
Bridgit Taylor
Organizer
Lawrenceville, GA