The
brief:
It's now an emergency to get a stem cell transplant procedure for my mom's knees. She cannot walk anymore. It's killing her. I can't afford to make it happen on my own, and I am humbly and desperately asking for help to save my mom.
The story:
My mom can't walk anymore because of her disability. I need support to help my mom walk again. My mom is Theresa. She is almost 65-years-old and she has lived with chronic pain her whole life. She deals with serious mobility issues and declined health because of it. In the last year especially, she has had severe health emergencies and her life has become severely limited. Disability dictates her whole life. Her quality of life is rapidly declining.
She needs to heal and build up her mobility and strength again. At this point, her severe knee injuries have caused her to lose the ability to walk or stand. She cannot work anymore, and she needs to return to working. She desperately wants and needs to heal and to participate in life again. Her only option is a stem cell transplant procedure for both her knees. It is the safest and most effective course of action for her. We have already done all the research and it is the plan she has decided on. It will cost far more than I can ever afford.
I hate asking for help. We didn't want to do this GoFundMe. It's scary to be vulnerable like this. My mom wanted to keep her privacy and not do this. She is a proud woman who has never asked for help before. But it has become too severe and it's become too much of an emergency to sit back and not get my mom this procedure. If I could pay for it all right this second and make it happen for her without asking for help, I would. We have no choice but to humbly ask for support from our loved ones and community. I work at a nonprofit that serves the Native homeless population in Seattle. My mom has been out of work since August last year and our only income is mine. It's plain and simple, I cannot afford this on my own. I have worked hard to try and save up money to get her this procedure, but all my income goes toward rent, bills, and our monthly expenses right now. She cannot wait years for this to happen. She needs the stem cell transplant procedure now, or she won't make it.
My mom's injury first started when she was in her 20s and in a skiing accident in Vancouver on Grouse Mountain. This left her with a badly torn meniscus in each knee. Throughout the decades from that initial injury, she also developed severe osteoarthritis. Over time, the knee joints degenerated. The cartilage in both knees wore down right to the bone. It has been getting worse and worse with each year, but the last few months have been the harshest blow to her health and mobility.
Her knees are now bone to bone and she cannot walk more than a couple steps with a cane in each hand. It's so severe that I'm ashamed I didn't ask for help earlier. She cannot improve her health and she cannot heal without being able to walk. My mom is fiercely determined to put in the hard work and change her life — as she has always been dedicated to her wellness — but it's not possible without improving her mobility. I am desperate to help change her reality. I cannot be idle while she suffers. 
She has lived a life of pure service. She raised two kids all on her own, all while working full-time. My mom has been in nursing since she was about 20-years-old. For 45 years, she has been professionally caring for others and bettering the lives of those in their darkest times, from babies to elders. This is putting it mildly. There are so many facets of my mom's life that I could share, but the bottom line is she has given everything to those she loves and those in need. Now it's time that she is cared for and supported in her time of need.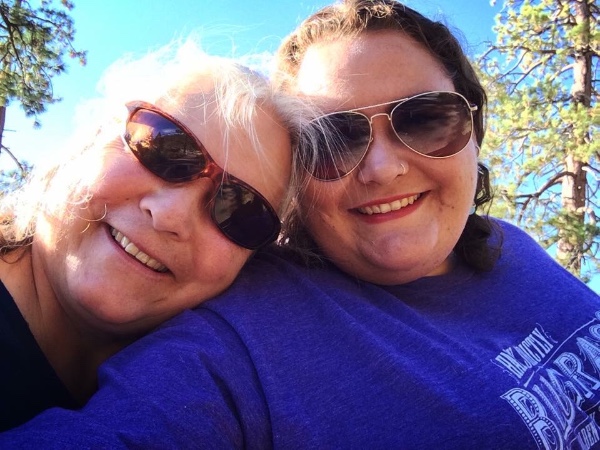 My mom has fiercely taken care of me and my brother, and it's now my job to fiercely take care of her. I will be relentless in working toward this goal without compromise. There is no option to fail. It's the reason that I have done this GoFundMe, even though it's so uncomfortable to ask for help and to be vulnerable. I want my mom's privacy to be respected, but sharing this is the only way to have a chance at success right now. I have to help her walk again and get her life back. I can't make this happen alone — I desperately and humbly need help from those who also love and support my mom.
She walked her son down the aisle on his wedding day last year in September, and she was the officiant of their marriage ceremony. She even did the mother/son dance — they danced to "You've Got A Friend" by James Taylor. She was in excruciating pain the whole time and could hardly make it happen, but she did it because of how much she loves her son, and how fiercely she wanted to celebrate life and not give up. She pushed through because that's what my mom does. She shows up for those she loves. My mom is the most resilient woman I have ever known. But her health and mobility have gotten worse with each passing day and she just cannot walk anymore. Her life is at a stand still. I cannot allow her life to remain so painfully stagnant. 
Some of her favorite memories are of when she was in a hiking club in Vancouver when she was growing up, or of walking through Golden Gate Park and walking at Ocean Beach with my brother and I in San Francisco throughout our childhood. When my brother and I were very young, she would bike all around Seattle with us in a Burley bike trailer for kids. She used to swim a mile a day when she was physically able to. She has been relentlessly as active as she could be, her whole life. My mom desperately misses nature and the outdoors. She misses being of service to others. She misses participating in her own life. 
It's both the big things — like needing to go back to work and needing to walk again to improve her health, and also the little things — like walking our dog at Green Lake in Seattle or grocery shopping or cooking or even safely getting around the apartment. Right now, she can't do any of it and it's killing me to witness.
My mom has so much more to do in her life and we have to get her back to living. She still wants to — and financially needs to — return to work and return to nursing. She cannot afford to retire yet. She has so many more adventures left in her life. She has more lives to touch.
She has worked her whole life and put others before herself at every turn. Now it's her turn to be cared for. My priority is her healing and wellness. Once she gets her knees done and she is on the path to recovery, she will finally have some of the solace and reprieve that she deserves.
I humbly ask for help from those who are able to. I humbly ask for our loved ones, our community, our family, our friends, to support my mom. For those who can help us, I promise it will be life-changing for my mom. I feel like the chronic pain, disability, immobility, and burden that I have watched my mom go through for my whole life has finally come down to this. The problem has come to a severe boil.
It's now an emergency and I am deeply thankful for those who can help us, and support her with me. I raise my hands in gratitude.

The logistics:
If we personally know each other, it's actually more financially effective to write a check directly to me rather than to donate on GoFundMe. They take almost 3% of the funds processed through them.
Organizer