Help Kelvin Realize His Dream!
I (Caro) met Kelvin when I was working with Youth Advocates Ghana  in Nsawam, Eastern Region, Ghana in 2014.  Kelvin doesn't really have too much family and when we met he had no one to support him enough to enable him to complete high school and yet he was still so willing to help others. He donated so much time to volunteer work, even in his adolescent years, in order to help his community and expose himself to work experience and opportunity, and it caught my attention.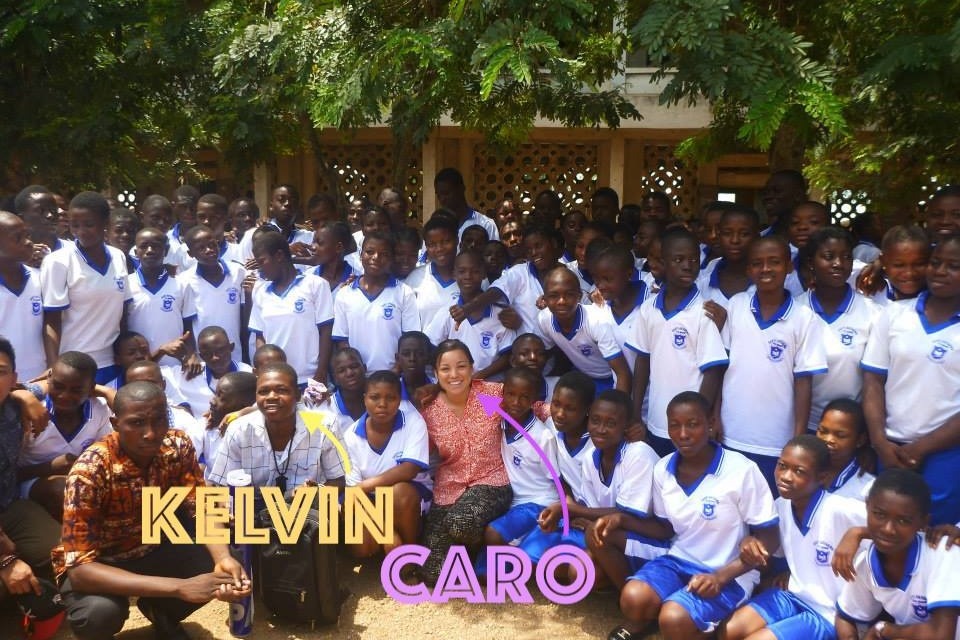 With the help of my contacts there and my network here (maybe even YOU) we helped Kelvin financially and he has since completed his schooling and is now trying to start a business of his own and he needs our help!

Here is what he has to say:
_________________________________________________________________________________________
Kelvin Boame is my name and I am 23 years old. I am from Ghana, West Africa. I am in the Eastern part of Ghana, precisely Nsawam. I have been working as a volunteer with an NGO for the past four years and that is what I am solely doing for a living, and so I need to please ask you for your help to raise some money.



I am needing this money to live and to establish a business so I would be able to be sustaining myself, and help others. I am indulging in the selling of rechargeable phone cards. I chose this because it is an accessible and lucrative business opportunity, because in this region there is an active market and few existing vendors. I hope to grow this business in order to fund a social project I want to do, which seeks to create awareness on teenage pregnancy to keep adolescent girls in school. I have this idea in mind because, adolescent girls in my community have their dreams shattered upon because they have to drop out of school due to teenage pregnancy.

What makes me unique from others who are already into this type of business is that I have had some professional training in the business field of small business consultancy. This is based on the fact that I participated in the International Citizens Service ( ICS ) programme funded by the the Department for International Development of the UK government. This is a project which seeks to alleviate poverty through the development of SMEs in developing countries. During this project we were taken through the Chartered Management Institute ( CMI ) UK modules. In addition, I have seen real life examples of SMEs through my volunteering experiences.

That program equipped me with an understanding of business fundamentals and gives me a lot of advantage over my competitors professionally. I will be successful in the business because I will put in strategies, such as customer service benefits, strong customer relationships and focus on building client trust so they will want to return to my kiosk before my competitors. I will keep pricing competitive and put my kiosk at a location where I can reach more customers among other vendors to control the larger part of the market share. There are about 15 competitors in my area but none are closer to the location where I want establish my business. I have chosen a more central location to access more traffic.

The monthly profit margin I can achieve will be dependent on the amount of money I have to invest at the beginning, since buying more cards from the service providers reduces the unit cost.  I have done my research to know that my competitors' margins are ranging from $34.00 CAD to $136.00 CAD per month, which is subjected to increment depending on how much one initially invested. Within a period of 6 months, I want to increase my profits by re - investing my profits to buy larger quantities of cards. In the next two to three years to come, I want to establish other branches to employ the youth in my area and make enough to invest in the regional project to help with social programs and small business economy in my community and country. 
_________________________________________________________________________________________



I have worked with Kelvin over the past few months to generate a comprehensive financial plan. The amount being asked will contribute to various costs, such as rent, purchasing the initial cards, the cost of food, the cost of the kiosk, employee phone plans etc. If you would like to discuss the amount in detail don't hesitate to message me and I would be more than happy to walk through it with you, but more than anything here you are investing in the confidence of an individual and giving Kelvin the gift of feeling like people believe in him and his goodwill. With those ingredients we've got a recipe for an empowered, community minded, confident and kind young leader, which is one of the most impactful gifts you can give any community.  



Thank you so much for checking out the page and even if don't feel compelled to contribute financially, I'd so appreciate you sharing Kelvin's story with someone who might!

Organizer