In Memory of Heart Warrior Grady
                             -UPDATE- 
Our fighter, Grady Oliver, gained his well deserved wings on June 5th after a short yet courageous battle with a heart defect known as HLHS. Many of you have donated during Grady's battle, and forthat we are thankful. Going forward we ask that you please consider donating to help the family with financial burdens they've come across. Whether it be funeral costs, cremation costs, an urn, meals, money made up for missed work and bereavement, or any mundane bills or tasks that seem overbearing to focus on.

Thank you all.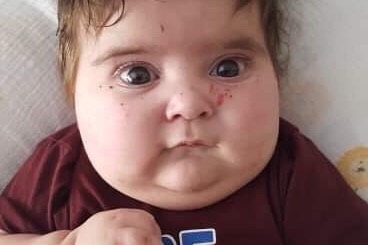 As many of you know, our dear friends Janice and Chaz Evans are expecting their second child, a beautiful baby boy named Grady Oliver Evans. Janice is currently 25 weeks pregnant and is due in November. At 18 weeks of pregnancy Grady was diagnosed with Hypoplastic Left Heart Syndrome (HLHS). In Grady'a case this also includes Mitral Stenosis and Aortic Atresia. In basic terms, this means the left side of Grady's heart is critically underdeveloped and does not function properly. This condition is the most rare of the congenital heart defects and affects roughly 3 in 10,000 babies. 
While possible outcomes and future health for Grady is unknown, it is known that Grady will need to undergo a 3 stage series of open heart surgeries; Norwood, Glenn and Fontan. The first, The Norwood; will happen at roughly 48 hours of life. The purpose of this is to get the right side of his heart to preform the functions of both the left and right sides of the heart. The Glenn will happen at 4-6 months of life and the Fontan will happen at 18 months to 3 years of life. The survival rate of these surgeries is 70-75%.
While some heart warriors can be perfectly healthy, it is possible that this condition could lead to several developmental delays due to lack of oxygen to the brain, future complications with other organs (such as the liver) as well as a possible heart transplant later on in life. Grady will also need lifelong cardiac monitoring and may have several restrictions on his physical activity and daily life. 
From 38 weeks of pregnancy, to possibly 6 months of life (in more extreme cases), and other extended periods of time before and after surgeries, this family will be under the direct care of Boston Children's Hospital and Bringham and Women's Hospital. While Grady is in the hospital, Chaz will not be provided housing and will have to take an extended time off from work to be with his family. Both Janice and Chaz also need to ensure that Bristol (age 4) is able to remain in school and have a normal every day routine. 
Due to the several extended hospital stays, added medical expenses, food, housing and daily bills as a single income family; we are asking for your help to ease the worry of the financial burden that having a child with this condition could add. Your donations would be directed towards housing accomodations, food and travel expenses, medical bills and every day bills such as rent and electricity while Chaz is unable to work. 
Both Janice and Chaz are loving and caring parents, who want to provide their heart warrior with the best care possible. Your donations, no matter how big or small could certainly make a difference for this family and are greatly appreciated. All proceeds will be given directly to the family for the purposes of the above listed needs. 
The following is a statement from Janice and Chaz Evans - 
"In the blink of an eye your whole life can change. Your dreams and priorities are placed on hold. You become even more grateful for the little things and place the big things in God's hands. Being a parent is hard, being a parent of a Heart Warrior is terrifying.. Congentinetal Heart Disease is not a journey we were expecting but we are ready to fight for our Heart Baby." 
The family would also like to request that you all take a moment to further research congenital heart defects, more specifically HLHS, as raising awareness is a key piece of understanding just how serious this condition can be 
Fundraising team (5)
Ava Gravely 
Organizer
Raised $660 from 10 donations
Bellows Falls, VT
Janice Nowers 
Team member
Raised $530 from 8 donations
Chaz Evans 
Team member
Raised $150 from 2 donations
Erin Keefe 
Team member
Raised $70 from 2 donations