Heidi Love's—Help Save A Life
"Singular acts of compassion can have profound influences over generations. You never know whom you might inspire or where it might lead." Heidi Love
LIFE-SAVING RESOURCE
KnowingActs, by Heidi Love—hailed as a life-saving practice for trauma survivors—seeks to publish a highly- effective, customizable workbook. It has 100 art-filled pages with original watercolors from Maine artist Linden O'Ryan, that have grown out of her own path to healing. It includes over 30 easy exercises with music, art, haiku, mindfulness, meditation, podcasts, brave books, free resources, and more, in a customizable format to encourage personal journeys of healing. Our long-term vision is that anyone in emotional crisis has immediate access to life-saving materials to keep them safe until they can get the professional help they need. Our initial goal is to publish and begin to distribute workbooks to those suffering from overwhelming emotions and PTSD.
 EXPERT OVERSIGHT
KnowingActs—provides a stopgap measure to help trauma survivors move from suicidal ideation to places where they can seek professional help. Reviewed and vetted by numerous experts (see "Praise" below) this workbook provides a powerful, insightful tool to defuse overwhelming sadness, grief, anger, despair, and sense of loss—and promote healing.
CREATED BY SURVIVORS, FOR SURVIVORS
(Trigger Warning) Author Heidi Love has survived childhood rape, attempted strangulation, and her mother's condemnation that she was "ruined for life." During episodes of PTSD her shame was so overwhelming, and her self esteem so low, that she felt unworthy of help and was unable to ask for support. Using a specific pattern of calming responses to her trigger, her practice, developed at sea, became life saving. Along with artist Linden O'Ryan and all members of the KnowingActs team she is working tirelessly and voluntarily with trauma experts to get this therapist-approved practice and healing art to anyone struggling with with PTSD.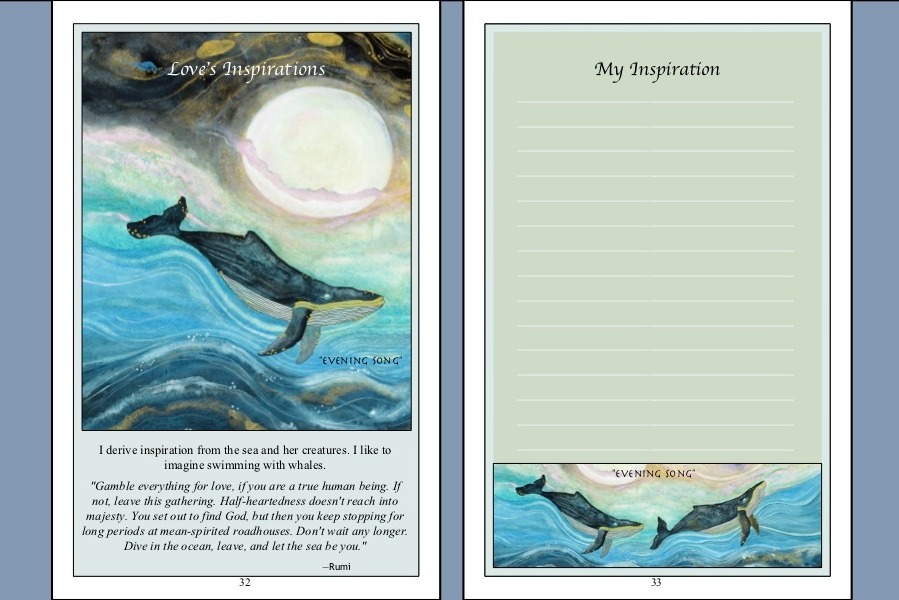 100% of DONATIONS SUPPORT TRAUMA SURVIVORS
All donations are greatly appreciated and will support the healing of individual trauma survivors. $4,000 is needed to self publish, launch, and distribute the first workbook run. This will allow proceeds to go to survivors rather than a large for-profit publisher. A donation as small as $10 will support printing; $25 will additionally get a workbook to a survivor in need; $50 will support publication, deliver a free book to a survivor, and I will deliver a complimentary first run book signed and personally dedicated to you (or should you indicate, two books to survivors); $250 will provide all of the above services and deliver ten workbooks to Maine and New Hampshire-based rape crisis counselors. $1,000 will provide all of the above plus as a founding member you will receive a complimentary museum-quality signed giclee art print from KnowingActs artist Linden O'Ryan, while providing three cases of complimentary workbooks to New England-based rape crisis counselors. (If you are selecting to have art and/or books signed and sent to you or others please include the dedication you would like and an address.) The books will be released in September.
Please support a survivor when they need it most on their healing journey. Heartfelt thanks for your support.
Praise for KnowingActs:
"This inspiring book is a touchstone, a safe harbor to return to again and again as we navigate the courageous journey toward healing."Anne Hallward MD Host of Safe Space Radio, Assistant Clinical Professor of Psychiatry, Tufts University Medical School
"Thoughtful, sensitive and practical with spot-on personal solutions, this workbook is an exceptionally valuable resource" Dr. Susan Newman Manfull, Social Psychologist
"In KnowingActs Heidi Love has given survivors of trauma a simple groundbreaking tool. I absolutely think this workbook will be a helpful and perhaps life-saving resource for those in crisis."   Wendy Hoge, LCSW, Therapist
"Using KnowingActs in one's recovery process would be a valuable tool, and of great benefit." Denise D'Amboise, Outward Bound Women of Courage Program Manger & Instructor (former); Domestic Violence Advocate (former)
"While Heidi's words and understanding create a safety net for a healing journey, the beautiful artwork by Linden O'Ryan adds the vibrational energy to truly nurture my soul. These two women have created an incredible  supplement to use in tandem with traditional therapy."   Sexual Assault/Incest Survivor in Maine
"Your exercises made a very big difference in a very dark time."      Reader in London who was in crisis
"KnowingActs is nothing short of life saving."          Reader in Maine who was in crisis
All donations are greatly appreciated. You can help change lives and let trauma survivors know they are not alone.
#KnowingActs #SaveALife #Love'sSaveALife
Become the first supporter
Your donation matters
Organizer
Heidi Love
Organizer
Eliot, ME