Raising money for a Molli suit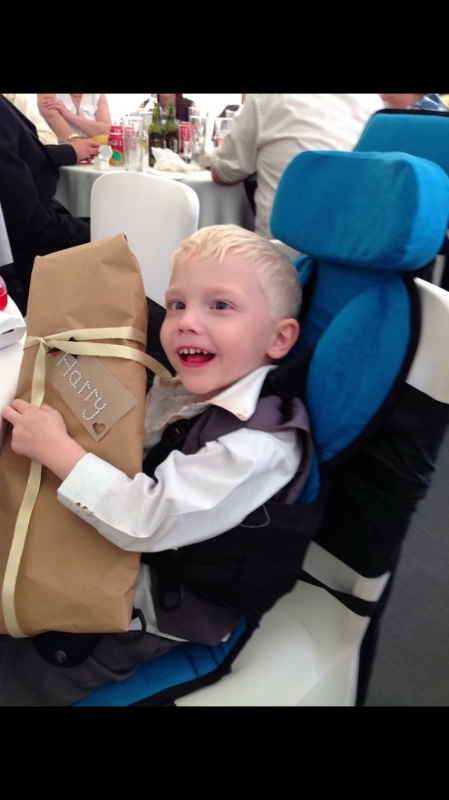 My name is Harry Brown I have quadriplegic cerebral palsy. I depend on my mummy and daddy Glenn with all my aspects of care, transfers to equipment and getting around.
But I don't let that stop me at all, I want to be independent like everybody else and be able to join in. I am a very sociable little boy and love meeting new people, to show how clever I am . I love to joke around and laugh a lot. I have a great sense of humour.
I love to walk around In my walker as I cant unaided and I am getting quite fast in it aswell.. I also have a power wheelchair which I am learning to use, my mummy even let me take it to the zoo on Mother's Day and I didn't run any1 over =] I cannot sit unaided or crawl. I am also non verbal but I can say a few words and everybody who knows me understands what I want and what I mean in a conversation, I can sign and use a commutation book at school.
I have a very special bond with my family especially my nannie and grandad they help me and my mummy out especially when I'm in a lot of pain with my muscles spasms which can hurt me a lot so I cry.
I can't sleep very well so they let me sleep over at their house which I love.
My legs don't work the way I want them to, when I want to walk they cross over each other and get stuck. I had a double hip operation last year (2015) which was a very big operation but I was very brave and I am all healed now.
Apart from all the negatives I am a very happy and loved little boy by all.
I am trying to raise money for a Molli suit which is an elastic body suit fitted with electrodes. Which helps to reduce pain from tension and spasms. It can also help with mobility. This suit has been developed by a Swedish chiropractor who then worked with neurologists and paediatricians to design the Molli suit. The idea of this suit is for it to be worn every other day for an hour to get the benefits of the electrodes. They last for 48hours  Which will be a great benefit to me as I have to take medicine for my spasms and I am now on a new which I don't like very much.
We don't like to ask for help as my mummy normally gets me everything I need but unfortunately she doesn't have the money to get me this suit so please could my family and friends share this for me and for any donations no matter how small I do receive I will be very happy and grateful to you all.
Thank you for reading a little about me and the Molli suit please message my mummy if you have any more questions. =] xx
Organizer
Carly Brown
Organizer
March, East of England, United Kingdom